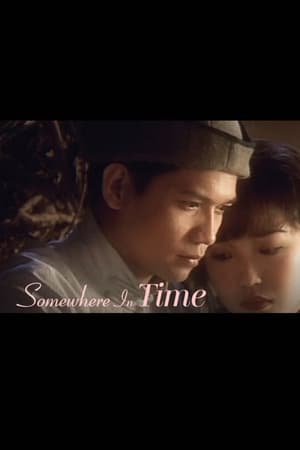 13 Best Movies Like Somewhere In Time ...
If you liked this film , you will for sure love these too! In this selection we highlight some of the best films that share a very similar premise to 'Somewhere in Time', and are worth checking out.
1h 39m Romance Drama Mystery
A lonely doctor who once occupied an unusual lakeside home begins exchanging love letters with its former resident, a frustrated architect. They must try to unravel the mystery behind their extraordinary romance before it's too late.
1h 51m Drama Romance
After she discovers that her boyfriend has betrayed her, Hilary O'Neil is looking for a new start and a new job. She begins to work as a private nurse for a young man suffering from blood cancer. Slowly, they fall in love, but they always know their love cannot last because he is destined to die.
1h 45m Drama Romance Science Fiction
Two seemingly unconnected souls from different corners of the United States make a telepathic bond that allows them to see, hear and feel the other's experiences, creating a bond that apparently can't be broken.
1h 49m Drama Romance
Dr. Burke Ryan is a successful self-help author and motivational speaker with a secret. While he helps thousands of people cope with tragedy and personal loss, he secretly is unable to overcome the death of his late wife. It's not until Burke meets a fiercely independent florist named Eloise that he is forced to face his past and overcome his demons.
2h 3m Romance Drama
An epic love story centered around an older man who reads aloud to a woman with Alzheimer's. From a faded notebook, the old man's words bring to life the story about a couple who is separated by World War II, and is then passionately reunited, seven years later, after they have taken different paths.
1h 57m Drama Romance
A pair of former high school sweethearts reunite after many years when they return to visit their small hometown.
1h 55m Drama Romance War
While Sergeant John Tyree is home on two weeks leave from Germany, he meets Savannah after he dives into the ocean to retrieve Savannah's purse that had fallen off a pier. John eventually falls in love with Savannah, who promises to write to him until he returns from overseas.
8.
Falling in Love (1984)
1h 42m Drama Romance
During shopping for Christmas, Frank and Molly run into each other. This fleeting short moment will start to change their lives, when they recognize each other months later in the train home and have a good time together. Although both are married and Frank has two little kids, they meet more and more often, their friendship becoming the most precious thing in their lives.
1h 43m Drama Romance
A privileged girl and a charismatic boy's instant desire sparks a love affair made only more reckless by parents trying to keep them apart.
10.
The Curious Case of Benjamin Button (2008)
2h 46m Drama Fantasy Romance
I was born under unusual circumstances. And so begins. The Curious Case of Benjamin Button, adapted from the 1920s story by F. Scott Fitzgerald about a man who is born in his eighties and ages backwards: a man, like any of us, who is unable to stop time. We follow his story, set in New Orleans, from the end of World War I in 1918 into the 21st century, following his journey that is as unusual as any man's life can be. Directed by David Fincher and starring Brad Pitt and Cate Blanchett with Taraji P. Henson, Tilda Swinton, Jason Flemyng, Elias Koteas and Julia Ormond, Benjamin Button, is a grand tale of a not-so-ordinary man and the people and places he discovers along the way, the loves he finds, the joys of life and the sadness of death, and what lasts beyond time.
2h 16m Action Adventure Science Fiction
After the cataclysmic events in New York with The Avengers, Steve Rogers, aka Captain America is living quietly in Washington, D.C. and trying to adjust to the modern world. But when a S.H.I.E.L.D. colleague comes under attack, Steve becomes embroiled in a web of intrigue that threatens to put the world at risk. Joining forces with the Black Widow, Captain America struggles to expose the ever-widening conspiracy while fighting off professional assassins sent to silence him at every turn. When the full scope of the villainous plot is revealed, Captain America and the Black Widow enlist the help of a new ally, the Falcon. However, they soon find themselves up against an unexpected and formidable enemy—the Winter Soldier.
1h 42m Comedy Drama Romance
No sooner does Italian-American widow Loretta accept a marriage proposal from her doltish boyfriend, Johnny, than she finds herself falling for his younger brother, Ronny. She tries to resist, but Ronny lost his hand in an accident he blames on his brother, and has no scruples about aggressively pursuing her while Johnny is out of the country. As Loretta falls deeper in love, she comes to learn that she's not the only one in her family with a secret romance.
2h 2m Fantasy Romance
Pete Sandich is a reckless fire-fighting pilot who is killed in what was to have been his final mission. Ascending to Heaven, Pete is introduced to business-like angel who instructs the spectral Pete to pass on his aviation knowledge to his young successor. While doing so, Pete also smoothes the course of romance for his earthly girlfriend who, after several months of grieving, finally falls in love with another man.
explore
Check out more list from our community