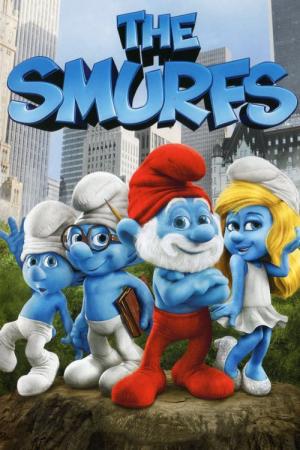 14 Best Movies Like Smurfs ...
If you liked this one , you will probably love these too! In this selection we highlight some of the best films that share a very similar premise to 'The Smurfs', and are worth checking out.
1h 36m Comedy Adventure Family
A young Peruvian bear travels to London in search of a new home. Finding himself lost and alone at Paddington Station, he meets the kindly Brown family.
1h 41m Family Animation Comedy Adventure
Wreck-It Ralph is the 9-foot-tall, 643-pound villain of an arcade video game named Fix-It Felix Jr., in which the game's titular hero fixes buildings that Ralph destroys. Wanting to prove he can be a good guy and not just a villain, Ralph escapes his game and lands in Hero's Duty, a first-person shooter where he helps the game's hero battle against alien invaders. He later enters Sugar Rush, a kart racing game set on tracks made of candies, cookies and other sweets. There, Ralph meets Vanellope von Schweetz who has learned that her game is faced with a dire threat that could affect the entire arcade, and one that Ralph may have inadvertently started.
3.
Rugrats in Paris: The Movie (2000)
1h 18m Family Animation Adventure Comedy
The Rugrats are back! There's Tommy the brave one, Chuckie the timid one, Phil and Lil the odd couple, Dil, and spoiled brat Angelica. This time they're wreaking havoc in Paris, France, where Tommy's dad Stu is summoned after yet another one of his inventions took a dump.
11m Animation Family Sci-Fi & Fantasy Kids
Classic Saturday-morning cartoon series featuring magical blue elf-like creatures called Smurfs. The Smurfs, named for their personalities, inhabit a village of mushroom houses in an enchanted forest. These loveable creatures are led by Papa Smurf and live carefree... except for one major threat to their existance: Gargamel, an evil but inept wizard who lives in a stone-built house in the forest; and his feline companion, the equally nasty Azrael.
5.
The Smurfs: The Legend of Smurfy Hollow (2013)
22m Comedy Animation Family Fantasy
When Brainy Smurf is favored to win the annual Smurfberry Hunt for the ninth year in a row, Gutsy Smurf sets out to discover how Brainy wins every year. Gutsy's investigation takes him into spooky Smurfy Hollow–and right into Gargamel's trap! Can Brainy and Gutsy, with the help of Smurfette, put aside their rivalry before Gargamel captures them–or worse, they come face-to-face with the legendary ghost, the Headless Horseman?
6.
Asterix and Obelix: Mansion of the Gods (2014)
1h 25m Animation Comedy Adventure Family
In order to wipe out the Gaulish village by any means necessary, Caesar plans to absorb the villagers into Roman culture by having an estate built next to the village to start a new Roman colony.
1h 26m Animation Family Adventure Comedy
Boog, a domesticated 900lb. Grizzly bear finds himself stranded in the woods 3 days before Open Season. Forced to rely on Elliot, a fast-talking mule deer, the two form an unlikely friendship and must quickly rally other forest animals if they are to form a rag-tag army against the hunters.
1h 20m Animation Comedy Family
Garfield, the fat, lazy, lasagna lover, has everything a cat could want. But when Jon, in an effort to impress the Liz - the vet and an old high-school crush - adopts a dog named Odie and brings him home, Garfield gets the one thing he doesn't want. Competition.
9.
The Adventures of Rocky & Bullwinkle (2000)
1h 28m Family Adventure Animation Comedy Fantasy
Rocky and Bullwinkle have been living off the finances made from the reruns of their cartoon show. Boris and Natasha somehow manage to crossover into reality and team up with Fearless Leader, an evil criminal turned media mogul with some evil plans up his sleeve. Rocky and Bullwinkle must stop the three of them before they wreak havoc.
10.
Madagascar 3: Europe's Most Wanted (2012)
1h 33m Animation Family Comedy Adventure
Animal pals Alex, Marty, Melman, and Gloria are still trying to make it back to New York's Central Park Zoo. They are forced to take a detour to Europe to find the penguins and chimps who broke the bank at a Monte Carlo casino. When French animal-control officer Capitaine Chantel DuBois picks up their scent, Alex and company are forced to hide out in a traveling circus.
11.
Stuart Little 2 (2002)
1h 18m Family Adventure Animation Comedy
Stuart, an adorable white mouse, still lives happily with his adoptive family, the Littles, on the east side of Manhattan's Central Park. More crazy mouse adventures are in store as Stuart, his human brother, George, and their mischievous cat, Snowbell, set out to rescue a friend.
12.
The Wild Thornberrys Movie (2002)
1h 25m Animation Adventure Family
Eliza and Debbie are two sisters who don't always get along. But their relationship is put to the test when Debbie's life is in danger, and Eliza might have to give up her power to talk to animals....
13.
The SpongeBob Movie: Sponge Out of Water (2015)
1h 32m Adventure Comedy Family Fantasy Animation
Burger Beard is a pirate who is in search of the final page of a magical book that makes any evil plan he writes in it come true, which happens to be the Krabby Patty secret formula. When the entire city of Bikini Bottom is put in danger, SpongeBob, Patrick, Mr. Krabs, Squidward, Sandy, and Plankton need to go on a quest that takes them to the surface. In order to get back the recipe and save their city, the gang must retrieve the book and transform themselves into superheroes.
14.
Toy Story That Time Forgot (2014)
22m Animation Family TV Movie Adventure Comedy Fantasy
During a post-Christmas play date, the gang find themselves in uncharted territory when the coolest set of action figures ever turn out to be dangerously delusional. It's all up to Trixie, the triceratops, if the gang hopes to return to Bonnie's room in this Toy Story That Time Forgot.
explore
Check out more list from our community