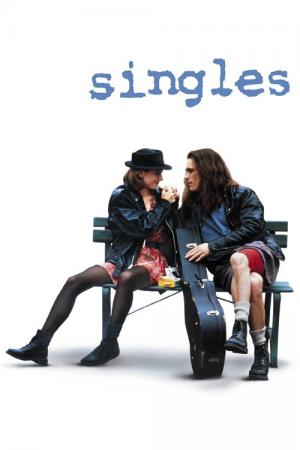 29 Best Movies Like Singles ...
If you liked this movie , you will probably love these too! In this collection we highlight some of the best films that share a very similar premise to '', and are worth checking out.
1h 53m Comedy Drama Romance Music
When record store owner Rob Gordon gets dumped by his girlfriend, Laura, because he hasn't changed since they met, he revisits his top five breakups of all time in an attempt to figure out what went wrong. As Rob seeks out his former lovers to find out why they left, he keeps up his efforts to win Laura back.
1h 39m Drama Comedy Romance
A small circle of friends suffering from post-collegiate blues must confront the hard truth about life, love and the pursuit of gainful employment. As they struggle to map out survival guides for the future, the Gen-X quartet soon begins to realize that reality isn't all it's cracked up to be.
3.
About Last Night... (1986)
1h 53m Comedy Drama Romance
A man and woman meet and try to have a romantic affair, despite their personal problems and the interference of their disapproving friends.
4.
Say Anything... (1989)
1h 40m Comedy Drama Romance
A noble underachiever and a beautiful valedictorian fall in love the summer before she goes off to college.
5.
Beautiful Girls (1996)
1h 52m Comedy Drama Romance
During a snowy winter in the small fictional town of Knight's Ridge, Massachusetts, a group of lifelong buddies hang out, drink and struggle to connect with the women who affect their decisions, dreams and desires.
6.
A Lot Like Love (2005)
1h 47m Comedy Drama Romance
On a flight from Los Angeles to New York, Oliver and Emily make a connection, only to decide that they are poorly suited to be together. Over the next seven years, however, they are reunited time and time again, they go from being acquaintances to close friends to ... lovers?
2h 3m Comedy Drama Romance
Drew Baylor is fired after causing his shoe company to lose hundreds of millions of dollars. To make matters worse, he's also dumped by his girlfriend. On the verge of ending it all, Drew gets a new lease on life when he returns to his family's small Kentucky hometown after his father dies. Along the way, he meets a flight attendant with whom he falls in love.
1h 41m Comedy Drama Romance
It's New York City in 1981, and various twentysomethings are converging on a New Year's Eve party.
9.
Shag - More Dancing (1989)
1h 38m Comedy Drama Romance
Summer of 1963. Carson is getting married to her boyfriend so her friends Melaina, Pudge and Luanne take her to Myrtle Beach for one last irresponsible weekend.
1h 31m Comedy Drama Romance
College coeds in New York City, Al, the son of a celebrity chef, and Imogen, a talented artist, become smitten the second they lay eyes on one another at a bar. However, the road to happiness is not a smooth one. Outside forces, including a predatory porn star who wants to lure Al into her bed, threaten to pull apart the young lovers before their romance has a chance to really flourish.
11.
Boys and Girls (2000)
1h 34m Comedy Drama Romance
Ryan and Jennifer are opposites who definitely do not attract. At least that's what they always believed. When they met as twelve-year-olds, they disliked one another. When they met again as teenagers, they loathed each other. But when they meet in college, the uptight Ryan and the free-spirited Jennifer find that their differences bind them together and a rare friendship develops.
12.
500 Days of Summer (2009)
1h 35m Comedy Drama Romance
Tom, greeting-card writer and hopeless romantic, is caught completely off-guard when his girlfriend, Summer, suddenly dumps him. He reflects on their 500 days together to try to figure out where their love affair went sour, and in doing so, Tom rediscovers his true passions in life.
13.
Happythankyoumoreplease (2010)
14.
The Thing Called Love (1993)
1h 56m Drama Romance
Miranda Presley moves from New York to Nashville to become a songwriter. At an unsuccessful audition she meets James Wright, a promising newcomer. After only a few days they marry but start to quickly regret it.
1h 35m Romance Comedy
A 29-year-old lawyer and her lesbian best friend experience a dramatic shift in their longtime bond after one enters a serious relationship.
16.
New York, I Love You (2008)
1h 43m Comedy Drama Romance
New York, I Love You delves into the intimate lives of New Yorkers as they grapple with, delight in and search for love. Journey from the Diamond District in the heart of Manhattan, through Chinatown and the Upper East Side, towards the Village, into Tribeca, and Brooklyn as lovers of all ages try to find romance in the Big Apple.
1h 28m Comedy Drama Romance
Paper Heart follows Nick and Charlyne on a cross-country journey to document what exactly "love" is. Interviewing ministers, happily married couples, chemists, romance novelists, divorce lawyers, a group of children and more, the determined young girl attempts to find definition and perhaps even experience the mysterious emotion.
18.
The Mirror Has Two Faces (1996)
2h 6m Comedy Drama Romance
Rose Morgan, who still lives with her mother, is a professor of Romantic Literature who desperately longs for passion in her life. Gregory Larkin, a mathematics professor, has been burned by passionate relationships and longs for a sexless union based on friendship and respect.
19.
She's Having a Baby (1988)
20.
Waiting to Exhale (1995)
2h 7m Comedy Drama Romance
Cheated on, mistreated and stepped on, the women are holding their breath, waiting for the elusive "good man" to break a string of less-than-stellar lovers. Friends and confidants Vannah, Bernie, Glo and Robin talk it all out, determined to find a better way to breathe.
21.
When Harry Met Sally... (1989)
1h 36m Comedy Romance Drama
During their travel from Chicago to New York, Harry and Sally debate whether or not sex ruins a friendship between a man and a woman. Eleven years later, and they're still no closer to finding the answer.
1h 30m Drama Romance
An aloof, struggling food photographer thinks he has found true love with a fiery grade-school teacher. At first, the relationship is all wine and roses, but as they realize they have little in common besides great sex, the romance wanes, and they struggle through a succession of break-ups and reunions as they try to work things out.
23.
The Jane Austen Book Club (2007)
1h 46m Comedy Romance
Six Californians start a club to discuss the works of Jane Austen. As they delve into Austen's literature, the club members find themselves dealing with life experiences that parallel the themes of the books they are reading.
24.
Kissing Jessica Stein (2001)
1h 37m Comedy Drama Romance
Four friends search for love and happiness while working at a California sandwich shop.
26.
Hannah Takes the Stairs (2007)
1h 23m Drama Romance
Hannah is a recent college graduate interning at a Chicago production company. She is crushing on two writers at work, Matt and Paul, who share an office and keep her entertained. Will a relationship with one of them disrupt the delicate balance of their friendship?
27.
How to Be Single (2016)
1h 50m Comedy Romance
New York City is full of lonely hearts seeking the right match, and what Alice, Robin, Lucy, Meg, Tom and David all have in common is the need to learn how to be single in a world filled with ever-evolving definitions of love.
28.
He's Just Not That Into You (2009)
explore
Check out more list from our community