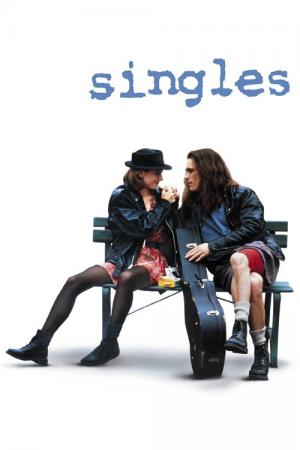 10 Best Movies Like Singles ...
If you liked this one , you will probably love these too! In this list we highlight some of the best films that share a very similar mood to 'Singles', and are worth checking out.
1.
Kissing Jessica Stein (2001)
2.
Waiting to Exhale (1995)
2h 7m Comedy Drama Romance
Cheated on, mistreated and stepped on, the women are holding their breath, waiting for the elusive "good man" to break a string of less-than-stellar lovers. Friends and confidants Vannah, Bernie, Glo and Robin talk it all out, determined to find a better way to breathe.
3.
Hannah Takes the Stairs (2007)
1h 23m Drama Romance
Hannah is a recent college graduate interning at a Chicago production company. She is crushing on two writers at work, Matt and Paul, who share an office and keep her entertained. Will a relationship with one of them disrupt the delicate balance of their friendship?
1h 31m Comedy Drama Romance
College coeds in New York City, Al, the son of a celebrity chef, and Imogen, a talented artist, become smitten the second they lay eyes on one another at a bar. However, the road to happiness is not a smooth one. Outside forces, including a predatory porn star who wants to lure Al into her bed, threaten to pull apart the young lovers before their romance has a chance to really flourish.
5.
Happythankyoumoreplease (2010)
6.
Say Anything... (1989)
1h 40m Comedy Drama Romance
A noble underachiever and a beautiful valedictorian fall in love the summer before she goes off to college.
1h 35m Romance Comedy
A 29-year-old lawyer and her lesbian best friend experience a dramatic shift in their longtime bond after one enters a serious relationship.
8.
New York, I Love You (2008)
1h 43m Comedy Drama Romance
New York, I Love You delves into the intimate lives of New Yorkers as they grapple with, delight in and search for love. Journey from the Diamond District in the heart of Manhattan, through Chinatown and the Upper East Side, towards the Village, into Tribeca, and Brooklyn as lovers of all ages try to find romance in the Big Apple.
1h 34m Comedy Drama Romance
Ryan and Jennifer are opposites who definitely do not attract. At least that's what they always believed. When they met as twelve-year-olds, they disliked one another. When they met again as teenagers, they loathed each other. But when they meet in college, the uptight Ryan and the free-spirited Jennifer find that their differences bind them together and a rare friendship develops.
1h 53m Comedy Drama Romance Music
When record store owner Rob Gordon gets dumped by his girlfriend, Laura, because he hasn't changed since they met, he revisits his top five breakups of all time in an attempt to figure out what went wrong. As Rob seeks out his former lovers to find out why they left, he keeps up his efforts to win Laura back.
explore
Check out more list from our community