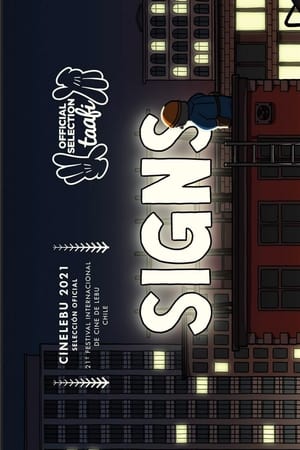 30 Best Movies Like Signs ...
If you liked this movie , you will probably love these too! In this selection we highlight some of the best films that share a very similar premise to '', and are worth checking out.
2h 1m Action Adventure Drama Mystery Science Fiction Thriller
A teacher opens a time capsule that has been dug up at his son's elementary school; in it are some chilling predictions -- some that have already occurred and others that are about to -- that lead him to believe his family plays a role in the events that are about to unfold.
2.
10 Cloverfield Lane (2016)
1h 44m Thriller Science Fiction Drama Horror
After getting in a car accident, a woman is held in a shelter with two men, who claim the outside world is affected by a widespread chemical attack.
3.
War of the Worlds (2005)
1h 57m Adventure Thriller Science Fiction
Ray Ferrier is a divorced dockworker and less-than-perfect father. Soon after his ex-wife and her new husband drop off his teenage son and young daughter for a rare weekend visit, a strange and powerful lightning storm touches down.
1h 56m Drama Science Fiction Mystery
Taking place after alien crafts land around the world, an expert linguist is recruited by the military to determine whether they come in peace or are a threat.
5.
Fire in the Sky (1993)
1h 49m Science Fiction Drama Mystery
A group of men who were clearing brush for the government arrive back in town, claiming that their friend was abducted by aliens. Nobody believes them, and despite a lack of motive and no evidence of foul play, their friends' disappearance is treated as murder.
6.
The X Files: I Want to Believe (2008)
1h 44m Drama Mystery Science Fiction Thriller
Six years after the events of The X-Files series finale, former FBI agent Doctor Dana Scully is now a staff physician at Our Lady of Sorrows, a Catholic hospital, and treating a boy named Christian who has Sandhoff disease, a terminal brain condition. FBI agent Drummy arrives to ask Scully's help in locating Fox Mulder, the fugitive former head of the X-Files division, and says they will call off its manhunt for him if he will help investigate the disappearances of several women, including young FBI agent Monica Banan. Mulder and Scully are called back to duty by the FBI when a former priest claims to be receiving psychic visions pertaining to a kidnapped agent.
7.
The Fourth Kind (2009)
1h 38m Mystery Science Fiction Thriller
Since the 1960s, a disproportionate number of the population in and around Nome, Alaska, have gone missing. Despite FBI investigations, the disappearances remain a mystery. Dr. Abigail Tyler, a psychologist, may be on the verge of blowing the unsolved cases wide open when, during the course of treating her patients, she finds evidence of alien abductions.
1h 52m Thriller Science Fiction Mystery
In 1979 Ohio, several youngsters are making a zombie movie with a Super-8 camera. In the midst of filming, the friends witness a horrifying train derailment and are lucky to escape with their lives. They soon discover that the catastrophe was no accident, as a series of unexplained events and disappearances soon follows. Deputy Jackson Lamb, the father of one of the kids, searches for the terrifying truth behind the crash.
9.
Close Encounters of the Third Kind (1977)
2h 15m Science Fiction Drama
After an encounter with UFOs, a line worker feels undeniably drawn to an isolated area in the wilderness where something spectacular is about to happen.
1h Documentary
Witness the crime busting techniques and forensic science used by the FBI to break the most baffling cases. From crime scene analysis to the most up-to-date laboratories, FBI agents relentlessly comb through mountains of evidence to narrow their search, ultimately prevailing over the perpetrators and bringing them to justice.
11.
The Mothman Prophecies (2002)
1h 59m Drama Horror Mystery
Reporter John Klein is plunged into a world of impossible terror and unthinkable chaos when fate draws him to a sleepy West Virginia town whose residents are being visited by a great winged shape that sows hideous nightmares and fevered visions.
1h 37m Thriller Science Fiction
Three college students on a road trip across the Southwest experience a detour – the tracking of a computer genius who has already hacked into MIT and exposed security faults. When the trio find themselves drawn to an eerily isolated area, suddenly everything goes dark. When one of the students regains consciousness, he finds himself in a waking nightmare.
13.
The Sixth Sense (1999)
1h 47m Mystery Thriller Drama
Following an unexpected tragedy, a child psychologist named Malcolm Crowe meets an eight year old boy named Cole Sear, who is hiding a dark secret.
1h 36m Thriller Drama Mystery
A depressed housewife who learns her husband was killed in a car accident the day previously, awakens the next morning to find him alive and well at home, and then awakens the day after to a world in which he is still dead.
1h 48m Drama Mystery Thriller
When a willful young man tries to venture beyond his sequestered Pennsylvania hamlet, his actions set off a chain of chilling incidents that will alter the community forever.
1h 34m Horror Thriller Mystery
A brother and sister are sent to their grandparents' remote Pennsylvania farm for a week, where they discover that the elderly couple is involved in something deeply disturbing.
1h 31m Thriller Science Fiction
When a deadly airborne virus threatens to wipe out the northeastern United States, teacher Elliott Moore and his wife Alma flee from contaminated cities into the countryside in a fight to discover the truth. Is it terrorism, the accidental release of some toxic military bio weapon -- or something even more sinister?
2h 30m Drama Science Fiction Mystery
Contact is a science fiction film about an encounter with alien intelligence. Based on the novel by Carl Sagan the film starred Jodie Foster as the one chosen scientist who must make some difficult decisions between her beliefs, the truth, and reality.
1h 58m Science Fiction Thriller
When a rare phenomenon gives police officer John Sullivan the chance to speak to his father, 30 years in the past, he takes the opportunity to prevent his dad's tragic death. After his actions inadvertently give rise to a series of brutal murders he and his father must find a way to fix the consequences of altering time.
20.
Midnight Special (2016)
1h 52m Adventure Drama Science Fiction
A father and son go on the run after the dad learns his child possesses special powers.
1h 46m Thriller Drama Mystery
An ordinary man makes an extraordinary discovery when a train accident leaves his fellow passengers dead — and him unscathed. The answer to this mystery could lie with the mysterious Elijah Price, a man who suffers from a disease that renders his bones as fragile as glass.
1h 37m Science Fiction Thriller Horror
From the producers of Paranormal Activity, Insidious, and Sinister comes Dark Skies: a supernatural thriller that follows a young family living in the suburbs. As husband and wife Daniel and Lacey Barret witness an escalating series of disturbing events involving their family, their safe and peaceful home quickly unravels. When it becomes clear that the Barret family is being targeted by an unimaginably terrifying and deadly force, Daniel and Lacey take matters in their own hands to solve the mystery of what is after their family.
23.
Extraterrestrial (2014)
1h 41m Horror Science Fiction
Five friends set out to a cabin in the woods for a fun weekend getaway that is, until extraterrestrial visitors turn it into a fight for their lives. The group is pulled from their reverie when a flickering object crashes deep in the woods. As they investigate, the friends stumble across an alien spacecraft, and its inhabitants have not arrived in peace.
1h 31m Mystery Science Fiction Thriller
4 would be astronauts spend 400 days in a land locked space simulator to test the psychological effects of deep space travel but, when something goes terribly wrong and they are forced to leave the simulation, they discover that everything on earth has changed. Is this real or is the simulation on a higher level than they could have ever imagined?
2h 19m Adventure Action Thriller Science Fiction
A civilian oil rig crew is recruited to conduct a search and rescue effort when a nuclear submarine mysteriously sinks. One diver soon finds himself on a spectacular odyssey 25,000 feet below the ocean's surface where he confronts a mysterious force that has the power to change the world or destroy it.
1h 55m Science Fiction Thriller
Zane Ziminski is an astrophysicist who receives a message that seems to have extraterrestrial origins. Eerily soon after his discovery, Zane is fired. He then embarks on a search to determine the origins of the transmission that leads him into a Hitchcockian labyrinth of paranoia and intrigue.
27.
The Day the Earth Stood Still (2008)
1h 44m Drama Science Fiction Thriller
A representative of an alien race that went through drastic evolution to survive its own climate change, Klaatu comes to Earth to assess whether humanity can prevent the environmental damage they have inflicted on their own planet. When barred from speaking to the United Nations, he decides humankind shall be exterminated so the planet can survive.
1h 12m Action Adventure Animation Family
A group of five Genesect have invaded the big city and pose a threat to the supply of electricity, which attracts the attention of the legendary Pokémon Mewtwo. Satoshi, Pikachu and his friends must come to the rescue when the powerful leader, a red Genesect, faces Mewtwo.
29.
The Messengers (2007)
1h 30m Mystery Thriller Horror
When the Solomons trade in the craziness of big-city life for the quiet of a North Dakota farm, little do they expect the nightmare that follows. Soon after arriving, teenage Jess (Kristen Stewart) and her younger brother see terrifying apparitions and endure attacks from a supernatural source. Jess must warn her disbelieving family before it is too late to save them.
explore
Check out more list from our community