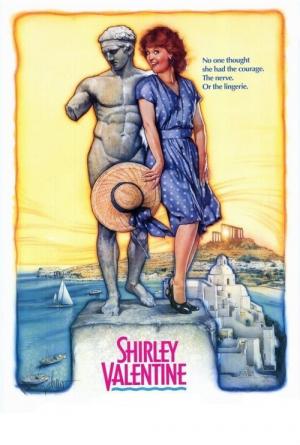 12 Best Movies Like Shirley Valentine ...
If you liked this film , you will definitely love these too! In this collection we highlight some of the best films that share a very similar premise to 'Shirley Valentine', and are worth checking out.
1.
Four Weddings and a Funeral (1994)
Over the course of five social occasions, a committed bachelor must consider the notion that he may have discovered love.
1h 57m
Director: Mike Newell
Screenplay: Richard Curtis
Comedy Drama Romance
Angie lives in the Bensonhurst section of Brooklyn, N.Y. and dreams of a better life than everyone she knows. When she finds that she is pregnant by her boyfriend Vinnie, she decides that she will have the baby, but not Vinnie as a husband. This turns the entire neighborhood upside down and starts her on a journey of self discovery. This journey includes her family, a new lover and her life. Even her best friend Tina has trouble understanding Angie. Written by Tony Fontana
1h 47m
Director: Martha Coolidge
Screenplay: Todd Graff
Writer: Avra Wing
Drama Romance
3.
Conversations with Other Women (2005)
5.
Melvin Goes to Dinner (2003)
Marital infidelity, religion, a guy in heaven wearing a Wizards jersey, anal fetishes, cigarettes and schizophrenia, ghosts, and how it's going to get worse before it gets better.
1h 23m
Director: Bob Odenkirk
Screenplay: Michael Blieden
Comedy Drama Romance
6.
The Mirror Has Two Faces (1996)
Rose Morgan, who still lives with her mother, is a professor of Romantic Literature who desperately longs for passion in her life. Gregory Larkin, a mathematics professor, has been burned by passionate relationships and longs for a sexless union based on friendship and respect.
2h 6m
Director: Barbra Streisand
Screenplay: Richard LaGravenese
Comedy Drama Romance
7.
Swinging with the Finkels (2011)
A suburban couple decide to spice up their lives by swinging with another couple.
1h 25m
Director, Writer: Jonathan Newman
Comedy Romance
8.
Moonlight and Valentino (1995)
Four women who discover untapped strength within themselves when they finally let go of what divides them
1h 40m
Director: David Anspaugh
Screenplay: Ellen Simon
Comedy Drama Romance
Four friends search for love and happiness while working at a California sandwich shop.
1h 37m
Director: David McKay
Writer: Betsy Morris
Comedy Drama Romance
10.
Celeste & Jesse Forever (2012)
Celeste and Jesse met in high school and got married young. They laugh at the same jokes and finish each other's sentences. They are forever linked in their friends' minds as the perfect couple – she, a high-powered businesswoman and budding novelist; he, a free spirit who keeps things from getting boring. Their only problem is that they have decided to get divorced. Can their perfect relationship withstand this minor setback?
1h 31m
Director: Lee Toland Krieger
Screenplay: Will McCormack
Screenplay: Rashida Jones
Comedy Drama Romance
11.
About Last Night... (1986)
A man and woman meet and try to have a romantic affair, despite their personal problems and the interference of their disapproving friends.
1h 53m
Director: Edward Zwick
Writer: Denise DeClue
Writer: Tim Kazurinsky
Writer: David Mamet
Comedy Drama Romance
12.
Educating Rita (1983)
Rita, a witty 26-year-old hairdresser, wants to 'discover' herself so she joins an Open University where she meets the disillusioned professor of literature, Dr. Frank Bryant. His marriage has failed, his new girlfriend is having an affair with his best friend and he can't get through the day without downing a bottle or two of whisky. What Frank needs is a challenge... and along comes Rita.
1h 50m
Director: Lewis Gilbert
Screenplay: Willy Russell
Drama Comedy
explore
Check out more list from our community