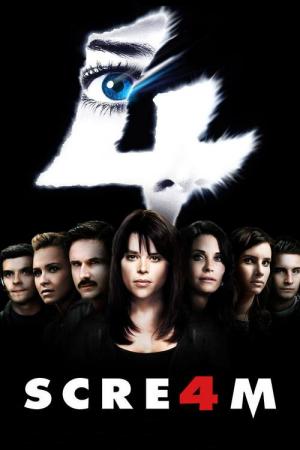 12 Best Movies Like Scream ...
If you liked this one , you will definitely love these too! In this list we highlight some of the best films that share a very similar premise to 'Scream 4', and are worth checking out.
1h 36m Horror Mystery
Special Agent Strahm is dead, and Detective Hoffman has emerged as the unchallenged successor to Jigsaw's legacy. However, when the FBI draws closer to Hoffman, he is forced to set a game into motion, and Jigsaw's grand scheme is finally understood.
2.
Scream: The TV Series (2015)
43m Crime Mystery
What starts as a YouTube video going viral, soon leads to problems for the teenagers of Lakewood and serves as the catalyst for a murder that opens up a window to the town's troubled past. Everyone has secrets. Everyone tells lies. Everyone is fair game.
3.
I Know What You Did Last Summer (1997)
1h 40m Horror Thriller Mystery
As they celebrate their high school graduation, four friends are involved in a hit-and-run accident when their car hits and apparently kills a pedestrian on an isolated roadway. They dispose of the body and vow to keep the incident a secret, a year later somebody starts sending them letters bearing the warning "I Know What You Did Last Summer".
1h 40m Horror Thriller
A college campus is plagued by a vicious serial killer murdering students in ways that correspond to various urban legends.
5.
All the Boys Love Mandy Lane (2006)
1h 30m Horror Mystery Thriller
Beautiful Mandy Lane isn't a party girl but, when classmate Chloe invites the Texas high school student to a bash in the countryside, she reluctantly accepts. After hitching a ride with a vaguely scary older man, the teens arrive at their destination. Partying ensues, and Mandy's close pal, Emmet, keeps a watchful eye on the young males making a play for Mandy. Then two of the students are murdered.
6.
April Fool's Day (1986)
1h 29m Horror Mystery
A group of eight college friends gather together at an island mansion belonging to heiress Muffy St. John to celebrate their final year of school. They soon discover that each has a hidden secret from their past which is revealed, and soon after, they turn up dead.
7.
Urban Legends: Final Cut (2000)
1h 37m Horror Mystery Thriller
The making of a horror movie takes on a terrifying reality for students at the most prestigious film school in the country. At Alpine University, someone is determined to win the best film award at any cost - even if it means eliminating the competition. No one is safe and everyone is a suspect.
1h 45m Horror
Laurie Strode struggles to come to terms with her brother Michael's deadly return to Haddonfield, Illinois. Meanwhile, Michael prepares for another reunion with his sister.
9.
Halloween: Resurrection (2002)
1h 34m Horror Thriller
Serial Killer Michael Myers is not finished with Laurie Strode, and their rivalry finally comes to an end. But is this the last we see of Myers? Freddie Harris and Nora Winston are reality programmers at DangerTainment, and are planning to send a group of 6 thrill-seeking teenagers into the childhood home of Myers. Cameras are placed all over the house and no one can get out of the house... and then Michael arrives home!
10.
Do You Wanna Know a Secret? (2001)
11.
Friday the 13th (1980)
1h 35m Horror
Camp counselors are stalked and murdered by an unknown assailant while trying to reopen a summer camp that was the site of a child's drowning.
12.
My Bloody Valentine (1981)
1h 30m Thriller Horror Mystery
Twenty years ago in the sleepy mining town of Valentine Bluffs, a fatal mining disaster occurred on Valentine's Day while some of the crew was decorating for a party. The sole survivor of the accident killed the remaining crewmembers and warned the town not to celebrate Valentine's Day again. When a group of teenagers decides to defy that order, a murderous maniac in mining gear begins dispatching townsfolk in bloody and creative ways.
explore
Check out more list from our community