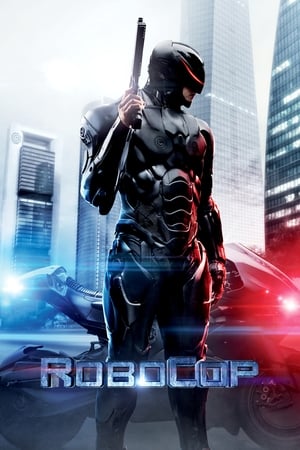 30 Best Movies Like Robocop ...
If you liked this movie , you will probably love these too! In this list we highlight some of the best films that share a very similar premise to '', and are worth checking out.
2h Crime Action Science Fiction
Every child comes into the world full of promise, and none more so than Chappie: he is gifted, special, a prodigy. Like any child, Chappie will come under the influence of his surroundings—some good, some bad—and he will rely on his heart and soul to find his way in the world and become his own man. But there's one thing that makes Chappie different from any one else: he is a robot.
1h 55m Action Science Fiction
In 2035, where robots are commonplace and abide by the three laws of robotics, a technophobic cop investigates an apparent suicide. Suspecting that a robot may be responsible for the death, his investigation leads him to believe that humanity may be in danger.
1h 36m Science Fiction
In a dystopian future, Dredd, the most famous judge (a cop with instant field judiciary powers) is convicted for a crime he did not commit while his murderous counterpart escapes.
1h 44m Action Adventure Crime Science Fiction Thriller
The mega corporation Omni Consumer Products is still bent on creating their pet project, Delta City, to replace the rotting city of Detroit. Unfortunately, the inhabitants of the area have no intention of abandoning their homes simply for desires of the company. To this end, OCP have decided to force them to leave by employing a ruthless mercenary army to attack and harass them. An underground resistance begins and in this fight, Robocop must decide where his loyalties lie.
1h 57m Action Adventure Crime Science Fiction Thriller
After a successful deployment of the Robocop Law Enforcement unit, OCP sees its goal of urban pacification come closer and closer, but as this develops, a new narcotic known as "Nuke" invades the streets led by God-delirious leader Cane. As this menace grows, it may prove to be too much for Murphy to handle. OCP tries to replicate the success of the first unit, but ends up with failed prototypes with suicidal issues... until Dr. Faxx, a scientist straying away from OCP's path, uses Cane as the new subject for the Robocop 2 project, a living God.
1h 42m Action Thriller Science Fiction
In a violent, near-apocalyptic Detroit, evil corporation Omni Consumer Products wins a contract from the city government to privatize the police force. To test their crime-eradicating cyborgs, the company leads street cop Alex Murphy into an armed confrontation with crime lord Boddicker so they can use his body to support their untested RoboCop prototype. But when RoboCop learns of the company's nefarious plans, he turns on his masters.
7.
Terminator Salvation (2009)
1h 55m Action Science Fiction Thriller
All grown up in post-apocalyptic 2018, John Connor must lead the resistance of humans against the increasingly dominating militaristic robots. But when Marcus Wright appears, his existence confuses the mission as Connor tries to determine whether Wright has come from the future or the past -- and whether he's friend or foe.
43m Drama Crime Sci-Fi & Fantasy Action & Adventure
The year is 2048. By mandate, every cop must partner with a robot. Detective John Kennex returns to work after waking up from a 17-month coma. As he adjusts to working with his new partner, Dorian, a discontinued android with unexpected emotional responses, John also must learn to get along with his new colleagues.
9.
RoboCop: Prime Directives (2001)
1h 35m Action Thriller Crime Science Fiction
Thirteen years after the original Robocop, Delta City, considered to be "The Safest Place On Earth!", has become a futuristic city owned and operated by OCP, and RoboCop, Alex Murphy has begun to feel his age. Murphy finds himself nearly obsolete, and must deal with the fact that his now-grown son James is an OCP executive, unaware that his father is still alive. Also, Murphy's former partner, John Cable, has returned to Delta City as its new Security Commander. But slowly, new enemies arise, and Murphy and Cable begin an investigation into a mysterious villain known as the Bone Machine, unaware that they are coming dangerously close to exposing an evil group of OCP executives known as The Trust... which James Murphy is a part of. Desperate to prevent their sinister plans from being revealed, The Trust programs Murphy to kill John Cable...
1h 53m Action Adventure Science Fiction
Construction worker Douglas Quaid discovers a memory chip in his brain during a virtual-reality trip. He also finds that his past has been invented to conceal a plot of planetary domination. Soon, he's off to Mars to find out who he is and who planted the chip.
1h 32m Science Fiction Thriller
Already deep into a second Cold War, Britain's Ministry of Defense seeks a game-changing weapon. Programmer Vincent McCarthy unwittingly provides an answer in The Machine, a super-strong human cyborg. When a programming bug causes the prototype to decimate his lab, McCarthy takes his obsessive efforts underground, far away from inquisitive eyes.
1h 26m Action Science Fiction Adventure Crime Fantasy Thriller
While tracking a ruthless killer, RoboCop and Madigan uncover a conspiracy between insane genius Dr. Cray Mallardo and ruthless OCP executive Chip Chayken, to develop a computer system linked to a human brain. Neuro-brain is created, a system capable of running the public services of the entire city. There s just one glitch: a ghost named DIANA inhabits the machine. As RoboCop gets too close to this kindred spirit, Chayken enlists the aid of a homicidal psychopath Pudface Morgan to kill him off.
1h 28m Action Science Fiction
In the year 2045, a Los Angeles Police Department detective and his new android partner enter the Zone, a forbidden section of the city plagued with an unknown disease. There, they discover the source of the illness and attempt to stop it using the android's advanced technology and weaponry.
14.
Demolition Man (1993)
1h 55m Crime Action Science Fiction
Simon Phoenix, a violent criminal cryogenically frozen in 1996, escapes during a parole hearing in 2032 in the utopia of San Angeles. Police are incapable of dealing with his violent ways and turn to his captor, who had also been cryogenically frozen after being wrongfully accused of killing 30 innocent people while apprehending Phoenix.
15.
Cyborg 2: Glass Shadow (1993)
1h 39m Action Adventure Science Fiction
In the year 2074, the cybernetics market is dominated by two rival companies: USA's Pinwheel Robotics and Japan's Kobayashi Electronics. Cyborgs are commonplace, used for anything from soldiers to prostitutes. Casella Reese is a prototype cyborg developed for corporate espionage and assassination. She is filled with a liquid explosive called Glass Shadow. Pinwheel plans to eliminate the entire Kobayashi board of directors by using Casella
1h 26m Science Fiction Action
A martial artist hunts a killer in a plague-infested urban dump of the future.
1h 35m Action Science Fiction
In the future, America is a dystopian wasteland. The latest scourge is Ma-Ma, a prostitute-turned-drug pusher with a dangerous new drug and aims to take over the city. The only possibility of stopping her is an elite group of urban police called Judges, who combine the duties of judge, jury and executioner to deliver a brutal brand of swift justice. But even the top-ranking Judge, Dredd, discovers that taking down Ma-Ma isn't as easy as it seems in this explosive adaptation of the hugely popular comic series.
1h 37m Science Fiction Thriller Action
In the future, chaos is rampant as 'information terrorists' threaten to destroy order in society. Alex is a part-man, part-machine LAPD cop who is the best at what he does. When one of the terrorists calls him a machine, Alex questions his humanity and decides to leave the force. His final assignment is to apprehend an old colleague who has stolen some data. However, there is more than meets the eye and Alex must question his allegiance.
1h 36m Thriller Science Fiction Action Adventure
Julian Michaels has designed the ultimate resort: VICE, where anything goes and the customers can play out their wildest fantasies with artificial inhabitants who look, think and feel like humans. When an artificial becomes self-aware and escapes, she finds herself caught in the crossfire between Julian's mercenaries and a cop who is hell-bent on shutting down Vice, and stopping the violence once and for all.
1h 40m Thriller Crime Science Fiction
In the near future, a police officer specializes in malfunctioning robots. When a robot turns out to have been programmed to kill, he begins to uncover a homicidal plot to create killer robots... and his son becomes a target.
21.
Terminator Genisys (2015)
2h 6m Science Fiction Action Thriller Adventure
The year is 2029. John Connor, leader of the resistance continues the war against the machines. At the Los Angeles offensive, John's fears of the unknown future begin to emerge when TECOM spies reveal a new plot by SkyNet that will attack him from both fronts; past and future, and will ultimately change warfare forever.
22.
Brick Mansions (2014)
1h 30m Action Crime Drama
In a dystopian Detroit, grand houses that once housed the wealthy are now homes of the city's most-dangerous criminals. Surrounding the area is a giant wall to keep the rest of Detroit safe. For undercover cop Damien Collier, every day is a battle against corruption as he struggles to bring his father's killer, Tremaine, to justice. Meanwhile, Damien and an ex-con named Lino work together to save the city from a plot to destroy it.
1h 46m Action Crime Science Fiction Thriller
The Law Enforcement Technology Advancement Centre (LETAC) has developed SID version 6.7: a Sadistic, Intelligent, and Dangerous virtual reality entity which is synthesized from the personalities of more than 150 serial killers, and only one man can stop him.
24.
Street Kings 2: Motor City (2011)
1h 33m Crime Drama Thriller
Detroit detective Marty Kingston (Liotta) is the leader of an undercover narcotics team, whose members are being systematically murdered one by one. To solve the brutal killings, Kingston joins forces with a cocky, young homicide detective. But neither of them is prepared for the shocking corruption their investigation will uncover — stunning secrets that will set both men on a violent collision course with betrayal and vengeance.
25.
Ghost in the Shell (2017)
1h 47m Science Fiction Action
In the near future, Major is the first of her kind: a human saved from a terrible crash, then cyber-enhanced to be a perfect soldier devoted to stopping the world's most dangerous criminals.
1h 39m Action Adventure Crime Thriller
New York police detective John Shaft arrests Walter Wade Jr. for a racially motivated slaying. But the only eyewitness disappears, and Wade jumps bail for Switzerland. Two years later Wade returns to face trial, confident his money and influence will get him acquitted -- especially since he's paid a drug kingpin to kill the witness.
1h 50m Thriller Science Fiction
Jacq Vaucan, an insurance agent of ROC robotics corporation, routinely investigates the case of manipulating a robot. What he discovers will have profound consequences for the future of humanity.
1h 50m Science Fiction
Time-traveling bounty hunters find a doomed race-car driver in the past and bring him to 2009 New York, where his mind will be replaced with that of a terminally ill billionaire.
29.
Minority Report (2002)
2h 25m Action Thriller Science Fiction Mystery
John Anderton is a top 'Precrime' cop in the late-21st century, when technology can predict crimes before they're committed. But Anderton becomes the quarry when another investigator targets him for a murder charge.
explore
Check out more list from our community