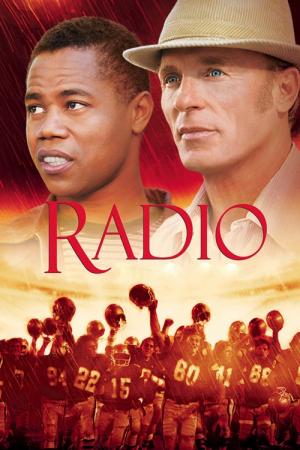 29 Best Movies Like Radio ...
If you liked this movie , you will for sure love these too! In this collection we highlight some of the best films that share a very similar mood to '', and are worth checking out.
1.
Remember the Titans (2000)
1h 53m Drama
After leading his football team to 15 winning seasons, coach Bill Yoast is demoted and replaced by Herman Boone – tough, opinionated and as different from the beloved Yoast as he could be. The two men learn to overcome their differences and turn a group of hostile young men into champions.
2.
Facing the Giants (2006)
1h 51m Drama
A losing coach with an underdog football team faces their giants of fear and failure on and off the field to surprising results.
2h 9m Drama
The story of Michael Oher, a homeless and traumatized boy who became an All American football player and first round NFL draft pick with the help of a caring woman and her family.
2h 9m Drama
Against formidable odds -- and an old-school diving instructor embittered by the U.S. Navy's new, less prejudicial policies -- Carl Brashear sets his sights on becoming the Navy's first African-American master diver in this uplifting true story. Their relationship starts out on the rocks, but fate ultimately conspires to bring the men together into a setting of mutual respect, triumph and honor.
2h 16m Drama History
Based on a true story, in which Richmond High School head basketball coach Ken Carter made headlines in 1999 for benching his undefeated team due to poor academic results.
1h 54m Drama Family
High school basketball is king in small-town Indiana, and the 1954 Hickory Huskers are all hope and no talent. But their new coach -- abrasive, unlikable Norman Dale -- whips the team into shape ... while also inciting controversy.
2h 8m Drama
A track coach in a small California town transforms a team of athletes into championship contenders.
1h 52m Family Drama
The true story of teen surfer Bethany Hamilton, who lost her arm in a shark attack and courageously overcame all odds to become a champion again, through her sheer determination and unwavering faith.
9.
We Are Marshall (2006)
2h 4m Drama
When a plane crash claims the lives of members of the Marshall University football team and some of its fans, the team's new coach and his surviving players try to keep the football program alive.
1h 54m Drama History
Rudy grew up in a steel mill town where most people ended up working, but wanted to play football at Notre Dame instead. There were only a couple of problems. His grades were a little low, his athletic skills were poor, and he was only half the size of the other players. But he had the drive and the spirit of 5 people and has set his sights upon joining the team.
2h 5m Drama Action Crime
Teenagers at a juvenile detention center, under the leadership of their counselor, gain self-esteem by playing football together.
1h Animation Family
In their new home of Fixham Harbour, Bob and the team set to work tackling exciting new building jobs, and making new friends. But when Spud and Scrambler learn of an amazing treasure, the pirate Brickbeard's Golden Hammer, hidden somewhere in Fixham they decide that building can wait, and they must find the hammer to give to Bob. Help them follow the clues and find the Golden Hammer in this all-new special !
1h 58m Drama History
In 1966, Texas Western coach Don Haskins led the first all-black starting line-up for a college basketball team to the NCAA national championship.
2h 10m Drama
Based on the incredible true story, The Express follows the inspirational life of college football hero Ernie Davis, the first African-American to win the Heisman Trophy.
1h 10m Action & Adventure Comedy Drama
Choi Kang is a high school dropout with no goals and no future. Until one day he finds himself recruited into the elite Korea Secret Agency...
2h 14m Drama
The story of Oakland Athletics general manager Billy Beane's successful attempt to put together a baseball team on a budget, by employing computer-generated analysis to draft his players.
17.
Bang the Drum Slowly (1973)
1h 36m Drama
The story of a New York pro baseball team and two of its players. Henry Wiggen is the star pitcher and Bruce Pearson is the normal, everyday catcher who is far from the star player on the team and friend to all of his teammates. During the off-season, Bruce learns that he is terminally ill, and Henry, his only true friend, is determined to be the one person there for him during his last season with the club. Throughout the course of the season, Henry and his teammates attempt to deal with Bruce's impending illness, all the while attempting to make his last year a memorable one.
2h 3m Drama
Housewife and mother Penny Chenery agrees to take over her ailing father's Virginia-based Meadow Stables, despite her lack of horse-racing knowledge. Against all odds, Chenery - with the help of veteran trainer Lucien Laurin - manages to navigate the male-dominated business, ultimately fostering the first Triple Crown winner in 25 years.
2h 7m Drama Family
Jim Morris never made it out of the minor leagues before a shoulder injury ended his pitching career twelve years ago. Now a married-with-children high-school chemistry teacher and baseball coach in Texas, Jim's team makes a deal with him: if they win the district championship, Jim will try out with a major-league organization. The bet proves incentive enough for the team, and they go from worst to first, making it to state for the first time in the history of the school. Jim, forced to live up to his end of the deal, is nearly laughed off the try-out field--until he gets onto the mound, where he confounds the scouts (and himself) by clocking successive 98 mph fastballs, good enough for a minor-league contract with the Tampa Bay Devil Rays. Jim's still got a lot of pitches to throw before he makes it to The Show, but with his big-league dreams revived, there's no telling where he could go.
20.
Million Dollar Arm (2014)
2h 4m Drama
In a last-ditch effort to save his career, sports agent JB Bernstein (Jon Hamm) dreams up a wild game plan to find Major League Baseball's next great pitcher from a pool of cricket players in India. He soon discovers two young men who can throw a fastball but know nothing about the game of baseball. Or America. It's an incredible and touching journey that will change them all — especially JB, who learns valuable lessons about teamwork, commitment and family.
1h 44m Drama
In this uplifting film based on a true story, coach Jim Ellis (Terrence Howard) shocks the community and changes lives when, aided by a local janitor (Bernie Mac), he sets out to form Philadelphia's first black swim team. But the odds are against them as they battle rigid rules, racism and more.
30m Comedy Drama War & Politics
Bluestone 42 is a comedy drama about a British bomb disposal detachment in Afghanistan. So what's the average working day for a hero? Make your keen young colleague deal with the boring paperwork? Wind up your fellow employees? Flirt with the new girl on the team? Or deal with an unseen enemy who's trying to blow you up? Bluestone 42 is a comedy drama about a bunch of soldiers who just happen to be risking their lives diffusing hidden bombs. But who says they can't have some fun alongside the serious professional stuff? This hilarious and often surprising series follows the adventures of a bunch of diverse characters living and working together at an army base in Afghanistan. This is a show about something easily forgotten; soldiers really enjoy being soldiers, but it's not just a show for soldiers and it's not just about the Army: it's also a show for anybody who has ever fallen in love, experienced status battles at work or had a fear of failure. It is packed with the lively workmate banter and relationship minefields that most people will recognise. Even if they don't face danger on a daily basis...
24.
Without Limits (1998)
1h 57m Drama Romance
The film follows the life of famous 1970s runner Steve Prefontaine from his youth days in Oregon to the University of Oregon where he worked with the legendary coach Bill Bowerman, later to Olympics in Munich and his early death at 24 in a car crash.
2h 37m Drama
In 1964, a brash, new pro boxer, fresh from his Olympic gold medal victory, explodes onto the scene: Cassius Clay. Bold and outspoken, he cuts an entirely new image for African Americans in sport with his proud public self-confidence and his unapologetic belief that he is the greatest boxer of all time. Yet at the top of his game, both Ali's personal and professional lives face the ultimate test.
26.
When the Game Stands Tall (2014)
1h 55m Drama
A young coach turns a losing high school football program around to go undefeated for 12 consecutive seasons.
2h 3m Drama History
A dramatic thriller based on the incredible true David vs. Goliath story of American immigrant Dr. Bennet Omalu, the brilliant forensic neuropathologist who made the first discovery of CTE, a football-related brain trauma, in a pro player and fought for the truth to be known. Omalu's emotional quest puts him at dangerous odds with one of the most powerful institutions in the world.
2h 15m Drama History
When college coach Herb Brooks is hired to helm the 1980 U.S. men's Olympic hockey team, he brings a unique and brash style to the ice. After assembling a team of hot-headed college all-stars, who are humiliated in an early match, Brooks unites his squad against a common foe: the heavily-favored Soviet team.
explore
Check out more list from our community