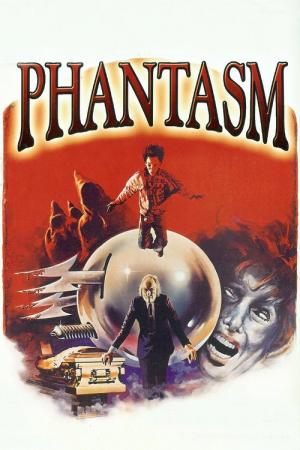 14 Best Movies Like Phantasm ...
If you liked this movie , you will probably love these too! In this selection we highlight some of the best films that share a very similar mood to 'Phantasm', and are worth checking out.
1.
Phantasm IV: Oblivion (1998)
1h 30m Horror Science Fiction
Taking off immediately where the last one ended, in this episode Mike travels across dimensions and time fleeing from the Tall Man, at the same time he tries to find the origins of his enemy, and what really happened the night that his brother died. Meanwhile, Reggie battles the spheres and the undead in a quest to find Mike before the Tall Man can complete his transformation.
2.
The Incredible Melting Man (1977)
1h 24m Horror Science Fiction
An astronaut exposed to cosmic rays outside of Saturn's rings returns to Earth and begins to melt away. Escaping from the hospital, he wanders around the backwoods looking for human flesh to eat.
1h 58m Horror Science Fiction Thriller
A government agent is determined to come to his son's rescue, when a sinister official kidnaps him to harness his extremely powerful psychic abilities.
1h 25m Horror Science Fiction
A group of scientists have developed the Resonator, a machine which allows whoever is within range to see beyond normal perceptible reality. But when the experiment succeeds, they are immediately attacked by terrible life forms.
5.
City of the Living Dead (1980)
1h 33m Horror
A psychic participates in a séance where she sees a vision of a Dunwich priest hanging himself in a church cemetery, causing her to die of fright. New York City reporter Peter Bell investigates the séance and learns that the priest's suicide has somehow opened a portal to Hell and must be sealed by All Saints Day, or else the dead will overtake humanity.
6.
Hellraiser: Bloodline (1996)
1h 26m Horror Thriller Science Fiction
In the 22nd century, a scientist attempts to right the wrong his ancestor created: the puzzle box that opens the gates of Hell and unleashes Pinhead and his Cenobite legions
1h 31m Horror Science Fiction
Amanda's deathbed request to her son, John, was for him to destroy all the lab notes etc. from her last experiment. She also blurts out he had a brother. At the funeral John meets Melissa, who claims to be his mothers biggest fan. Together with some of John's friends they go to Amanda's house, but none are prepared for what they find there.
8.
Graveyard Shift (1990)
1h 29m Horror
John Hall is a drifter who wanders into a small town in Maine. He needs a job and decides to seek employment at the community's top business: a large textile mill. He is hired to work the "graveyard shift" -- from around midnight to dawn -- and, along with a few others, he is charged with cleaning out the basement. This task strikes the workers as simple enough, but then, as they proceed deeper underground, they encounter an unspeakable monstrosity intent on devouring them all.
1h 31m Horror Science Fiction
After undergoing radical surgery for injuries from a motorcycle accident, a young woman develops a strange phallic growth on her body and a thirst for human blood—the only nourishment that will now sustain her.
10.
It Lives Again (1978)
1h 31m Horror
An epidemic of mutant monster babies sweeps America.
11.
Invasion of the Body Snatchers (1978)
1h 56m Horror Mystery Science Fiction
Matthew Bennell notices that several of his friends are complaining that their close relatives are in some way different. When questioned later they themselves seem changed, as they deny everything or make lame excuses. As the invaders increase in number they become more open and Bennell, who has by now witnessed an attempted 'replacement', realises that he and his friends must escape or suffer the same fate.
1h 37m Action Horror Science Fiction Thriller
Mike, after his release from a psychiatric hospital, teams up with his old pal Reggie to hunt down the Tall Man, who is at it again. A mysterious, beautiful girl has also become part of Mike's dreams, and they must find her before the Tall Man does.
1h 32m Horror Drama Mystery
A commitment-shy New York fashion model moves into an old brownstone apartment, meets her weird neighbours and discovers she's sitting on the gateway to Hell.
explore
Check out more list from our community