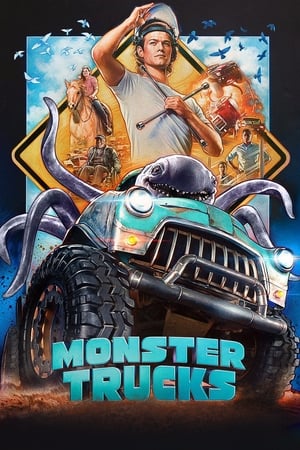 13 Best Movies Like Monster Trucks ...
If you liked this movie , you will probably love these too! In this selection we highlight some of the best films that share a very similar premise to 'Monster Trucks', and are worth checking out.
1h 21m Action Adventure Comedy Family Fantasy
A lab accident gives a hound named Shoeshine some serious superpowers -- a secret that the dog eventually shares with the young boy who becomes his owner and friend.
2.
Lake Placid vs. Anaconda (2015)
1h 32m Action Horror
A giant alligator goes head to head with a giant Anaconda. The town sheriff must find a way to destroy the two monsters before they kill the whole town.
3.
Mighty Joe Young (1998)
4.
Zathura: A Space Adventure (2005)
1h 41m Family Fantasy Science Fiction Adventure Comedy
After their father is called into work, two young boys, Walter and Danny, are left in the care of their teenage sister, Lisa, and told they must stay inside. Walter and Danny, who anticipate a boring day, are shocked when they begin playing Zathura, a space-themed board game, which they realize has mystical powers when their house is shot into space. With the help of an astronaut, the boys attempt to return home.
1h 47m Action
Primatologist Davis Okoye shares an unshakable bond with George, the extraordinarily intelligent, silverback gorilla who has been in his care since birth. But a rogue genetic experiment gone awry mutates this gentle ape into a raging creature of enormous size. To make matters worse, it's soon discovered there are other similarly altered animals. As these newly created alpha predators tear across North America, destroying everything in their path, Okoye teams with a discredited genetic engineer to secure an antidote, fighting his way through an ever-changing battlefield, not only to halt a global catastrophe but to save the fearsome creature that was once his friend.
6.
Spider-Man: Homecoming (2017)
2h 13m Action Adventure Science Fiction Drama
Following the events of Captain America: Civil War, Peter Parker, with the help of his mentor Tony Stark, tries to balance his life as an ordinary high school student in Queens, New York City, with fighting crime as his superhero alter ego Spider-Man as a new threat, the Vulture, emerges.
1h 47m Comedy Fantasy
After losing their academic posts at a prestigious university, a team of parapsychologists goes into business as proton-pack-toting "ghostbusters" who exterminate ghouls, hobgoblins and supernatural pests of all stripes. An ad campaign pays off when a knockout cellist hires the squad to purge her swanky digs of demons that appear to be living in her refrigerator.
8.
Journey to the Center of the Earth (2008)
1h 33m Action Science Fiction Adventure Comedy Family
On a quest to find out what happened to his missing brother, a scientist, his nephew and their mountain guide discover a fantastic and dangerous lost world in the center of the earth.
11.
Secret Society of Second Born Royals (2020)
12.
Kong: Skull Island (2017)
1h 58m Action Adventure Fantasy
Explore the mysterious and dangerous home of the king of the apes as a team of explorers ventures deep inside the treacherous, primordial island.
13.
Spider-Man: Far from Home (2019)
2h 9m Action Adventure Science Fiction
Peter Parker and his friends go on a summer trip to Europe. However, they will hardly be able to rest - Peter will have to agree to help Nick Fury uncover the mystery of creatures that cause natural disasters and destruction throughout the continent.
explore
Check out more list from our community