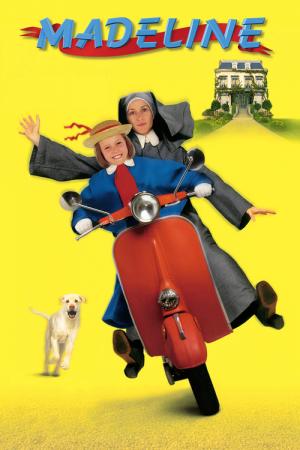 26 Best Movies Like Madeline ...
If you liked this movie , you will for sure love these too! In this list we highlight some of the best films that share a very similar mood to '', and are worth checking out.
1h 38m Comedy Family Fantasy
An extraordinarily intelligent young girl from a cruel and uncaring family discovers she possesses telekinetic powers and is sent off to a school headed by a tyrannical principal.
2.
Little Nicholas (2009)
1h 31m Comedy
Nicolas has a happy existence, parents who love him, a great group of friends with whom he has great fun, and all he wants is that nothing changes. However, one day, he overhears a conversation that leads him to believe that his life might change forever, his mother is pregnant! He panics and envisions the worst.
3.
The Trouble with Angels (1966)
1h 52m Comedy Family
Mary and her friend, Rachel, are new students at St. Francis Academy, a boarding school run by the iron fist of Mother Superior. The immature teens grow bored and begin playing pranks on both the unsuspecting nuns and their unpleasant classmates, becoming a constant thorn in Mother Superior's side. However, as the years pass, Mary and Rachel slowly mature and begin to see the nuns in a different light.
1h 21m Comedy
Ben Healy and his social climbing wife Flo adopt fun-loving seven year old Junior. But they soon discover he's a little monster as he turns a camping trip, a birthday party and even a baseball game into comic nightmares.
5.
Slappy and the Stinkers (1998)
1h 18m Adventure Family
Five 2nd-grade kids who don't follow strict rules by their school principal Brinway are dubbed "Stinkers" by him. On the class visit to an aquarium the Stinkers decide that a sea lion called Slappy doesn't feel too good there, "free" him, and plant him into Brinway's hot-tub.
6.
The Ugly Dachshund (1966)
1h 33m Comedy Drama Family
The Garrisons are the "proud parents" of three adorable dachshund pups - and one overgrown Great Dane named Brutus, who nevertheless thinks of himself as a dainty dachsie. His identity crisis results in an uproarious series of household crises that reduce the Garrisons' house to shambles - and viewers to howls of laughter!
7.
Nicholas on Holiday (2014)
1h 37m Family Comedy
It's the end of the school year. The long-awaited moment of the holidays is arrive. The little Nicolas, her parents and Grandma take the road towards the sea, and settle in for some time at the Hotel Beau-Rivage.
1h 30m Action Adventure Comedy Family
Bingo, the runaway circus dog, is off the leash and saving Chuckie's life! Bingo and the boy become the best of friends in this canine comedy featuring doggy disguises and skateboarding, pinball and prison. Chuckie and his parents (Cindy Williams and David Rasche) are moving house, a thousand miles away, but Bingo won't be allowed to join them. Chuckie and Bingo's determination to be reunited is t
9.
Judy Moody and the Not Bummer Summer (2011)
1h 31m Comedy Family
Third-grader Judy Moody sets out to have the most thrilling summer of her life.
10.
Dennis the Menace (1993)
25m Animation Comedy
Based upon one of the most successful and evergreen comic strips ever published (and inspiration for the hit live action movie), Hank Ketcham's classic "Dennis The Menace," this series stars the irrepressible Dennis and his unwilling best friend, the grumpy Mr. Wilson. This heartwarming and hilarious series depicts the adult world from a child's perspective.
11.
Leave It to Beaver (1997)
1h 24m Comedy Family
Cleavers are an all-American family living in Ohio - wise father Ward, loving mother June, teen-age son Wally and 8-year-old "Beaver" Theodore. Beaver hopes to get a bike as a gift from his father and to please him tries out for his school football team and he makes it, only to be embarrassed. The bike he gets is quickly stolen. Meanwhile Wally is trying to help his friend Eddie Haskell to get the heart of pretty classmate Karen, but Karen seems to like Wally more, and that leads to tensions between the friends.
1h 20m Adventure Comedy Family
Five puppies are shocked to find out that their parents, Buddy and Molly, have been abducted and face obstacles while trying to rescue them.
13.
Zeus and Roxanne (1997)
1h 38m Adventure Comedy Family Romance
Mary Beth is a marine biologist that gets annoyed when a dog called Zeus stows aboard her research boat. Nevertheless she is intrigued when the intrusive canine makes best-friends with her captive dolphin, Roxanne. She falls in love with Zeus's owner, Terry, a musician who rides a bike.
14.
Ace Ventura: Pet Detective Jr. (2009)
15.
Bailey's Billion$ (2005)
1h 33m Family Comedy
Sweet and savvy talking golden retriever, Bailey, is one doggone lucky pooch when his devoted owner, Constance Pennington, leaves him her entire billion-dollar fortune. Bailey is lucky, that is, until he becomes the target of an elaborately-designed dognap scheme hatched by Constance's nasty nephew Caspar and his money-hungry wife Dolores. The despicable duo's wicked plan is to ultimately gain custody of the canine so they can get their greedy paws on his inheritance. Unfortunately for them, there's a thing or two they don't know about Bailey. Not only does he have great street smarts, he has great pals too. Bailey's loyal guardian Ted, kind-hearted animal advocate Marge, her daughter Sam, and a clever border collie named Tessa set out on a hilarious madcap adventure to free their four-legged friend and put the nasty dognappers out of business-for good!
1h 48m Comedy Family
High-schooler Grover Beindorf and his younger sister Stacy decide that their parents, Janet and Ned, are acting childishly when they decide to divorce after 18 years of marriage, so they lock them up in the basement until they'll sort out their problems.
17.
The Cat in the Hat (2003)
1h 22m Family Fantasy
Conrad and Sally Walden are home alone with their pet fish. It is raining outside, and there is nothing to do. Until The Cat in the Hat walks in the front door. He introduces them to their imagination, and at first it's all fun and games, until things get out of hand, and The Cat must go, go, go, before their parents get back.
18.
Man of the House (1995)
1h 36m Action Comedy Family
Ben Archer is not happy. His mother, Sandy, has just met a man, and it looks like things are pretty serious. Driven by a fear of abandonment, Ben tries anything and everything to ruin the "love bubble" which surrounds his mom. However, after Ben and Jack's experiences in the Indian Guides, the two become much closer.
1h 41m Comedy Family
Some say that to be the leader of a country is one of the loneliest jobs in the world. But being the child of a world leader can be doubly so. Constantly surrounded by security officers, restricted in movements and having almost every waking moment carefully monitored makes normalcy an impossibility. No one knows this better than young Luke Davenport, the son of U.S. President Davenport. He vents his loneliness, frustration and feelings of isolation from family and friends by being a brat to his private Secret Service agent. When the agent snaps from the strain in front of the First Lady, a new agent is assigned to Luke. He turns out to be the enormous Sam Simms, a bit of a rogue who managed to rise through the ranks by sheer determination rather than strict adherence to Secret-Service protocol. At first, Luke tries all his old tricks upon Sam. But instead of getting angry, Sam seems to actually understand.
20.
Kit Kittredge: An American Girl (2008)
1h 41m Family Comedy Drama
The Great Depression hits home for nine year old Kit Kittredge when her dad loses his business and leaves to find work. Oscar nominee Abigail Breslin stars as Kit, leading a splendid cast in the first ever "American Girl" theatrical movie. In order to keep their home, Kit and her mother must take in boarders - paying house - guests who turn out to be full of fascinating stories. When mother's lockbox containing all their money is stolen, Kit's new hobo friend Will is the prime suspect. Kit refuses to believe that Will would steal, and her efforts to sniff out the real story get her and friends into big trouble. The police say the robbery was an inside job, committed by someone they know. So if it wasn't Will, then who did it.
21.
Alexander and the Terrible, Horrible, No Good, Very Bad Day (2014)
1h 21m Family Comedy
Alexander's day begins with gum stuck in his hair, followed by more calamities. Though he finds little sympathy from his family and begins to wonder if bad things only happen to him, his mom, dad, brother, and sister all find themselves living through their own terrible, horrible, no good, very bad day.
1h 35m Comedy Family
Billionaire heir Richie Rich has it all, including Reggie Jackson as a batting coach and Claudia Schiffer as a personal trainer -- but no playmates. What's more, scoundrel Laurence Van Dough is scheming to take over the family empire. Uh-oh! Enter faithful butler Cadbury to save the day.
23.
Babysitters Beware (2009)
1h 11m Drama Comedy Family
Seven-year-old Danny Parker is a good kid who loves his parents. But they have to go out on business dinners all the time, leaving him stuck with a sitter. It's not so bad when it's his favorite babysitter, Janelle but he also gets stuck with sitters like Ms. Greene who won't let him have any fun. Danny just wants to spend more time with his Mom and Dad.
1h 27m Comedy Family
The Newton family live in their comfortable home, but there seems to something missing. This "hole" is filled by a small puppy, who walks into their home and their lives. Beethoven, as he is named, grows into a giant of a dog... a St Bernard. Doctor Varnick, the local vet has a secret and horrible sideline, which requires lots of dogs for experiments. Beethoven is on the bad doctor's list.
1h 37m Fantasy Comedy Family
Widower Cedric Brown hires Nanny McPhee to care for his seven rambunctious children, who have chased away all previous nannies. Taunted by Simon and his siblings, Nanny McPhee uses mystical powers to instill discipline. And when the children's great-aunt and benefactor, Lady Adelaide Stitch, threatens to separate the kids, the family pulls together under the guidance of Nanny McPhee.
explore
Check out more list from our community