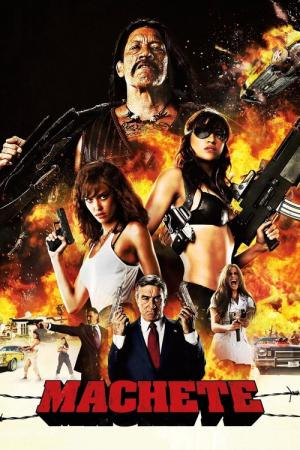 12 Best Movies Like Machete ...
If you liked this movie , you will definitely love these too! In this list we highlight some of the best films that share a very similar mood to 'Machete', and are worth checking out.
23m Comedy Drama
"Les étoiles filantes" is the story of two friends in their late thirties whose lives have taken very different paths. Twenty years after their band broke up and all dreams of that elusive recording contract had faded away, the two men meet up once again. They now live in very different worlds, worlds that are destined to clash from the moment that the incorrigible, free-spirited Daniel turns up on Jacques the math teacher's doorstep. Daniel calmly tells his old friend that he has only six months left to live. The nomad parks his trailer in Jacques' yard and proceeds to carve himself a place in the household's well organized routine. However, he mischievously makes the most of every opportunity to shake up the family's tidy world. This series tells a tale of friendship – albeit a frequently strained one – where values of stability and freedom humorously polarize and keep us smiling throughout.
1h 39m Action Thriller
Nico Toscani is an Italian immigrant, American patriot, ex-CIA agent, aikido specialist and unorthodox Chicago policeman. He is as committed to his job as he is to his personalized brand of justice—expert and thorough bone-crushing.
3.
Once Upon a Time in Mexico (2003)
1h 42m Action Drama Mystery
Hitman "El Mariachi" becomes involved in international espionage involving a psychotic CIA agent and a corrupt Mexican general.
1h 56m Action Adventure Thriller
Based on a shocking true story, Killer Elite pits two of the world's most elite operatives—Danny, an ex-special ops agent and Hunter, his longtime mentor—against the cunning leader of a secret military society. Covering the globe from Australia to Paris, London and the Middle East, Danny and Hunter are plunged into a highly dangerous game of cat and mouse—where the predators become the prey.
1h 49m Drama Action Comedy Thriller Crime
Three bad girls (a down-and-out stripper, a drug-running killer and a corporate powerbroker) arrive at a remote desert hideaway to extort and steal $200 million in diamonds from a ruthless underworld kingpin.
1h 21m Action Crime Thriller
El Mariachi just wants to play his guitar and carry on the family tradition. Unfortunately, the town he tries to find work in has another visitor, a killer who carries his guns in a guitar case. The drug lord and his henchmen mistake el Mariachi for the killer, Azul, and chase him around town trying to kill him and get his guitar case.
1h 47m Action Thriller Crime
Black police officer Russell Stevens applies for a special anti-drug squad which targets the highest boss of cocaine delivery to LA—the Colombian foreign minister's nephew. Russell works his way up from the bottom undercover, until he reaches the boss.
1h 47m Action Crime Thriller
Ex-Federale agent Machete is recruited by the President of the United States for a mission which would be impossible for any mortal man – he must take down a madman revolutionary and an eccentric billionaire arms dealer who has hatched a plan to spread war and anarchy across the planet.
9.
Crank: High Voltage (2009)
1h 36m Action Thriller Crime
Chelios faces a Chinese mobster who has stolen his nearly indestructible heart and replaced it with a battery-powered ticker that requires regular jolts of electricity to keep working.
10.
Hitman: Agent 47 (2015)
1h 36m Action Crime Thriller
An assassin teams up with a woman to help her find her father and uncover the mysteries of her ancestry.
1h 50m Action Drama Thriller Crime
John "Breacher" Wharton leads an elite DEA task force that takes on the world's deadliest drug cartels. When the team successfully executes a high-stakes raid on a cartel safe house, they think their work is done – until, one-by-one, the team members mysteriously start to be eliminated. As the body count rises, everyone is a suspect.
12.
The Boondock Saints II: All Saints Day (2009)
1h 58m Action Thriller Crime
Skillfully framed by an unknown enemy for the murder of a priest, wanted vigilante MacManus brothers Murphy and Connor must come out of hiding on a sheep farm in Ireland to fight for justice in Boston.
explore
Check out more list from our community