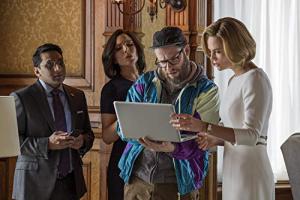 14 Best Movies Like Long Shot ...
If you liked this movie , you will definitely love these too! In this selection we highlight some of the best films that share a very similar premise to 'Long Shot', and are worth checking out.
1h 35m Romance Comedy
Even at the age of 40, Juliette is used to other people making decisions for her. When she meets two guys she likes, she has to finally make her own decision.
2.
Unofficially Yours (2012)
1h 34m Comedy Romance
A modern day treasure hunt for a mystical relic that turns into a love story for all time.
1h 16m Comedy Romance
Evicted from his apartment, James has to move in with his girlfriend of 3 months. He quickly discovers that she's everything he never wanted in a woman. His only option is to get her to break up with him -- but still let him sleep on the couch.
1h 22m Comedy Romance
Robert picked the wrong time to meet his soul mate! After being fired from his own father's company, he feels like his luck has run out - until Morgan enters into his life.
1h 40m Comedy Romance
An average guy meets an actress who is more beautiful than he could ever imagine. But then a pesky girl materializes to make his life a living hell. His perfect girlfriend now thinks that he is involved with this Caprice.
1h 51m Comedy Romance
Altruistic Jane finds herself facing her worst nightmare as her younger sister announces her engagement to the man Jane secretly adores.
1h 44m Romance Comedy
Centers around the lives of Victoria, Zenobia, Clevon, and Phil -- all friends approaching the age of 35 and struggling to build the families they've always dreamed of. While Zenobia (Nicole Ari Parker) is still looking for a man, Victoria (Tamala Jones) is married to a man who doesn't want children. Clevon (Kevin Hart), meanwhile, is too geeky to get a woman, and Phil (Keith Robinson) is already married with children, but his wife is not very interested in being a mother. All four of them try to rectify their romantic lives and futures while their biological clocks tick away.
9.
Bad Date Chronicles (2017)
1h 24m Romance TV Movie
Leigh runs the website "Bad Date Chronicles," which allows people to anonymously post horrible date experiences. When rival blogger Conner becomes the subject of one of her posts, they agree to date each other to see which one is the "bad dater."
1h 35m Romance Comedy
Upon discovering her husband's infidelity, Sandy leaves the suburbs and moves into the city. There, she befriends Aram, a guy whose wife only married him so she could get a green card. Sandy hires Aram to be her nanny, and it isn't long until Aram and Sandy find out they get along wonderfully and start to date. But is their relationship real or is it, in fact, just a rebound for both of them?
12.
The Back-up Plan (2010)
1h 46m Comedy Romance
When Zoe tires of looking for Mr. Right, she decides to have a baby on her own. But on the day she's artificially inseminated, she meets Stan, who seems to be just who she's been searching for all her life. Now, Zoe has to figure out how to make her two life's dreams fit with each other.
13.
It Happened in Saint-Tropez (2013)
14.
I Hate Valentine's Day (2009)
1h 38m Comedy Romance
A love story set in Manhattan, where a florist who abides by a strict five-date-limit with any man finds herself wanting more with the new restaurateur in town.
explore
Check out more list from our community