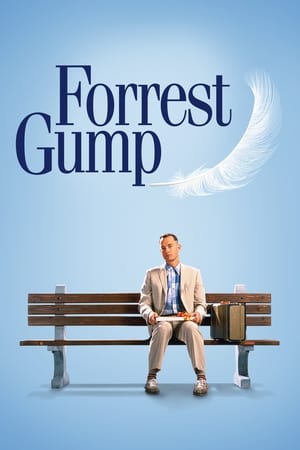 14 Best Movies Like Forrest Gump ...
If you liked this film , you will probably love these too! In this list we highlight some of the best films that share a very similar mood to 'Forrest Gump', and are worth checking out.
1.
The Curious Case of Benjamin Button (2008)
2h 46m Drama Fantasy Romance
I was born under unusual circumstances. And so begins. The Curious Case of Benjamin Button, adapted from the 1920s story by F. Scott Fitzgerald about a man who is born in his eighties and ages backwards: a man, like any of us, who is unable to stop time. We follow his story, set in New Orleans, from the end of World War I in 1918 into the 21st century, following his journey that is as unusual as any man's life can be. Directed by David Fincher and starring Brad Pitt and Cate Blanchett with Taraji P. Henson, Tilda Swinton, Jason Flemyng, Elias Koteas and Julia Ormond, Benjamin Button, is a grand tale of a not-so-ordinary man and the people and places he discovers along the way, the loves he finds, the joys of life and the sadness of death, and what lasts beyond time.
2h 26m Drama
Aibileen Clark is a middle-aged African-American maid who has spent her life raising white children and has recently lost her only son; Minny Jackson is an African-American maid who has often offended her employers despite her family's struggles with money and her desperate need for jobs; and Eugenia "Skeeter" Phelan is a young white woman who has recently moved back home after graduating college to find out her childhood maid has mysteriously disappeared. These three stories intertwine to explain how life in Jackson, Mississippi revolves around "the help"; yet they are always kept at a certain distance because of racial lines.
2h 14m Drama
Selfish yuppie Charlie Babbitt's father left a fortune to his savant brother Raymond and a pittance to Charlie; they travel cross-country.
4.
Slumdog Millionaire (2008)
2h Drama Romance
Jamal Malik is an impoverished Indian teen who becomes a contestant on the Hindi version of 'Who Wants to Be a Millionaire?' but, after he wins, he is suspected of cheating.
5.
The Theory of Everything (2014)
2h 3m Drama Romance
The Theory of Everything is the extraordinary story of one of the world's greatest living minds, the renowned astrophysicist Stephen Hawking, who falls deeply in love with fellow Cambridge student Jane Wilde.
2h 3m Drama Romance
The daughter of a thief, young Moll is placed in the care of a nunnery after the execution of her mother. However, the actions of an abusive priest lead Moll to rebel as a teenager, escaping to the dangerous streets of London. Further misfortunes drive her to accept a job as a prostitute from the conniving Mrs. Allworthy. It is there that Moll first meets Hibble, who is working as Allworthy's servant but takes a special interest in the young woman's well-being. With his help, she retains hope for the future, ultimately falling in love with an unconventional artist who promises the possibility of romantic happiness.
7.
The Fault in Our Stars (2014)
2h 6m Romance Drama
Despite the tumor-shrinking medical miracle that has bought her a few years, Hazel has never been anything but terminal, her final chapter inscribed upon diagnosis. But when a patient named Augustus Waters suddenly appears at Cancer Kid Support Group, Hazel's story is about to be completely rewritten.
8.
My Name Is Khan (2010)
2h 45m Drama Romance
Rizwan Khan, a Muslim from the Borivali section of Mumbai, has Asperger's syndrome. He marries a Hindu single mother, Mandira, in San Francisco. After 9/11, Rizwan is detained by authorities at LAX who treat him as a terrorist because of his condition and his race.
1h 55m Comedy Drama
The true story of Dr. Hunter "Patch" Adams, who in the 1970s found that humor is the best medicine, and was willing to do just anything to make his patients laugh—even if it meant risking his own career.
10.
Memoirs of a Geisha (2005)
2h 26m Drama Romance History
A sweeping romantic epic set in Japan in the years before World War II, a penniless Japanese child is torn from her family to work as a maid in a geisha house.
2h 12m Drama
Although Sam has the mental capacity of a 7-year-old, he has a daughter with a homeless woman who abandons them when they leave the hospital, leaving Sam to raise Lucy on his own. But as Lucy grows up, Sam's limitations start to become a problem and the authorities take her away. Sam shames high-priced lawyer, Rita into taking his case pro bono and in turn teaches her the value of love and family.
12.
Pay It Forward (2000)
2h 2m Drama
Like some other kids, 12-year-old Trevor McKinney believed in the goodness of human nature. Like many other kids, he was determined to change the world for the better. Unlike most other kids, he succeeded.
13.
Scent of a Woman (1992)
2h 36m Drama
Charlie Simms is a student at a private preparatory school who comes from a poor family. To earn the money for his flight home to Gresham, Oregon for Christmas, Charlie takes a job over Thanksgiving looking after retired U.S. Army officer Lieutenant Colonel Frank Slade, a cantankerous middle-aged man who lives with his niece and her family.
2h 3m Romance Drama
An epic love story centered around an older man who reads aloud to a woman with Alzheimer's. From a faded notebook, the old man's words bring to life the story about a couple who is separated by World War II, and is then passionately reunited, seven years later, after they have taken different paths.
explore
Check out more list from our community