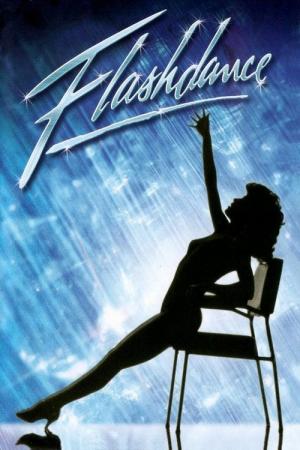 29 Best Movies Like Flashdance ...
If you liked this one , you will definitely love these too! In this collection we highlight some of the best films that share a very similar premise to '', and are worth checking out.
1h 40m Drama Music Romance
Expecting the usual tedium that accompanies a summer in the Catskills with her family, 17-year-old Frances 'Baby' Houseman is surprised to find herself stepping into the shoes of a professional hoofer—and unexpectedly falling in love.
2.
Save the Last Dance (2001)
1h 53m Drama Family Romance Music
After the death of her mother, Sara moves to the South Side of Chicago to live with her father and gets transferred to a majority-black school. Her life takes a turn for the better when befriends Chenille and her brother Derek, who helps her with her dancing skills.
3.
Saturday Night Fever (1977)
1h 58m Drama Music
Tony spends his Saturdays at a disco where his stylish moves raise his popularity among the patrons. But his life outside the disco is not easy and things change when he gets attracted to Stephanie.
1h 54m Drama Music
After the death of his younger brother, a troubled 19-year-old street dancer from Los Angeles is able to bypass juvenile hall by enrolling in the historically black, Truth University in Atlanta, Georgia. But his efforts to get an education and woo the girl he likes are sidelined when he is courted by the top two campus fraternities, both of which want and need his fierce street-style dance moves to win the highly coveted national step show competition.
1h 35m Drama Music
At Mr. Rad's Warehouse, the best hip-hop crews in Los Angeles compete for money and respect. But when a suburban crew crashes the party, stealing their dancers - and their moves - two warring friends have to pull together to represent the street. Starring hip-hop sensations Marques Houston, Omari Grandberry, Lil' Kim and comedian Steve Harvey.
1h 55m Drama Music
A group of 12 teenagers from various backgrounds enroll at the American Ballet Academy in New York to make it as ballet dancers and each one deals with the problems and stress of training and getting ahead in the world of dance.
1h 33m Drama Music
It's five years later and Tony Manero's Saturday Night Fever is still burning. Now he's strutting toward his biggest challenger yet - making it as a dancer on the Broadway stage.
1h 44m Music Drama Romance Crime
Everyone deserves a chance to follow their dreams, but some people only get one shot. Tyler Gage is a rebel from the wrong side of Baltimore's tracks and the only thing that stands between him and an unfulfilled life are his dreams of one day making it out of there. Nora is a privileged ballet dancer attending Baltimore's ultra-elite Maryland School of the Arts
2h 14m Drama Music
A chronicle of the lives of several teenagers who attend a New York high school for students gifted in the performing arts.
1h 48m Comedy Music Drama
A former professional dancer volunteers to teach dance in the New York public school system and, while his background first clashes with his students' tastes, together they create a completely new style of dance. Based on the story of ballroom dancer, Pierre Dulane.
1h 40m Comedy Drama Music Romance
Graced with a velvet voice, 21-year-old Violet Sanford heads to New York to pursue her dream of becoming a songwriter only to find her aspirations sidelined by the accolades and notoriety she receives at her "day" job as a barmaid at Coyote Ugly. The "Coyotes" as they are affectionately called tantalize customers and the media alike with their outrageous antics, making Coyote Ugly the watering hole for guys on the prowl.
1h 34m Romance Music Family
Honey Daniels dreams of making a name for herself as a hip-hop choreographer. When she's not busy hitting downtown clubs with her friends, she teaches dance classes at a nearby community center in Harlem, N.Y., as a way to keep kids off the streets. Honey thinks she's hit the jackpot when she meets a hotshot director casts her in one of his music videos. But, when he starts demanding sexual favors from her, Honey makes a decision that will change her life.
13.
Step Up Revolution (2012)
1h 39m Music Drama Romance
Emily arrives in Miami with aspirations to become a professional dancer. She sparks with Sean, the leader of a dance crew whose neighborhood is threatened by Emily's father's development plans.
14.
Save the Last Dance 2 (2006)
1h 30m Drama Family Romance
Sara joins Julliard in New York to fulfill her and her mother's dream of becoming the Prima ballerina of the school. She befriends her roommates, Zoe and Miles, who teach hip-hop classes. She has ballet classes with the rigid and famous Monique Delacroix that she idolizes - Monique requires full commitment, discipline and hard work from her students. When Miles, who is a composer, invites Sara to help him compose the music for the dance choreography Sara's passion for hip-hop is sparked and she also falls in love with Miles. When she is assigned to perform Giselle in an important event, she feels divided between the technique of the ballet and the creative work offered by Miles.
1h 44m Drama Romance
A young woman is catapulted into pop stardom, with her already-famous DJ boyfriend calling the shots.
1h 36m Drama Music Romance
When a hip hop violinist busking in the New York subway encounters a classical dancer on scholarship at the Manhattan Conservatory of the Arts, sparks fly. With the help of a hip hop dance crew they must find a common ground while preparing for a competition that could change their lives forever.
18.
Eddie and the Cruisers II: Eddie Lives! (1989)
1h 44m Drama Thriller Music
In the sixties, Eddie and the cruisers was the hottest band around. But the tragic death of its lead singer broke the band up. Only Eddie is not dead. He works as a carpenter in Montreal. His love of music forces him to create a new band which will have to struggle with its anonymity.
1h 24m Crime Drama Music
A young female breakdancer, Angel, moves to Los Angeles after an attack by an ex-boyfriend nearly ends her dance career forever. B-Girl follows Angel through recovery and acceptance of a new life as she busts a move into the male-centric world of underground hip hop.
1h 45m Music Drama Comedy
A wannabe rock star who fronts a Pennsylvania-based tribute band is devastated when his kick him out of the group he founded. Things begin to look up for Izzy when he is asked to join Steel Dragon, the heavy metal rockers he had been imitating for so long. This film is loosely based on the true story of the band Judas Priest.
21.
Breaking Brooklyn (2018)
1h 37m Drama Family Music Romance
A 12 year old boy with a passion for dance and his brother are rescued from the streets by an old showman who takes them to live with his estranged former dancing partner/brother.
1h 25m Drama Romance Music
After suffering humiliation by the crew Invincible, street dancer Ash looks to gather the best dancers from around the world for a rematch.
23.
Step Up 2: The Streets (2008)
1h 38m Music Drama Romance
When rebellious street dancer Andie lands at the elite Maryland School of the Arts, she finds herself fighting to fit in while also trying to hold onto her old life. When she joins forces with the schools hottest dancer, Chase, to form a crew of classmate outcasts to compete in Baltimore s underground dance battle The Streets.
24.
StreetDance 3D (2010)
1h 38m Drama Music Romance
In order to win the Street Dance Championships, a dance crew is forced to work with ballet dancers from the Royal Dance School in exchange for rehearsal space.
1h 47m Drama Romance
A tight-knit group of New York City street dancers, including Luke and Natalie, team up with NYU freshman Moose, and find themselves pitted against the world's best hip hop dancers in a high-stakes showdown that will change their lives forever.
1h 32m Music Comedy
When a young rock group called The Mystery gets its first gig at a club, it's an opportunity to see what life is all about! Fresh out of high school, the rockers are hired by an exclusive beach resort thanks to a faded '60s songwriter. There, they meet with romance and adventure. But street-smart lead singer Jennie Lee faces a dilemma: pursue her budding career or finish high school.
27.
Battle of the Year (2013)
1h 50m Music Drama
A down-on-his-luck coach is hired to prepare a team of the best American dancers for an international tournament that attracts all the best crews from around the world, but the Americans haven't won in fifteen years.
28.
Honey 3: Dare to Dance (2016)
1h 37m Drama Family Music Romance
While attending college in Cape Town, Melea Martin feels constrained by the school's strict policies, and decides to set out on her own. Searching for a way to use her talents as a dancer and inspire the community around her, Melea rents a failing theater in order to put on a Hip-Hop Romeo and Juliet performance. But much like the Capulets and Montagues, conflicts between cast members threaten to bring the whole performance to a halt...
explore
Check out more list from our community