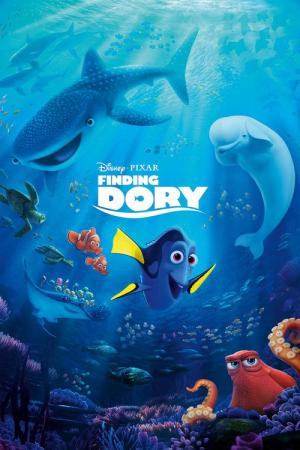 12 Best Movies Like Finding Dory ...
If you liked this movie , you will definitely love these too! In this selection we highlight some of the best films that share a very similar mood to 'Finding Dory', and are worth checking out.
1h 36m Comedy Adventure Family
A young Peruvian bear travels to London in search of a new home. Finding himself lost and alone at Paddington Station, he meets the kindly Brown family.
1h 33m Animation Family Comedy
A group of animals waiting for the annual flood they rely on for food and water discover that the humans, who have been destroying their habitats have built a dam for a leisure resort. The animals endeavour to save the delta and send a message to the humans not to interfere with nature.
1h 31m Family Animation Adventure Comedy
Barry B. Benson, a bee who has just graduated from college, is disillusioned at his lone career choice: making honey. On a special trip outside the hive, Barry's life is saved by Vanessa, a florist in New York City. As their relationship blossoms, he discovers humans actually eat honey, and subsequently decides to sue us.
1h 35m Animation Family Adventure Drama Comedy
Growing up can be a bumpy road, and it's no exception for Riley, who is uprooted from her Midwest life when her father starts a new job in San Francisco. Riley's guiding emotions— Joy, Fear, Anger, Disgust and Sadness—live in Headquarters, the control centre inside Riley's mind, where they help advise her through everyday life and tries to keep things positive, but the emotions conflict on how best to navigate a new city, house and school.
1h 23m Family Comedy Animation
A scheming raccoon fools a mismatched family of forest creatures into helping him repay a debt of food, by invading the new suburban sprawl that popped up while they were hibernating – and learns a lesson about family himself.
6.
Piglet's Big Movie (2003)
1h 15m Animation Family
When the gang from the Hundred Acre Wood begin a honey harvest, young Piglet is excluded and told that he is too small to help. Feeling inferior, Piglet disappears and his pals Eeyore, Rabbit, Tigger, Roo and Winnie the Pooh must use Piglet's scrapbook as a map to find him. In the process they discover that this very small animal has been a big hero in a lot of ways.
7.
Planes: Fire & Rescue (2014)
1h 23m Animation Comedy Adventure Family
When world-famous air racer Dusty learns that his engine is damaged and he may never race again, he must shift gears and is launched into the world of aerial firefighting. Dusty joins forces with veteran fire and rescue helicopter Blade Ranger and his team, a bunch of all-terrain vehicles known as The Smokejumpers. Together, the fearless team battles a massive wildfire, and Dusty learns what it takes to become a true hero.
1h 30m Action Adventure Animation Family Comedy
When the Valley of Peace is threatened, lazy Po the panda discovers his destiny as the "chosen one" and trains to become a kung fu hero, but transforming the unsleek slacker into a brave warrior won't be easy. It's up to Master Shifu and the Furious Five -- Tigress, Crane, Mantis, Viper and Monkey -- to give it a try.
1h 40m Animation Family
Nemo, an adventurous young clownfish, is unexpectedly taken from his Great Barrier Reef home to a dentist's office aquarium. It's up to his worrisome father Marlin and a friendly but forgetful fish Dory to bring Nemo home -- meeting vegetarian sharks, surfer dude turtles, hypnotic jellyfish, hungry seagulls, and more along the way.
10.
Chicken Little (2005)
1h 21m Animation Family Comedy
When the sky really is falling and sanity has flown the coop, who will rise to save the day? Together with his hysterical band of misfit friends, Chicken Little must hatch a plan to save the planet from alien invasion and prove that the world's biggest hero is a little chicken.
1h 37m Animation Comedy Family Fantasy
An orphaned boy raised by underground creatures called Boxtrolls comes up from the sewers and out of his box to save his family and the town from the evil exterminator, Archibald Snatcher.
12.
The Secret Life of Pets (2016)
1h 27m Adventure Comedy Animation Family
The quiet life of a terrier named Max is upended when his owner takes in Duke, a stray whom Max instantly dislikes.
explore
Check out more list from our community