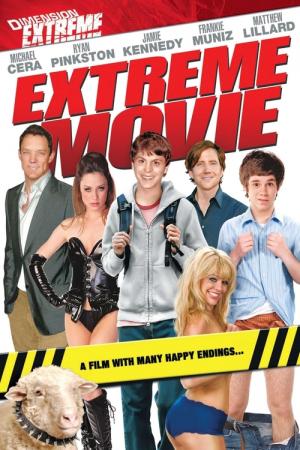 28 Best Movies Like Extreme Movie ...
If you liked this movie , you will probably love these too! In this collection we highlight some of the best films that share a very similar premise to '', and are worth checking out.
1h 30m Comedy
A series of interconnected short films follows a washed-up producer as he pitches insane story lines featuring some of the biggest stars in Hollywood.
2.
The 41-Year-Old Virgin Who Knocked Up Sarah Marshall and Felt Superbad About It (2010)
1h 22m Comedy
Follows Andy, who needs to hook up with a hottie, pronto, because he hasn't had sex in... well, forever - and his luck isn't the only thing that's hard. His equally horny teenage roommates also need it superbad, and with the help of their nerdy pal, McAnalovin' and his fake I.D., they may tap more than just a keg.
3.
#1 Cheerleader Camp (2010)
1h 28m Comedy
A familiar-looking group of teenagers find themselves being stalked by a more-than-vaguely recognizable masked killer! As the victims begin to pile up and the laughs pile on, none of your favorite scary movies escape the razor-sharp satire of this outrageously funny parody!
5.
18-Year-Old Virgin (2009)
1h 26m Comedy
In a series of sexual mishaps, a high school senior tries to lose her virginity on the last night before graduation.
6.
Foreign Exchange (2008)
1h 25m Comedy
Four high school friends plan to ride out their senior year taking easy classes, including a program for housing foreign exchange students and eventually all attending Ohio State. Hurdles befall each of the four: grades, higher aspirations, love. Is it the Foreign Exchange students that learn from their host or the hosts that do more of the learning?
7.
Van Wilder: Freshman Year (2009)
1h 40m Comedy
It is freshman year at Coolidge College and Van Wilder is ready to party. To his dismay, all the girls have taken a vow of chastity and the dean rules the school. Van embarks on a crusade to land the campus hottie, Kaitlin, and liberate his school from sexual oppression and party dysfunction.
1h 35m Comedy Romance
At a high-school party, four friends find that losing their collective virginity isn't as easy as they had thought. But they still believe that they need to do so before college. To motivate themselves, they enter a pact to all "score" by their senior prom.
9.
Senior Skip Day (2008)
1h 32m Comedy
The senior class plans to have a skip-day party at the principal's house until Adam Harris leaks the secret, so he decides to save the celebration by hosting it at his house.
10.
American Pie Presents the Book of Love (2009)
1h 33m Comedy
Ten years after the first American Pie movie, three new hapless virgins discover the Bible hidden in the school library at East Great Falls High. Unfortunately for them, the book is ruined, and with incomplete advice, the Bible leads them on a hilarious journey to lose their virginity.
11.
Private Resort (1985)
1h 22m Comedy
Jack and his buddy Ben check in at a posh Florida resort, planning to spend every hour in hot pursuit of gorgeous babes. But their plans hit a major detour when they try to bed the wife of a conniving jewel thief. They'll have to outsmart him, a nasty security guard and an obnoxious jock if they're ever going to get a moment alone with the girls of their dreams!
12.
Porky's Revenge (1985)
1h 32m Comedy
As graduation nears for the class of 1955 at Angel Beach High, the gang once again faces off against their old enemy, Porky, who wants them to throw the school's championship basketball game since he has bet on the opposing team.
1h 28m Comedy
A group of nerdy college guys who can't seem to connect with girls their own age discover the excitement of hooking up with sexy older women.
14.
Mardi Gras: Spring Break (2011)
1h 28m Comedy
For three college guys, it's senior year and the co-ed experience has left them high and dry. Their solution: A road trip to Mardi Gras, where beautiful babes are happy to lift their shirts and open containers are always welcome. But after dressing in drag, breaking into Carmen Electra's hotel room, starring in a scandalous sex show and accidentally exploding a feces bomb in a swank hotel lobby, will the Mardi Gras magic kick in and their wildest fantasies come true?
1h 53m Comedy
Two co-dependent high school seniors are forced to deal with separation anxiety after their plan to stage a booze-soaked party goes awry.
1h 39m Comedy
In the spirit of "Superbad" and "Dazed and Confused," "The Weekend" relishes the moments that made being a teenager so excruciatingly painful and fantastic. Over the course of a single weekend, various teenagers discover that, perhaps, they don't yet have it all figured out: Rich kid Jacob throws an elaborate weekend party, Benjamin thinks he's going to marry his hesitant girlfriend...
18.
Porky's II: The Next Day (1983)
1h 38m Comedy
When the students of Angel Beach High decide to stage "An Evening With Shakespeare," their efforts are threatened by Miss Balbricker, who views the works of Shakespeare as obscene. She enlists the help of Reverend Bubba Flavel, a religious fanatic who brings along his flock of followers to pressure the school into shutting down the production.
2h Comedy
A virginal high school senior decides to get revenge on her jock boyfriend when she discovers he's only dating her in hopes that she'll end up in his team's "bang book."
21.
American Pie 2 (2001)
1h 48m Comedy Romance
After a year apart - attending different schools, meeting different people - the guys rent a beach house and vow to make this the best summer ever. As it turns out, whether that will happen or not has a lot to do with the girls. Between the wild parties, outrageous revelations and yes, a trip to band camp, they discover that times change and people change, but in the end, it's all about sticking together.
1h 28m Comedy
A successful businessman attempts to shut down a video arcade he believes is harmful to the mental health of children.
1h 25m Comedy
Felix (Cameron Dallas) is a legendary prankster who gets expelled from his high school and, with his friend's help, stops at nothing to hide it from his parents.
1h 30m Comedy
The adventures of three teenage girls - Inken, Vicky and Lena - and their quest to have their first orgasm.
1h 33m Comedy Romance
Teenager Leslie Hindenberg, mistakenly believing she has just weeks to live, decides she will lose her virginity before she dies.
1h 35m Comedy Drama
After "hooking up" with a series of guys at a house party, April is the talk of her high school.
explore
Check out more list from our community