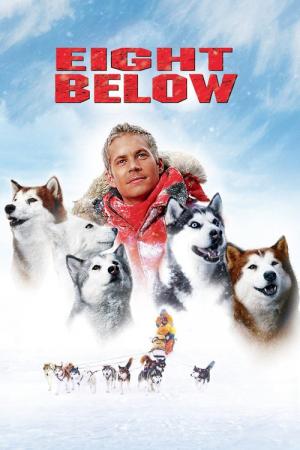 12 Best Movies Like Eight Below ...
If you liked this film , you will definitely love these too! In this collection we highlight some of the best films that share a very similar premise to 'Eight Below', and are worth checking out.
1h 35m Adventure
At a national park in Kenya, English game warden George Adamson and his wife, Joy, care for three orphaned lion cubs. After the two larger lions are shipped off to a zoo in the Netherlands, the smallest of the three, Elsa, stays with the couple. When Elsa is blamed for causing an elephant stampede in the nearby village, head warden John Kendall demands the young lion either be trained to survive in the wilds of the Serengeti or be sent to a zoo.
2.
Homeward Bound: The Incredible Journey (1993)
1h 24m Adventure Comedy Drama Family
Remake of the popular Disney classic, this time featuring some well known voices as two dogs and a cat trek across America encountering all sorts of adventures in the quest to be reunited with their owners.
1h 36m Drama Adventure Romance
A 1920s mail pilot and a rich man's daughter crash-land on a mountain full of hungry wolves.
1h 47m Action Adventure Drama Family
Amy is only 13 years old when her mother is killed. She goes to Canada to live with her father, an eccentric inventor whom she barely knows. Amy is miserable in her new life... until she discovers a nest of goose eggs that were abandoned when a local forest is torn down. The eggs hatch and Amy becomes "Mama Goose". When Winter comes, Amy, and her dad must find a way to lead the birds South...
5.
A Dog's Purpose (2017)
1h 40m Comedy Drama Family Fantasy Adventure
A dog goes on quest to discover his purpose in life over the course of several lifetimes with multiple owners.
6.
A Dog Named Christmas (2009)
1h 35m Family Drama TV Movie
A developmentally challenged young man with a penchant for caring for animals in need sets out to convince his family - and their whole rural community - to participate in a local shelter's inaugural "Adopt a Dog for Christmas Program."
30m Animation Comedy
The New Yogi Bear Show is a 30-minute weekday animated series which aired on syndication in 1988 as part of The Funtastic World of Hanna-Barbera's 4th season. But it was the also the fifth incarnation of Hanna-Barbera's Yogi Bear. It contained 45 new episodes combined with reruns of the original 1960s Yogi series.Pared down from some of the other, recent incarnations of the adventures of Yogi and friends, this series featured only Yogi, Boo-Boo, Cindy and Ranger Smith, with episodes set in Jellystone Park.The show also introduced four new characters: Ranger Roubideux, Ninja Raccoon, Ninja Raccoon's mom, and Blubber Bear from Wacky Races.
1h 27m Family Adventure
Dylan Sprouse, Jim Belushi and Kris Kristofferson lend their voices to this family-friendly tale about a feisty pack of golden retriever puppies that embarks on an Alaskan adventure. When they find themselves stranded in the northern wilderness, the canine offspring of famed sports star Air Bud team up with an experienced sled dog and a husky pup, who teach them the importance of working together.
9.
Hachi: A Dog's Tale (2009)
1h 33m Drama Family
A drama based on the true story of a college professor's bond with the abandoned dog he takes into his home.
10.
The Incredible Journey (1963)
1h 20m Adventure Family
The story of three pets, a cat and two dogs, who lose their owners when they are all on vacation. Can they find their way home?
1h 49m Adventure Family
Jake Barnes and his two kids, Sean and Jessie, have moved to Alaska after his wife died. He is a former airline pilot now delivering toilet paper across the mountains. During an emergency delivery in a storm his plane goes down somewhere in the mountains. Annoyed that the authorities aren't doing enough, Jessie and Sean set out on an adventure to find their father with the help of a polar bear which they have saved from a ferocious poacher. Conflict ensues.
12.
The Snow Walker (2003)
1h 43m Action Adventure Drama
A bush pilot in nothern Canada who with the aid of modernity thinks he can handle it all & knows it all. After reluctantly agreeing to transport a local indian girl to a medical facility his light plane crashes & they have to survive whilst finding their way back to civilization. Along the journey the man finds a new respect for the native ways as they battle to survive the elements.
explore
Check out more list from our community