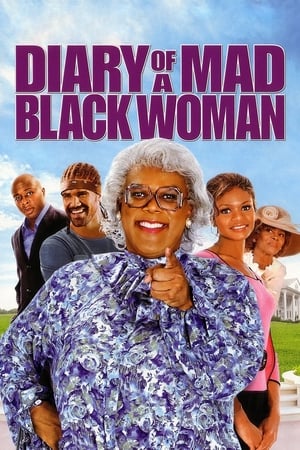 29 Best Movies Like Diary Of A Mad Black Woman ...
If you liked this movie , you will for sure love these too! In this collection we highlight some of the best films that share a very similar premise to '', and are worth checking out.
1.
A Madea Christmas (2013)
1h 40m Comedy Drama
Madea dispenses her unique form of holiday spirit on rural town when she's coaxed into helping a friend pay her daughter a surprise visit in the country for Christmas.
2.
Why Did I Get Married? (2007)
1h 53m Comedy Drama
The film is about the difficulty of maintaining a solid relationship in modern times. Eight married college friends plus one other non-friend (all of whom have achieved middle to upper class economic status) go to Colorado for their annual week-long reunion, but the mood shifts when one couple's infidelity comes to light. Secrets are revealed and each couple begins to question their own marriage
3.
Why Did I Get Married Too? (2010)
2h 1m Comedy Romance
Four couples reunite for their annual vacation in order to socialize and to spend time analyzing their marriages. Their intimate week in the Bahamas is disrupted by the arrival of an ex-husband determined to win back his recently remarried wife.
4.
I Can Do Bad All by Myself (2009)
1h 53m Drama Comedy
When Madea catches sixteen-year-old Jennifer and her two younger brothers looting her home, she decides to take matters into her own hands and delivers the young delinquents to the only relative they have: their aunt April. A heavy-drinking nightclub singer who lives off of Raymond, her married boyfriend, April wants nothing to do with the kids.
5.
Madea's Witness Protection (2012)
6.
Meet the Browns (2008)
1h 40m Comedy Drama Romance
A single mother living in inner city Chicago, Brenda has been struggling for years to make ends meet and keep her three kids off the street.But when she's laid off with no warning, she starts losing hope for the first time - until a letter arrives announcing the death of a father she's never met.Desperate for any kind of help, Brenda takes her family to Georgia for the funeral. But nothing could have prepared her for the Browns, her father's fun-loving, crass Southern clan. In a small-town world full of long afternoons and country fairs, Brenda struggles to get to know the family she never knew existed...and finds a brand new romance that just might change her life.The story is adapted by Tyler Perry from his stage play "Meet the Browns." Perry will portray Madea and Uncle Joe in the film.
1h 46m Romance Comedy
Pushed to the breaking-up point after their latest 'why can't you do this one little thing for me?' argument, Brooke calls it quits with her boyfriend Gary. What follows is a hilarious series of remedies, war tactics, overtures and undermining tricks – all encouraged by the former couple's friends and confidantes …and the occasional total stranger! When neither ex is willing to move out of their shared apartment, the only solution is to continue living as hostile roommates until one of them reaches breaking point.
8.
The Story of Us (1999)
1h 35m Comedy Drama Romance
Ben and Katie Jordan are a married couple who go through hard times in fifteen years of marriage.
9.
Madea's Big Happy Family (2011)
2h 32m Comedy
When a family meets for Christmas at their posh Cape Cod estate, family arguments and secrets cause a stir. It takes a real down-to-earth family - like Aunt Bam and the almighty Madea - to save this holiday.
10.
Celeste & Jesse Forever (2012)
1h 31m Comedy Drama Romance
Celeste and Jesse met in high school and got married young. They laugh at the same jokes and finish each other's sentences. They are forever linked in their friends' minds as the perfect couple – she, a high-powered businesswoman and budding novelist; he, a free spirit who keeps things from getting boring. Their only problem is that they have decided to get divorced. Can their perfect relationship withstand this minor setback?
11.
The Other Sister (1999)
2h 10m Comedy Drama Romance
A mentally challenged girl proves herself to be every bit as capable as her "perfect" sister when she moves into an apartment and begins going to college.
12.
Something to Talk About (1995)
1h 46m Comedy Drama
Grace Bichon, who is managing her father's riding-stable, discovers that her husband Eddie is deceiving her with another woman. After confronting him in the middle of the night on the streets of their small home town, she decides to stay at her sister Emma Rae's house for a while to make up her mind. Breaking out of her everyday life, she starts to question the authority of everyone.
13.
Madea's Family Reunion (2002)
2h 14m Comedy Drama
The fireworks begin when Madea's family gathers for her granddaughter's wedding. As usual, Madea rules the roost, as she and her neighbor, the wacky Mr. Brown, deliver nonstop laughs. Live, love, rejoice...it's Madea's Family Reunion!
15.
The Jane Austen Book Club (2007)
1h 46m Comedy Romance
Six Californians start a club to discuss the works of Jane Austen. As they delve into Austen's literature, the club members find themselves dealing with life experiences that parallel the themes of the books they are reading.
16.
Moonlight and Valentino (1995)
1h 40m Comedy Drama Romance
Four women who discover untapped strength within themselves when they finally let go of what divides them
17.
Conversations with Other Women (2005)
1h 51m Comedy Drama Romance
Businessman Wesley Deeds is jolted out of his scripted life when he meets Lindsey, a single mother who works on the cleaning crew in his office building.
1h 54m Drama Romance Comedy
Birdee Pruitt has been humiliated on live television by her best friend, Connie, who's been sleeping with Birdee's husband, Bill. Birdee tries starting over with her daughter, Bernice, by returning to her small Texas hometown, but she's faced with petty old acquaintances who are thrilled to see Birdee unhappy -- except for her friend Justin. As he helps Birdee get back on her feet, love begins to blossom.
1h 54m Family Comedy Drama Romance
The story centers on a group of gossipy, high-society women who spend their days at the beauty salon and haunting fashion shows. The sweet, happily-wedded Mary Haines finds her marriage in trouble when shop girl Crystal Allen gets her hooks into Mary's man.
21.
Catch and Release (2006)
1h 51m Comedy Drama Romance
Gray Wheeler just lost everything. But it could be the best thing that ever happened to her. After the death of her fiancé, Gray moves in with her late love's best friends. While Sam and Dennis do their best to cheer Gray up, Fritz doesn't seem to care. Once Gray breaks through Fritz's defenses, however, she finally sees why her fiancé thought so highly of him. As they spend more time together, Gray learns that her chances for love have not died out with her fiancé. But when some surprise guests show up on their doorstep, it'll take the love of all of her new friends to help Gray learn that life may be messy, but love is messier.
22.
P.S. I Love You (2007)
2h 6m Drama Romance
A young widow discovers that her late husband has left her 10 messages intended to help ease her pain and start a new life.
23.
I Like It Like That (1994)
24.
He's Just Not That Into You (2009)
25.
Crazy, Stupid, Love. (2011)
1h 58m Comedy Drama Romance
Cal Weaver is living the American dream. He has a good job, a beautiful house, great children and a beautiful wife, named Emily. Cal's seemingly perfect life unravels, however, when he learns that Emily has been unfaithful and wants a divorce. Over 40 and suddenly single, Cal is adrift in the fickle world of dating. Enter, Jacob Palmer, a self-styled player who takes Cal under his wing and teaches him how to be a hit with the ladies.
1h 47m Drama Romance
Angie lives in the Bensonhurst section of Brooklyn, N.Y. and dreams of a better life than everyone she knows. When she finds that she is pregnant by her boyfriend Vinnie, she decides that she will have the baby, but not Vinnie as a husband. This turns the entire neighborhood upside down and starts her on a journey of self discovery. This journey includes her family, a new lover and her life. Even her best friend Tina has trouble understanding Angie. Written by Tony Fontana
27.
The Family Stone (2005)
1h 43m Comedy Drama Romance
An uptight, conservative businesswoman accompanies her boyfriend to his eccentric and outgoing family's annual Christmas celebration and finds that she's a fish out of water in their free-spirited way of life.
28.
50 First Dates (2004)
1h 39m Comedy Romance
Henry is a player skilled at seducing women. But when this veterinarian meets Lucy, a girl with a quirky problem when it comes to total recall, he realizes it's possible to fall in love all over again…and again, and again. That's because the delightful Lucy has no short-term memory, so Henry must woo her day after day until he finally sweeps her off her feet.
explore
Check out more list from our community