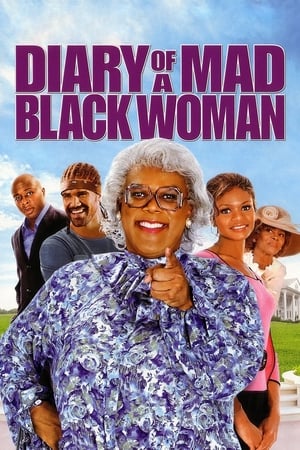 14 Best Movies Like Diary Of A Mad Black Woman ...
If you liked this one , you will probably love these too! In this list we highlight some of the best films that share a very similar mood to 'Diary of a Mad Black Woman', and are worth checking out.
1.
Why Did I Get Married? (2007)
1h 53m Comedy Drama
The film is about the difficulty of maintaining a solid relationship in modern times. Eight married college friends plus one other non-friend (all of whom have achieved middle to upper class economic status) go to Colorado for their annual week-long reunion, but the mood shifts when one couple's infidelity comes to light. Secrets are revealed and each couple begins to question their own marriage
1h 54m Drama Romance Comedy
Birdee Pruitt has been humiliated on live television by her best friend, Connie, who's been sleeping with Birdee's husband, Bill. Birdee tries starting over with her daughter, Bernice, by returning to her small Texas hometown, but she's faced with petty old acquaintances who are thrilled to see Birdee unhappy -- except for her friend Justin. As he helps Birdee get back on her feet, love begins to blossom.
1h 54m Family Comedy Drama Romance
The story centers on a group of gossipy, high-society women who spend their days at the beauty salon and haunting fashion shows. The sweet, happily-wedded Mary Haines finds her marriage in trouble when shop girl Crystal Allen gets her hooks into Mary's man.
4.
P.S. I Love You (2007)
2h 6m Drama Romance
A young widow discovers that her late husband has left her 10 messages intended to help ease her pain and start a new life.
5.
Celeste & Jesse Forever (2012)
1h 31m Comedy Drama Romance
Celeste and Jesse met in high school and got married young. They laugh at the same jokes and finish each other's sentences. They are forever linked in their friends' minds as the perfect couple – she, a high-powered businesswoman and budding novelist; he, a free spirit who keeps things from getting boring. Their only problem is that they have decided to get divorced. Can their perfect relationship withstand this minor setback?
6.
The Story of Us (1999)
1h 35m Comedy Drama Romance
Ben and Katie Jordan are a married couple who go through hard times in fifteen years of marriage.
8.
Crazy, Stupid, Love. (2011)
1h 58m Comedy Drama Romance
Cal Weaver is living the American dream. He has a good job, a beautiful house, great children and a beautiful wife, named Emily. Cal's seemingly perfect life unravels, however, when he learns that Emily has been unfaithful and wants a divorce. Over 40 and suddenly single, Cal is adrift in the fickle world of dating. Enter, Jacob Palmer, a self-styled player who takes Cal under his wing and teaches him how to be a hit with the ladies.
9.
Madea's Big Happy Family (2011)
2h 32m Comedy
When a family meets for Christmas at their posh Cape Cod estate, family arguments and secrets cause a stir. It takes a real down-to-earth family - like Aunt Bam and the almighty Madea - to save this holiday.
10.
He's Just Not That Into You (2009)
11.
I Like It Like That (1994)
12.
A Madea Christmas (2013)
1h 40m Comedy Drama
Madea dispenses her unique form of holiday spirit on rural town when she's coaxed into helping a friend pay her daughter a surprise visit in the country for Christmas.
13.
Madea's Family Reunion (2002)
2h 14m Comedy Drama
The fireworks begin when Madea's family gathers for her granddaughter's wedding. As usual, Madea rules the roost, as she and her neighbor, the wacky Mr. Brown, deliver nonstop laughs. Live, love, rejoice...it's Madea's Family Reunion!
14.
Something to Talk About (1995)
1h 46m Comedy Drama
Grace Bichon, who is managing her father's riding-stable, discovers that her husband Eddie is deceiving her with another woman. After confronting him in the middle of the night on the streets of their small home town, she decides to stay at her sister Emma Rae's house for a while to make up her mind. Breaking out of her everyday life, she starts to question the authority of everyone.
explore
Check out more list from our community