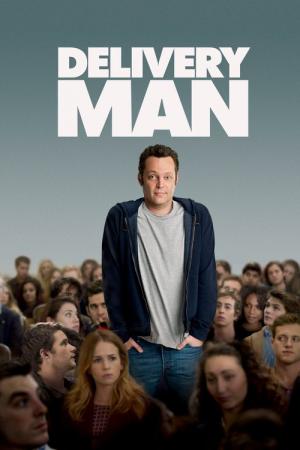 27 Best Movies Like Delivery Man ...
If you liked this movie , you will probably love these too! In this selection we highlight some of the best films that share a very similar mood to '', and are worth checking out.
1h 33m Comedy Drama
A lazy law school grad adopts a kid to impress his girlfriend, but everything doesn't go as planned and he becomes the unlikely foster father.
3.
Girl in Progress (2012)
1h 33m Comedy Drama
As single mom Grace juggles work, bills, and her affair with a married doctor, her daughter, Ansiedad, plots a shortcut to adulthood after finding inspiration in the coming-of-age stories she's reading for school.
4.
Four Christmases (2008)
1h 28m Comedy Romance Drama
Brad and Kate have made something of an art form out of avoiding their families during the holidays, but this year their foolproof plan is about go bust -- big time. Stuck at the city airport after all departing flights are canceled, the couple is embarrassed to see their ruse exposed to the world by an overzealous television reporter. Now, Brad and Kate are left with precious little choice other than to swallow their pride and suffer the rounds.
5.
Wish I Was Here (2014)
1h 47m Drama Comedy
Aidan Bloom, a struggling actor, father and husband, is 35 years old and still trying to find a purpose for his life. He and his wife are barely getting by financially and Aidan passes his time by fantasizing about being the great futuristic Space-Knight he'd always dreamed he'd be as a little kid. When his ailing father can no longer afford to pay for private school for his two kids and the only available public school is on its last legs, Aidan reluctantly agrees to attempt to home-school them. Through teaching them about life his way, Aidan gradually discovers some of the parts of himself he couldn't find.
1h 51m Comedy Drama
Longtime friends Ronny and Nick are partners in an auto-design firm. They are hard at work on a presentation for a dream project that would really launch their company. Then Ronny spots Nick's wife out with another man, and in the process of investigating the possible affair, he learns that Nick has a few secrets of his own. As the presentation nears, Ronny agonizes over what might happen if the truth gets out.
7.
What to Expect When You're Expecting (2012)
1h 50m Romance Comedy Drama
Challenges of impending parenthood turn the lives of five couples upside down. Two celebrities are unprepared for the surprise demands of pregnancy; hormones wreak havoc on a baby-crazy author, while her husband tries not to be outdone by his father, who's expecting twins with his young trophy wife; a photographer's husband isn't sure about his wife's adoption plans; a one-time hook-up results in a surprise pregnancy for rival food-truck owners.
1h 42m Comedy Drama
A day in the life of a barbershop on the south side of Chicago. Calvin, who inherited the struggling business from his deceased father, views the shop as nothing but a burden and waste of his time. After selling the shop to a local loan shark, Calvin slowly begins to see his father's vision and legacy and struggles with the notion that he just sold it out.
1h 54m Drama
After flying home to L.A. for the funeral of his estranged record-producer father, a struggling man discovers that the will stipulates that he must deliver $150,000 in cash to a 30-year-old alcoholic sister he never knew existed, and her troubled 12-year-old son.
10.
The Trouble with Bliss (2011)
11.
The Day I Saw Your Heart (2011)
12.
Unfinished Business (2015)
1h 31m Comedy
A hard-working small business owner and his two associates travel to Europe to close the most important deal of their lives. But what began as a routine business trip goes off the rails in every imaginable – and unimaginable – way, including unplanned stops at a massive sex fetish event and a global economic summit.
1h 30m Comedy Drama
Motherhood is a comedy written and directed by Katherine Dieckmann, and stars Uma Thurman, Anthony Edwards and Minnie Driver. Shot on location in New York's West Village, focuses on the dilemmas of motherhood, such as marriage, work, and self, shown in the trials and tribulations of one pivotal day.
14.
A Thousand Words (2012)
1h 31m Drama Comedy
Jack McCall is a fast-talking literary agent, who can close any deal, any time, any way. He has set his sights on New Age guru Dr. Sinja for his own selfish purposes. But Dr. Sinja is on to him, and Jack's life comes unglued after a magical Bodhi tree mysteriously appears in his backyard. With every word Jack speaks, a leaf falls from the tree and he realizes that when the last leaf falls, both he and the tree are toast. Words have never failed Jack McCall, but now he's got to stop talking and conjure up some outrageous ways to communicate or he's a goner.
1h 44m Drama Comedy
The Rizzos, a family who doesn't share their habits, aspirations, and careers with one another, find their delicate web of lies disturbed by the arrival of a young ex-con brought home by Vince, the patriarch of the family, who is a corrections officer in real life, and a hopeful actor in private.
16.
The Banger Sisters (2002)
1h 38m Comedy Drama
In the late '60s, the self-proclaimed belles of the rock 'n' roll ball, rocked the worlds of every music legend whose pants they could take off -- and they have the pictures to prove it. But it's been more than two decades since the Banger Sisters earned their nickname -- or even laid eyes on each other. Their reunion is the collision of two women's worlds; one who's living in the past, and one who's hiding from it. Together they learn to live in the moment.
17.
This Is Where I Leave You (2014)
1h 43m Drama Comedy
When their father passes away, four grown, world-weary siblings return to their childhood home and are requested -- with an admonition -- to stay there together for a week, along with their free-speaking mother and a collection of spouses, exes and might-have-beens. As the brothers and sisters re-examine their shared history and the status of each tattered relationship among those who know and love them best, they reconnect in hysterically funny and emotionally significant ways.
1h 30m Comedy Drama
A newlywed couple cancels their honeymoon and returns to the snowy Midwest to make the funeral arrangements for their best man, who died unexpectedly after their ceremony.
1h 32m Comedy Drama Family
Molly Gunn, the freewheeling daughter of a deceased rock legend, is forced to get a job when her manager steals her money. As nanny for precocious Ray, the oft ignored daughter of a music executive she learns what it means to be an adult while teaching Ray how to be a child.
20.
The Guilt Trip (2012)
1h 35m Comedy
An inventor and his mom hit the road together so he can sell his latest invention.
21.
The Angriest Man in Brooklyn (2014)
1h 24m Drama Comedy
After learning that a brain aneurysm will kill him in about 90 minutes, a perpetually unhappy man struggles to come to terms with his fate and make amends with everyone he has ever hurt.
23.
The Jane Austen Book Club (2007)
1h 46m Comedy Romance
Six Californians start a club to discuss the works of Jane Austen. As they delve into Austen's literature, the club members find themselves dealing with life experiences that parallel the themes of the books they are reading.
1h 41m Comedy Romance Drama
An unmarried 40-year-old woman turns to a turkey baster in order to become pregnant. Seven years later, she reunites with her best friend, who has been living with a secret: he replaced her preferred sperm sample with his own.
25.
Go Get Some Rosemary (2009)
26.
She's Having a Baby (1988)
explore
Check out more list from our community