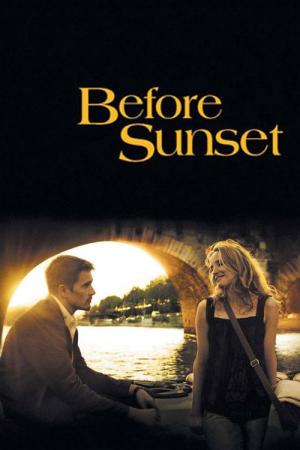 26 Best Movies Like Before Sunset ...
If you liked this one , you will probably love these too! In this selection we highlight some of the best films that share a very similar premise to '', and are worth checking out.
1h 41m Drama Romance
On his way to Vienna, American Jesse meets Céline, a student returning to Paris. After long conversations forge a surprising connection between them, Jesse convinces Celine to get off the train with him in Vienna. Since his flight to the U.S. departs the next morning and he has no money for lodging, they wander the city together, taking in the experiences of Vienna and each other.
2.
Before Midnight (2013)
1h 49m Romance Drama
It has been nine years since we last met Jesse and Celine, the French-American couple who once met on a train in Vienna. Now, live in Paris with twin daughters, but have spent a summer in Greece on the invitation of an author colleague of Jesse's. When the vacation is over and Jesse must send his teenage son off to the States, he begins to question his life decisions, and his relationship with Celine is at risk.
1h 47m Drama Romance
A romantic comedy centered on Dexter and Emma, who first meet during their graduation in 1988 and proceed to keep in touch regularly. The film follows what they do on July 15 annually, usually doing something together.
4.
2 Days in Paris (2007)
1h 36m Comedy Romance
Adam Goldberg delivers "an uproarious study in transatlantic culture panic" as Jack, an anxious, hypochondriac-prone New Yorker vacationing throughout Europe with his breezy, free-spirited Parisian girlfriend, Marion. But when they make a two-day stop in Marion's hometown, the couple's romantic trip takes a turn as Jack is exposed to Marion's sexually perverse and emotionally unstable family.
1h 33m Drama Romance
'Heights' follows five characters over 24 hours on a fall day in New York City. Isabel, a photographer, is having second thoughts about her upcoming marriage to Jonathan, a lawyer. On the same day, Isabel's mother Diana learns that her husband has a new lover and begins to re-think her life choices and her open marriage. Diana and Isabel's paths cross with Alec, a young actor, and with Peter, a journalist. As the interrelated stories proceed, the connections between the lives of the five characters begin to reveal themselves and their stories unravel. Isabel, Jonathan, Diana, Alec, and Peter must choose what kind of lives they will lead before the sun comes up on the next day.
6.
Jack Goes Boating (2010)
1h 29m Comedy Drama Romance
A limo driver's blind date sparks a tale of love, betrayal, friendship and grace—centered around two working-class New York City couples.
1h 52m Drama Romance
Dean and Cindy live a quiet life in a modest neighborhood. They appear to have the world at their feet at the outset of the relationship. However, his lack of ambition and her retreat into self-absorption cause potentially irreversible cracks in their marriage.
8.
Conversations with Other Women (2005)
9.
Paris, I Love You (2006)
2h Drama Romance
Olivier Assayas, Gus Van Sant, Wes Craven and Alfonso Cuaron are among the 20 distinguished directors who contribute to this collection of 18 stories, each exploring a different aspect of Parisian life. The colourful characters in this drama include a pair of mimes, a husband trying to chose between his wife and his lover, and a married man who turns to a prostitute for advice.
10.
The Life of Fish (2010)
11.
Falling in Love (1984)
1h 42m Drama Romance
During shopping for Christmas, Frank and Molly run into each other. This fleeting short moment will start to change their lives, when they recognize each other months later in the train home and have a good time together. Although both are married and Frank has two little kids, they meet more and more often, their friendship becoming the most precious thing in their lives.
44m Music Family
Wonder girls have arrived, and they are taking New York city by storm! The girls arrive in New York city to prepare for their U.S. tour but because of their fun, mischievous personalities they enter themselves into the Apollo Amateur Competition under the stage name, "The Asian Invasion". Their amazing performance wins them a spot in the finals but also stirs up trouble with the reigning champs... The School Gyrls. Join Yenny, Yubin, Sun, Sohee, and Lim on this hilarious journey as they navigate their way through friendships, rivals, loyalty and crushes to prove they have what it takes to make it in the Big City. Written by Krystal M. Harris
1h 44m Comedy Drama Romance
Mirabelle is a disenchanted salesgirl and aspiring artist who sells gloves and accessories at a department store. She has two men in her life: wealthy divorcée Ray Porter and struggling musician Jeremy. Mirabelle falls in love with the glamorous Ray, and her life takes a magical turn, but eventually she realizes that she must empower herself and make a choice between them.
14.
The Story of Us (1999)
1h 35m Comedy Drama Romance
Ben and Katie Jordan are a married couple who go through hard times in fifteen years of marriage.
16.
All the Real Girls (2003)
1h 48m Drama Romance
In a sleepy little mill town in North Carolina, Paul is the town Romeo. But when his best friend's sister returns home from boarding school, he finds himself falling for her innocent charm. In spite of her lack of experience and the violent protests of her brother, the two find themselves in a sweet, dreamy and all-consuming love.
17.
My Life Without Me (2003)
1h 46m Drama Romance
A fatally ill mother with only two months to live creates a list of things she wants to do before she dies without telling her family of her illness.
1h 44m Drama
Two couples disintegrate when they begin destructive adulterous affairs with each other.
20.
Great Expectations (1998)
1h 51m Comedy Drama Romance
Loosely based on the Charles Dickens' classic novel, "Great Expectations" is a sensual tale of a young man's unforgettable passage into manhood, and the three individuals who will undeniably change his life forever. Through the surprising interactions of these vivid characters, "Great Expectations" takes a unique and contemporary look at life's great coincidences.
1h 30m Drama Romance
A British college student falls for an American student, only to be separated from him when she's banned from the U.S. after overstaying her visa.
1h 36m Comedy Drama Romance
Manhattan explores how the life of a middle-aged television writer dating a teenage girl is further complicated when he falls in love with his best friend's mistress.
1h 29m Drama Romance Comedy
A woman who is robbed on her way to catch the 1:30 train to Boston is left stranded in New York City. She meets a man who helps her during the course of the night and the two form a romance.
25.
Playing by Heart (1998)
2h 1m Drama
Eleven articulate people work through affairs of the heart in L.A. Paul produces Hannah's TV cooking show. Mark is dying of AIDS. Men have scalded Meredith so she rebuffs Trent's charm, but he persists. The trendy, prolix Joan tries to pull the solitary Keenan into her orbit. An adulterous couple meet at hotels for evening sex. Hugh tells tall tales, usually tragic, to women in bars.
explore
Check out more list from our community