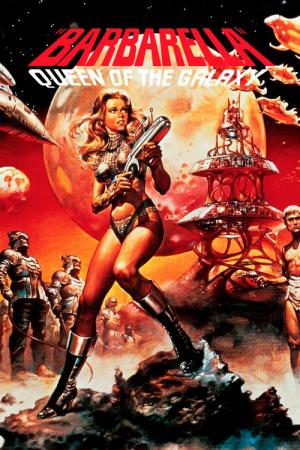 27 Best Movies Like Barbarella ...
If you liked this one , you will for sure love these too! In this list we highlight some of the best films that share a very similar mood to '', and are worth checking out.
1h 51m Science Fiction Action Adventure
A football player and his friends travel to the planet Mongo and find themselves fighting the tyrant—Ming the Merciless—to save Earth.
2.
The Adventures of Baron Munchausen (1988)
2h 6m Action Adventure Comedy Fantasy Family
An account of Baron Munchausen's supposed travels and fantastical experiences with his band of misfits.
1h 30m Comedy Science Fiction
Emperor Wang (the Perverted) is leader of the planet Porno and sends his mighty "Sex Ray" towards Earth, turning everyone into sex-mad fiends. Only one man can save the Earth, football player Flesh Gordon. Along with his girlfriend Dale Ardor and Professor Flexi-Jerkoff, they set off towards the source of the Sex Ray, unaware of the perils that face them!
4.
Battle Beyond the Stars (1980)
1h 44m Science Fiction
A young farmer assembles a band of diverse mercenaries to defend his peaceful planet from an evil tyrant.
5.
Guardians of the Galaxy (2014)
2h 1m Action Science Fiction Adventure
Light years from Earth, 26 years after being abducted, Peter Quill finds himself the prime target of a manhunt after discovering an orb wanted by Ronan the Accuser.
6.
The Fifth Element (1997)
2h 6m Adventure Fantasy Action Thriller Science Fiction
In 2257, a taxi driver is unintentionally given the task of saving a young girl who is part of the key that will ensure the survival of humanity.
1h 41m Comedy Family Science Fiction Adventure
For four years, the courageous crew of the NSEA protector - "Commander Peter Quincy Taggart" (Tim Allen), "Lt. Tawny Madison (Sigourney Weaver) and "Dr.Lazarus" (Alan Rickman) - set off on a thrilling and often dangerous mission in space...and then their series was cancelled! Now, twenty years later, aliens under attack have mistaken the Galaxy Quest television transmissions for "historical documents" and beam up the crew of has-been actors to save the universe. With no script, no director and no clue, the actors must turn in the performances of their lives.
1h 38m Action Comedy Fantasy Science Fiction
Based on the British cult comic-strip, our tank-riding anti-heroine fights a mega-corporation, which controls the world's water supply.
9.
Star Wars: Episode VI - Return of the Jedi (1983)
2h 15m Adventure Action Science Fiction
Luke Skywalker leads a mission to rescue his friend Han Solo from the clutches of Jabba the Hutt, while the Emperor seeks to destroy the Rebellion once and for all with a second dreaded Death Star.
10.
Masters of the Universe (1987)
1h 46m Action Fantasy Science Fiction Adventure Thriller
The world of Eternia in the aftermath of Skeletor's war on Castle Grayskull, which he has won after seizing Grayskull and the surrounding city using a cosmic key developed by the locksmith Gwildor. The Sorceress is now Skeletor's prisoner and he begins to drain her life-force as he waits for the moon of Eternia to align with the Great Eye of the Universe that will bestow god-like power upon him.
1h 56m Family Fantasy Science Fiction Adventure Comedy
Young history buff Kevin can scarcely believe it when six dwarfs emerge from his closet one night. Former employees of the Supreme Being, they've purloined a map charting all of the holes in the fabric of time and are using it to steal treasures from different historical eras. Taking Kevin with them, they variously drop in on Napoleon, Robin Hood and King Agamemnon before the Supreme Being catches up with them.
1h 23m Comedy Science Fiction
A low-budget, sci-fi satire that focuses on a group of scientists whose mission is to destroy unstable planets. 20 years into their mission, they have battle their alien mascot, that resembles a beach ball, as well as a "sensitive" and intelligent bombing device that starts to question the meaning of its existence.
1h 45m Fantasy Action Thriller Science Fiction
In the far future, a savage trained only to kill finds a way into the community of bored immortals that alone preserves humanity's achievements.
14.
Supersonic Man (1979)
1h 42m Comedy Adventure Fantasy
A fantasy movie about an arrogant, lazy prince and his more heroic brother who must complete a quest in order to save their father's kingdom.
1h 57m Action Adventure Fantasy Science Fiction
A prince and a fellowship of companions set out to rescue his bride from a fortress of alien invaders who have arrived on their home planet.
17.
Star Wars: Episode III - Revenge of the Sith (2005)
2h 20m Science Fiction Adventure Action
The evil Darth Sidious enacts his final plan for unlimited power -- and the heroic Jedi Anakin Skywalker must choose a side.
18.
Spacehunter: Adventures in the Forbidden Zone (1983)
1h 30m Adventure Science Fiction
Three women makes an emergency landing on a planet plagued with a fatal disease, but are captured by dictator Overdog. Adventurer Wolff goes there to rescue them and meets Niki, the only Earthling left from a medical expedition. Combining their talents, they try to rescue the women.
19.
Yor, the Hunter from the Future (1983)
1h 38m Fantasy Science Fiction
In prehistoric times, the muscular Yor saves his cave-babe from a dinosaur just before they get zapped into the future to battle bad guys in the familiar desolate wasteland.
20.
Planet of the Apes (1968)
1h 52m Science Fiction Adventure Drama Action
An U.S. Spaceship lands on a desolate planet, stranding astronaut Taylor in a world dominated by apes, 2000 years into the future, who use a primitive race of humans for experimentation and sport. Soon Taylor finds himself among the hunted, his life in the hands of a benevolent chimpanzee scientist.
21.
The Adventures of Buckaroo Banzai Across the 8th Dimension (1984)
1h 43m Comedy Science Fiction Adventure Romance
Adventurer/surgeon/rock musician Buckaroo Banzai and his band of men, the Hong Kong Cavaliers, take on evil alien invaders from the 8th dimension.
1h 35m Comedy Science Fiction
Galaxina is a lifelike, voluptuous android who is assigned to oversee the operations of an intergalactic Space Police cruiser captained by incompetent Cornelius Butt. When a mission requires the ship's crew to be placed in suspended animation for decades, Galaxina finds herself alone for many years, developing emotions and falling in love with the ship's pilot, Thor.
1h 45m Fantasy Comedy
A medieval tale with Pythonesque humour: After the death of his father the young Dennis Cooper goes to town where he has to pass several adventures. The town and the whole kingdom is threatened by a terrible monster called 'Jabberwocky'. Will Dennis make his fortune? Is anyone brave enough to defeat the monster?
2h 42m Action Adventure Fantasy Science Fiction
In the 22nd century, a paraplegic Marine is dispatched to the moon Pandora on a unique mission, but becomes torn between following orders and protecting an alien civilization.
1h 29m Action Adventure Comedy Science Fiction
Two brothers have half of a powerful ancient Chinese talisman. An evil gang leader has the other half, and determines to get the brothers' half and have a complete medallion so he can gain absolute power.
26.
The Golden Voyage of Sinbad (1973)
1h 45m Action Adventure Drama Fantasy
Sinbad and his crew intercept a homunculus carrying a golden tablet. Koura, the creator of the homunculus and practitioner of evil magic, wants the tablet back and pursues Sinbad. Meanwhile Sinbad meets the Vizier who has another part of the interlocking golden map, and they mount a quest across the seas to solve the riddle of the map.
explore
Check out more list from our community