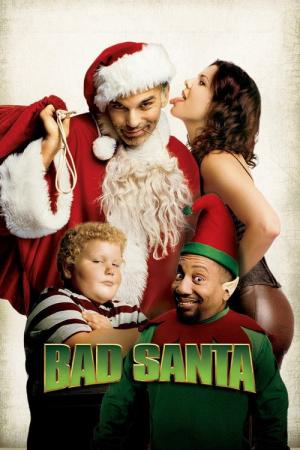 28 Best Movies Like Bad Santa ...
If you liked this movie , you will probably love these too! In this list we highlight some of the best films that share a very similar mood to '', and are worth checking out.
1h 32m Comedy Crime Drama Mystery
Fueled by cheap whiskey, greed and hatred, Willie Soke teams up with his angry little sidekick, Marcus, to knock off a Chicago charity on Christmas Eve. Along for the ride is chubby and cheery Thurman Merman, a 250-pound ray of sunshine who brings out Willie's sliver of humanity. Issues arise when the pair are joined by Willie's horror story of a mother, who raises the bar for the gang's ambitions, while somehow lowering the standards of criminal behavior.
1h 37m Crime Drama Comedy
A bigoted junkie cop suffering from bipolar disorder and drug addiction manipulates and hallucinates his way through the festive season in a bid to secure promotion and win back his wife and daughter.
1h 37m Comedy
Caroline and Lloyd are a married couple constantly at each other's throats, masters at crafting acid-tongued barbs at the other's expense. Indeed, they are so obsessed with belittling each other that they never stop -- not even at gunpoint. The gunman is Gus, a thief on the run from the police, who kidnaps the couple as an insurance policy, planning to use their home as a hideout. But their incessant bickering proves more than Gus bargained for, forcing him -- for the sake of his own sanity -- into the unenviable role of peacemaker. To make things even worse for Gus, he discovers that he has taken the couple hostage the night of their big Christmas party, and the guests are already on the way. Not wanting to leave Lloyd and Caroline unattended, Gus opts to attend the party, pretending to be the couple's marriage counselor. This naturally leads to a series of comic confusions, as the hostage crisis and marital tensions head towards their inevitable conclusion.
4.
The Ice Harvest (2005)
1h 28m Action Adventure Comedy Crime Drama Thriller
A shady lawyer attempts a Christmas Eve crime, hoping to swindle the local mob out of some money. But his partner, a strip club owner, might have different plans for the cash.
5.
Welcome to Collinwood (2002)
1h 26m Comedy
Five hapless inner-city low-lifes attempt to burgle a pawnbroker's safe, but end up being plagued by bad luck.
2h 3m Comedy Crime
Two bank robbers fall in love with the girl they've kidnapped.
7.
Observe and Report (2009)
1h 27m Comedy Crime Drama
Mall security guard Ronnie Barnhardt is called into action to stop a flasher from turning shopper's paradise into his personal peep show. But when Barnhardt can't bring the culprit to justice, a surly police detective is recruited to close the case.
1h 33m Comedy Crime Drama
After spending 12 years in prison for keeping his mouth shut, notorious safe-cracker Dom Hemingway is back on the streets of London looking to collect what he's owed.
9.
National Lampoon's Gold Diggers (2003)
1h 36m Comedy
A man decides he needs to help his younger brother lose his virginity and hires a prostitute named Dominique. But hilarious high jinks ensue when a French exchange student with the same name also shows up at his brother's dorm room.
10.
The Doom Generation (1995)
1h 20m Action Comedy Crime Drama
Jordan White and Amy Blue, two troubled teens, pick up an adolescent drifter, Xavier Red. Together, the threesome embarks on a sex and violence-filled journey through an United States of psychos and quickie marts.
11.
The Man Who Wasn't There (2001)
1h 56m Crime Thriller
A tale of murder, crime and punishment set in the summer of 1949. Ed Crane, a barber in a small California town, is dissatisfied with his life, but his wife Doris' infidelity and a mysterious opportunity presents him with a chance to change it.
1h 42m Drama Action Comedy Thriller Crime
Three laborers on a Northern California marijuana plantation become increasingly paranoid when they learn that their boss has been murdered. They know enough to run, taking with them enough of the crop to pay them for services rendered. Hooking up with go-between Lucy in the next town, they plot their next move.
1h 30m Drama Action Comedy
A pair of slackers get in way over their heads when they try to dump the body of a dead girlfriend in the basement of a drive-in movie theater where a satanic cult performs ritual sacrifices.
1h 46m Drama
A young boy has lost his mother and is losing touch with his father and the world around him. Then he meets Hesher who manages to make his life even more chaotic.
15.
Thunderbolt and Lightfoot (1974)
1h 55m Crime Comedy Action
With the help of an irreverent young sidekick, a bank robber gets his old gang back together to organise a daring new heist.
16.
Money for Nothing (1993)
1h 40m Drama Comedy Crime
When unemployed dockworker Joey Coyle finds $1.2 million that fell off of an armored car, he decides to do the logical thing: take the money and run. After all, he says, finders keepers. He turns to his ex-girlfriend Monica, who works in an investment firm, for advice, before turning to the mob for help laundering the money. While Joey makes plans to leave the country, however, a detective is following his ever-warmer trail in order to recover the cash.
17.
Trailer Park Boys: The Movie (2006)
1h 35m Comedy
Set in a separate storyline not related to the "Trailer Park Boys" Television show, but with the same lovable characters. The boys get arrested for robbing an ATM machine and spend 18 months in jail. When the get out, they decide to pull off "The Big Dirty" which is to steal a large amount of coins because they are untraceable and quit their life of crime forever
1h 40m Comedy Crime Drama
To remedy his financial problems, a travel agent has his eye on a frozen corpse, which just happens to be sought after by two hitmen.
19.
Friday After Next (2002)
1h 25m Comedy
Craig and his cousin Day Day have finally moved out of their parents' houses and into their own crib, working nights at a local mall as security guards. When their house is robbed on Christmas Eve they set out to track down the culprit.
20.
The Chumscrubber (2005)
1h 48m Comedy Drama
The Chumscrubber is a dark comedy about the lives of people who live in upper-class suburbia. It all begins when Dean Stiffle finds the body of his friend, Troy. He doesn't bother telling any of the adults because he knows they won't care. Everyone in town is too self consumed to worry about anything else than themselves. And everybody is on some form of drug just to get through their days.
1h 37m Action Comedy Crime
Fresh out of prison, Git rescues a former best friend (now living with Git's girlfriend) from a beating at the hands of loan sharks. He's now in trouble with the mob boss, Tom French, who sends Git to Cork with another debtor, Bunny Kelly, to find a guy named Frank Grogan, and take him to a man with a friendly face at a shack across a bog. It's a tougher assignment than it seems: Git's a novice, Bunny's prone to rash acts, Frank doesn't want to be found (and once he's found, he has no money), and maybe Tom's planning to murder Frank, which puts Git in a moral dilemma. Then, there's the long-ago disappearance of Sonny Mulligan. What's a decent and stand-up lad to do?
1h 38m Crime Comedy Thriller
Grocery store clerk Simon occasionally sells drugs from his cash register at work, so when soap opera actors Adam and Zack come looking for Ecstasy on a quiet Christmas Eve, they are surprised to find Ronna covering his shift. Desperate for money, Ronna decides to become an impromptu drug dealer, unaware that Adam and Zack are secretly working for obsessed narcotics officer Burke.
23.
Lock, Stock and Two Smoking Barrels (1998)
1h 45m Comedy Crime
A card shark and his unwillingly-enlisted friends need to make a lot of cash quick after losing a sketchy poker match. To do this they decide to pull a heist on a small-time gang who happen to be operating out of the flat next door.
24.
Shakes the Clown (1991)
1h 27m Comedy Crime
Shakes plods about his duties as party clown, and uses all of his free time getting seriously drunk. Binky, another clown, wins the spot on a local kiddie show, which depresses Shakes even more, and his boss threatens him with unemployment if he can't get his act under control.
1h 35m Comedy Crime Thriller
A dentist finds himself a murder suspect after a sexy patient seduces him into prescribing her drugs
1h 36m Action Comedy
Durell and LeeJohn are best friends and bumbling petty criminals. When told they have one week to pay a $17,000 debt or Durell will lose his son, they come up with a desperate scheme to rob their neighborhood church. Instead, they end up spending the night in the presence of the Lord and are forced to deal with much more than they bargained for.
1h 44m Crime Comedy
Unscrupulous boxing promoters, violent bookmakers, a Russian gangster, incompetent amateur robbers and supposedly Jewish jewelers fight to track down a priceless stolen diamond.
explore
Check out more list from our community