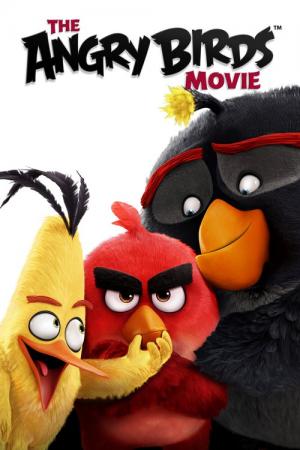 31 Best Movies Like Angry Birds ...
If you liked this one , you will probably love these too! In this collection we highlight some of the best films that share a very similar mood to '', and are worth checking out.
1.
The Angry Birds Movie 2 (2019)
1h 37m Animation Comedy Adventure Family
Red, Chuck, Bomb and the rest of their feathered friends are surprised when a green pig suggests that they put aside their differences and unite to fight a common threat. Aggressive birds from an island covered in ice are planning to use an elaborate weapon to destroy the fowl and swine.
1h 41m Family Adventure Comedy Animation
It's a jungle out there for Blu, Jewel and their three kids after they're hurtled from Rio de Janeiro to the wilds of the Amazon. As Blu tries to fit in, he goes beak-to-beak with the vengeful Nigel, and meets the most fearsome adversary of all: his father-in-law.
1h 26m Family Animation Adventure Comedy
Alex the lion is the king of the urban jungle, the main attraction at New York's Central Park Zoo. He and his best friends—Marty the zebra, Melman the giraffe and Gloria the hippo—have spent their whole lives in blissful captivity before an admiring public and with regular meals provided for them. Not content to leave well enough alone, Marty lets his curiosity get the better of him and makes his escape—with the help of some prodigious penguins—to explore the world.
4.
Alvin and the Chipmunks: Chipwrecked (2011)
1h 27m Comedy Fantasy Family Music Animation
Playing around while aboard a cruise ship, the Chipmunks and Chipettes accidentally go overboard and end up marooned in a tropical paradise. They discover their new turf is not as deserted as it seems.
1h 49m Animation Adventure Family Comedy
Determined to prove herself, Officer Judy Hopps, the first bunny on Zootopia's police force, jumps at the chance to crack her first case - even if it means partnering with scam-artist fox Nick Wilde to solve the mystery.
6.
The Secret Life of Pets (2016)
1h 27m Adventure Comedy Animation Family
The quiet life of a terrier named Max is upended when his owner takes in Duke, a stray whom Max instantly dislikes.
7.
Ice Age: Collision Course (2016)
1h 35m Adventure Animation Family Comedy Science Fiction
Set after the events of Continental Drift, Scrat's epic pursuit of his elusive acorn catapults him outside of Earth, where he accidentally sets off a series of cosmic events that transform and threaten the planet. To save themselves from peril, Manny, Sid, Diego, and the rest of the herd leave their home and embark on a quest full of thrills and spills, highs and lows, laughter and adventure while traveling to exotic new lands and encountering a host of colorful new characters.
1h 23m Family Comedy Animation
A scheming raccoon fools a mismatched family of forest creatures into helping him repay a debt of food, by invading the new suburban sprawl that popped up while they were hibernating – and learns a lesson about family himself.
9.
Despicable Me 3 (2017)
1h 36m Action Animation Comedy Family Adventure
Gru and his wife Lucy must stop former '80s child star Balthazar Bratt from achieving world domination.
10.
Kung Fu Panda 2 (2011)
1h 31m Animation Family
Po is now living his dream as The Dragon Warrior, protecting the Valley of Peace alongside his friends and fellow kung fu masters, The Furious Five - Tigress, Crane, Mantis, Viper and Monkey. But Po's new life of awesomeness is threatened by the emergence of a formidable villain, who plans to use a secret, unstoppable weapon to conquer China and destroy kung fu. It is up to Po and The Furious Five to journey across China to face this threat and vanquish it. But how can Po stop a weapon that can stop kung fu? He must look to his past and uncover the secrets of his mysterious origins; only then will he be able to unlock the strength he needs to succeed.
11.
Kung Fu Panda 3 (2016)
1h 35m Action Adventure Animation Comedy Family
Continuing his "legendary adventures of awesomeness", Po must face two hugely epic, but different threats: one supernatural and the other a little closer to his home.
1h 16m Adventure Animation Comedy Family
After falling head over hooves in love with Giselle, Elliot's road to the altar takes a slight detour when Mr. Weenie is kidnapped by a group of pampered pets determined to return him to his owners.
1h 30m Action Adventure Animation Family Comedy
When the Valley of Peace is threatened, lazy Po the panda discovers his destiny as the "chosen one" and trains to become a kung fu hero, but transforming the unsleek slacker into a brave warrior won't be easy. It's up to Master Shifu and the Furious Five -- Tigress, Crane, Mantis, Viper and Monkey -- to give it a try.
14.
Open Season: Scared Silly (2015)
1h 24m Animation Comedy Family Adventure
The humans and animals believe a werewolf is on the loose, and former hunter Shaw uses the opportunity to re-open the season. Boog, Elliot, and Mr. Weenie have to face their fears and find the werewolf to get the season closed permanently.
1h 31m Animation Comedy Family
Two turkeys from opposite sides of the tracks must put aside their differences and team up to travel back in time to change the course of history—and get turkey off the holiday menu for good.
1h 27m Adventure Animation Comedy Family
Storks deliver babies…or at least they used to. Now they deliver packages for a global internet retail giant. Junior, the company's top delivery stork, is about to be promoted when he accidentally activates the Baby Making Machine, producing an adorable and wholly unauthorized baby girl...
17.
Madagascar 3: Europe's Most Wanted (2012)
1h 33m Animation Family Comedy Adventure
Animal pals Alex, Marty, Melman, and Gloria are still trying to make it back to New York's Central Park Zoo. They are forced to take a detour to Europe to find the penguins and chimps who broke the bank at a Monte Carlo casino. When French animal-control officer Capitaine Chantel DuBois picks up their scent, Alex and company are forced to hide out in a traveling circus.
1h 28m Family Fantasy Action Adventure Comedy
A team of trained secret agent animals, guinea pigs Darwin, Juarez, Blaster, mole Speckles, and fly Mooch takes on a mission for the US government to stop evil Leonard Saber, who plans to destroy the world with household appliances. But the government shuts them down and they are sentenced to a pet shop. Can they escape to defeat the villain and save the world?
19.
Horton Hears a Who! (2008)
1h 26m Animation Comedy Family Adventure Fantasy
One day, Horton the elephant hears a cry from help coming from a speck of dust. Even though he can't see anyone on the speck, he decides to help it. As it turns out, the speck of dust is home to the Whos, who live in their city of Whoville. Horton agrees to help protect the Whos and their home.
20.
Cloudy with a Chance of Meatballs 2 (2013)
1h 35m Animation Family Comedy
After the disastrous food storm in the first film, Flint and his friends are forced to leave the town. Flint accepts the invitation from his idol Chester V to join The Live Corp Company, which has been tasked to clean the island, and where the best inventors in the world create technologies for the betterment of mankind. When Flint discovers that his machine still operates and now creates mutant food beasts like living pickles, hungry tacodiles, shrimpanzees and apple pie-thons, he and his friends must return to save the world.
1h 31m Family Animation Adventure Comedy
Barry B. Benson, a bee who has just graduated from college, is disillusioned at his lone career choice: making honey. On a special trip outside the hive, Barry's life is saved by Vanessa, a florist in New York City. As their relationship blossoms, he discovers humans actually eat honey, and subsequently decides to sue us.
22.
Madagascar: Escape 2 Africa (2008)
1h 29m Family Adventure Animation Comedy
Alex, Marty, and other zoo animals find a way to escape from Madagascar when the penguins reassemble a wrecked airplane. The precariously repaired craft stays airborne just long enough to make it to the African continent. There the New Yorkers encounter members of their own species for the first time. Africa proves to be a wild place, but Alex and company wonder if it is better than their Central Park home.
1h 43m Animation Family Adventure Comedy Fantasy
When the evil wizard Gargamel chases the tiny blue Smurfs out of their village, they tumble from their magical world and into ours -- in fact, smack dab in the middle of Central Park. Just three apples high and stuck in the Big Apple, the Smurfs must find a way to get back to their village before Gargamel tracks them down.
1h 35m Animation Comedy Family
E.B., the Easter Bunny's teenage son, heads to Hollywood, determined to become a drummer in a rock 'n' roll band. In L.A., he's taken in by Fred after the out-of-work slacker hits E.B. with his car.
25.
Penguins of Madagascar (2014)
1h 32m Family Animation Adventure Comedy
Skipper, Kowalski, Rico and Private join forces with undercover organization The North Wind to stop the villainous Dr. Octavius Brine from destroying the world as we know it.
1h 26m Animation Family Adventure Comedy
Boog, a domesticated 900lb. Grizzly bear finds himself stranded in the woods 3 days before Open Season. Forced to rely on Elliot, a fast-talking mule deer, the two form an unlikely friendship and must quickly rally other forest animals if they are to form a rag-tag army against the hunters.
1h 25m Animation Comedy Family Adventure
Surly, a curmudgeon, independent squirrel is banished from his park and forced to survive in the city. Lucky for him, he stumbles on the one thing that may be able to save his life, and the rest of park community, as they gear up for winter - Maury's Nut Store.
1h 30m Action Adventure Animation Family Fantasy Comedy
Long before he even met Shrek, the notorious fighter, lover and outlaw Puss in Boots becomes a hero when he sets off on an adventure with the tough and street smart Kitty Softpaws and the mastermind Humpty Dumpty to save his town. This is the true story of The Cat, The Myth, The Legend... The Boots.
29.
Stuart Little 2 (2002)
1h 18m Family Adventure Animation Comedy
Stuart, an adorable white mouse, still lives happily with his adoptive family, the Littles, on the east side of Manhattan's Central Park. More crazy mouse adventures are in store as Stuart, his human brother, George, and their mischievous cat, Snowbell, set out to rescue a friend.
30.
Ice Age: Continental Drift (2012)
1h 28m Animation Comedy Adventure Family
Manny, Diego, and Sid embark upon another adventure after their continent is set adrift. Using an iceberg as a ship, they encounter sea creatures and battle pirates as they explore a new world.
explore
Check out more list from our community