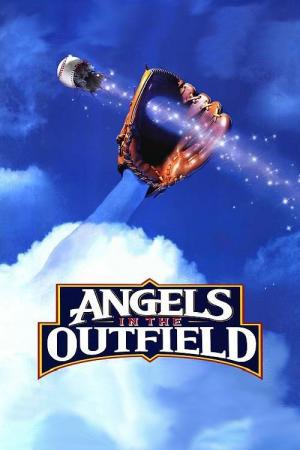 10 Best Movies Like Angels In The Outfield ...
If you liked this one , you will definitely love these too! In this selection we highlight some of the best films that share a very similar mood to 'Angels in the Outfield', and are worth checking out.
1.
Rookie of the Year (1993)
1h 43m Comedy Family
12-year-old Henry Rowengartner, whose late father was a minor league baseball player, grew up dreaming of playing baseball, despite his physical shortcomings. After Henry's arm is broken while trying to catch a baseball at school, the tendon in that arm heals too tightly, allowing Henry to throw pitches that are as fast as 103 mph. Henry is spotted at nearby Wrigley Field by Larry "Fish" Fisher, the general manager of the struggling Chicago Cubs, after Henry throws an opponent's home-run ball all the way from the outfield bleachers back to the catcher, and it seems that Henry may be the pitcher that team owner Bob Carson has been praying for.
2.
The Bad News Bears in Breaking Training (1977)
1h 40m Comedy Family
Sentimental sequel film finds the Bears, somehow, the little league champions of California. As a result, the team is invited to play a between-games exhibition at the Houston Astrodome with the local champs, the Toros. Kelly Leak, the Bears' star player, decides to rejoin the team and go with them to Houston to make amends with his estranged father, Mike
1h 39m Comedy Family Fantasy
Calvin and his friends, who all live in an orphanage, find old shoes with the faded letters MJ connected to a powerline. One stormy night, they go to get the shoes when Calvin and the shoes are struck by lightning. Calvin now has unbelievable basketball powers and has the chance to play for the NBA.
4.
Little Big League (1994)
1h 59m Comedy Family
When the owner of the Minnesota Twins passes away, he bequeaths the team to his preteen grandson. The newly minted head honcho quickly appoints himself manager, causing unrest in an organisation that struggles to take orders from a 12-year-old.
2h 7m Drama Family
Jim Morris never made it out of the minor leagues before a shoulder injury ended his pitching career twelve years ago. Now a married-with-children high-school chemistry teacher and baseball coach in Texas, Jim's team makes a deal with him: if they win the district championship, Jim will try out with a major-league organization. The bet proves incentive enough for the team, and they go from worst to first, making it to state for the first time in the history of the school. Jim, forced to live up to his end of the deal, is nearly laughed off the try-out field--until he gets onto the mound, where he confounds the scouts (and himself) by clocking successive 98 mph fastballs, good enough for a minor-league contract with the Tampa Bay Devil Rays. Jim's still got a lot of pitches to throw before he makes it to The Show, but with his big-league dreams revived, there's no telling where he could go.
1h 47m Comedy Family
When Danny O'Shea's daughter is cut from the Peewee football team just for being a girl, he decides to form his own team, composed of other ragtag players who were also cut. Can his team really learn enough to beat the elite team, coached by his brother, a former pro player?
1h 36m Comedy Family
The California Atoms are in last place with no hope of moving up. But by switching the mule from team mascot to team member, (He can kick 100 yard field goals!) they start winning, and move up in the rankings, Hurrah! The competition isn't so happy.
8.
The Mighty Ducks (1992)
1h 41m Comedy Family Drama
After reckless young lawyer Gordon Bombay gets arrested for drunk driving, he must coach a kids hockey team for his community service. Gordon has experience on the ice, but isn't eager to return to hockey, a point hit home by his tense dealings with his own former coach, Jack Reilly. The reluctant Gordon eventually grows to appreciate his team, which includes promising young Charlie Conway, and leads them to take on Reilly's tough players.
1h 37m Comedy Family
A decade has passed in the small town where the original Sandlot gang banded together during the summer of '62 to play baseball and battle the Beast. Now comes the sequel, a campy romp back to the dugout where nine new kids descend on the diamond only to discover that a descendant of the Beast lives in Mr. Mertle's backyard--a monster of mythical proportions known as "The Great Fear."
10.
Air Bud: Golden Receiver (1998)
1h 30m Comedy Family
Josh and Buddy move from basketball to American football in this first of several sequels to the original Air Bud.
explore
Check out more list from our community