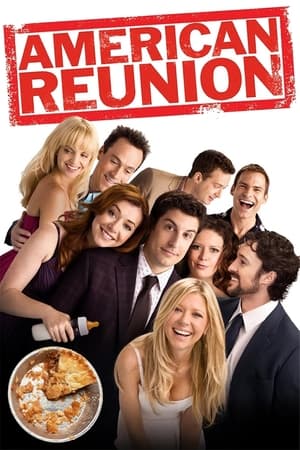 14 Best Movies Like American Reunion ...
If you liked this movie , you will definitely love these too! In this collection we highlight some of the best films that share a very similar mood to 'American Reunion', and are worth checking out.
1h 25m Comedy
Erik, Ryan, and Cooze start college and pledge the Beta House fraternity, presided over by none other than legendary Dwight Stifler. But chaos ensues when a fraternity of geeks threatens to stop the debauchery and the Betas have to make a stand for their right to party.
1h 53m Comedy
Two co-dependent high school seniors are forced to deal with separation anxiety after their plan to stage a booze-soaked party goes awry.
1h 40m Comedy
When three friends finally come to after a raucous night of bachelor-party revelry, they find a baby in the closet and a tiger in the bathroom. But they can't seem to locate their best friend, Doug – who's supposed to be tying the knot. Launching a frantic search for Doug, the trio perseveres through a nasty hangover to try to make it to the church on time.
1h 40m Comedy
When three overworked and under-appreciated moms are pushed beyond their limits, they ditch their conventional responsibilities for a jolt of long overdue freedom, fun, and comedic self-indulgence.
1h 19m Comedy
Nervous high school senior Tom Lawrence visits Port Chester University, where he gets a taste of politically correct college life when he's guided by fraternity wild man Droz and his housemates at The Pit. But Droz and his pals have rivals in nasty preppy Rand McPherson and the school's steely president. With their house threatened with expulsion, Droz and company decide to throw a raging party where the various factions will collide.
1h 42m Comedy
Jason Kelly is one week away from marrying his boss's uber-controlling daughter, putting him on the fast track for a partnership at the law firm. However, when the straight-laced Jason is tricked into driving his foul-mouthed grandfather, Dick, to Daytona for spring break, his pending nuptials are suddenly in jeopardy. Between riotous frat parties, bar fights, and an epic night of karaoke, Dick is on a quest to live his life to the fullest and bring Jason along for the ride.
7.
The 41-Year-Old Virgin Who Knocked Up Sarah Marshall and Felt Superbad About It (2010)
1h 22m Comedy
Follows Andy, who needs to hook up with a hottie, pronto, because he hasn't had sex in... well, forever - and his luck isn't the only thing that's hard. His equally horny teenage roommates also need it superbad, and with the help of their nerdy pal, McAnalovin' and his fake I.D., they may tap more than just a keg.
8.
Zack and Miri Make a Porno (2008)
1h 42m Comedy
Lifelong platonic friends Zack and Miri look to solve their respective cash-flow problems by making an adult film together. As the cameras roll, however, the duo begin to sense that they may have more feelings for each other than they previously thought.
1h 37m Comedy
A couple with a newborn baby face unexpected difficulties after they are forced to live next to a fraternity house.
10.
For a Good Time, Call... (2012)
11.
American Wedding (2003)
1h 43m Comedy Romance
With high school a distant memory, Jim and Michelle are getting married -- and in a hurry, since Jim's grandmother is sick and wants to see him walk down the aisle -- prompting Stifler to throw the ultimate bachelor party. And Jim's dad is reliable as ever, doling out advice no one wants to hear.
12.
Harold & Kumar Go to White Castle (2004)
1h 28m Comedy Adventure
Nerdy accountant Harold and his irrepressible friend, Kumar, get stoned watching television and find themselves utterly bewitched by a commercial for White Castle. Convinced there must be one nearby, the two set out on a late-night odyssey that takes them deep into New Jersey. Somehow, the boys manage to run afoul of rednecks, cops and even a car-stealing Neil Patrick Harris before getting anywhere near their beloved sliders.
13.
You, Me and Dupree (2006)
1h 48m Comedy Romance
After standing in as best man for his longtime friend Carl Petersen, Randy Dupree loses his job, becomes a barfly and attaches himself to the newlywed couple almost permanently -- as their houseguest. But the longer Dupree camps out on their couch, the closer he gets to Carl's bride, Molly, leaving the frustrated groom wondering when his pal will be moving out.
14.
American Pie 2 (2001)
1h 48m Comedy Romance
After a year apart - attending different schools, meeting different people - the guys rent a beach house and vow to make this the best summer ever. As it turns out, whether that will happen or not has a lot to do with the girls. Between the wild parties, outrageous revelations and yes, a trip to band camp, they discover that times change and people change, but in the end, it's all about sticking together.
explore
Check out more list from our community