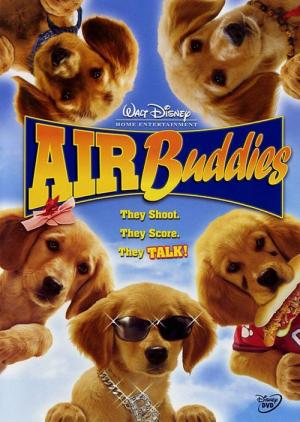 14 Best Movies Like Air Bud ...
If you liked this one , you will definitely love these too! In this collection we highlight some of the best films that share a very similar mood to 'Air Buddies', and are worth checking out.
1.
Beethoven's 5th (2003)
1h 31m Comedy Family
When Sara takes Beethoven to spend summer vacation with wacky Uncle Freddie in an old mining town, the mischievous canine "digs up" the missing clue to a legendary hidden fortune of Rita and Moe Selig. Now everybody wants to be the dog's best friend as his discovery unleashes a frenzy of treasure hunting among the community's cast of kooky creatures. With help from Uncle Freddie and Garrett (a friend or maybe more), Sara and Beethoven try to help uncover a secret that has been in the crazy little town for years. Description above from the Wikipedia article Beethoven's 5th (film), licensed under CC-BY-SA, full list of contributors on Wikipedia.
1h 30m Family Comedy
Shakey is a family film about a 35-year-old widower named J.T. O'Neil, his precocious 10-year-old daughter and their devoted mutt Shakey. After moving from a small town to Chicago and missing the fine print in their rental contract, J.T. is forced to try and get rid of his lovable pooch. Shakey and Chandler won't have it and hatch a plan to keep Shakey and teach J.T. a valuable lesson about loyalty and the importance of keeping family together.
1h 24m Comedy Adventure Drama Family
B-Dawg, Mudbud, Budderball, and all the rest of the Buddies are back, but this time, they're setting their sights even higher -- as in, the moon! With the help of their new pals Spudnick (voiced by Jason Earles) and Gravity, these pooches are go for launch. But to pull off their moon landing and make it home safely, our canine heroes will have to summon all their bravery and imagination...
4.
Ace Ventura: Pet Detective Jr. (2009)
5.
Beethoven's 4th (2001)
1h 33m Comedy Family
The family is pleasantly surprised and puzzled when Beethoven suddenly becomes obedient. Turns out it's a prince and the pauper scenario, with the real Beethoven now living with a pompous rich family.
1h 27m Comedy Family
The Newton family live in their comfortable home, but there seems to something missing. This "hole" is filled by a small puppy, who walks into their home and their lives. Beethoven, as he is named, grows into a giant of a dog... a St Bernard. Doctor Varnick, the local vet has a secret and horrible sideline, which requires lots of dogs for experiments. Beethoven is on the bad doctor's list.
7.
Zeus and Roxanne (1997)
1h 38m Adventure Comedy Family Romance
Mary Beth is a marine biologist that gets annoyed when a dog called Zeus stows aboard her research boat. Nevertheless she is intrigued when the intrusive canine makes best-friends with her captive dolphin, Roxanne. She falls in love with Zeus's owner, Terry, a musician who rides a bike.
8.
Treasure Buddies (2012)
1h 33m Adventure Family
Disney's irresistible talking puppies are back in an all-new movie that takes them halfway across the world to the ruins of ancient Egypt. With the help of some exotic new friends, this epic adventure is a treasure trove of pure Buddy fun. In a race against a devious cat, the Buddies and their new friends, Cammy and Babi, must avoid booby traps, solve puzzles and explore a mysterious tomb - all in search of the greatest treasure known to animalkind!
9.
Santa Paws 2: The Santa Pups (2012)
1h 28m Family
An all-new Disney holiday classic is born - Santa Paws 2: The Santa Pups. Starring a brand-new litter of the cutest talking pups ever - Hope, Jingle, Charity, and Noble - it's perfect for the whole family. When Mrs. Claus travels to Pineville, the playful Santa Pups stow away on her sled. Taking mischief to a whole new level, they begin granting joyful wishes to Pineville's boys and girls, but something goes terribly wrong - the Christmas spirit begins to disappear. Now the Santa Pups and Mrs. Claus must race to save Christmas around the world. From the creators of Disney Buddies, this magical, heartwarming tale is brimming with hope, cheer, and Christmas spirit. Written by Paws
1h 21m Adventure Family
The adventures of Golden Retriever pup Napoleon and his friend, the parrot Birdo Lucci.
1h 28m Family Adventure
When Puppy Paws, the fun-loving son of Santa Paws, gets bored, he finds Budderball on Santa's naughty list and figures he's just the dog to show him how to be an ordinary pup. When the magical Christmas Icicle starts to melt however, and the world begins to forget the true meaning of the season, it's up to Puppy Paws and his newfound Buddies to journey back to the North Pole and save Christmas.
1h 27m Family Adventure
Dylan Sprouse, Jim Belushi and Kris Kristofferson lend their voices to this family-friendly tale about a feisty pack of golden retriever puppies that embarks on an Alaskan adventure. When they find themselves stranded in the northern wilderness, the canine offspring of famed sports star Air Bud team up with an experienced sled dog and a husky pup, who teach them the importance of working together.
13.
For the Love of Benji (1977)
1h 25m Family
Benji gets lost after a flight overseas and becomes a stray in Athens, Greece. He then tries everyday to reunite with his family while mysterious people pursue him, in a race to get a code which was secretly tattooed on his paw at the airport. But who are the bad guys and who are the agents that can be trusted? Will Benji and his kids and their nanny ever get to enjoy their vacation?
14.
Far from Home: The Adventures of Yellow Dog (1995)
1h 27m Action Adventure Drama Family
Teenager Angus adopts a stray dog and names him Yellow. Several days later, while travelling along the coast of British Columbia with Angus's father, John, the boy and dog become stranded when turbulent waters capsize their boat. Angus's parents relentlessly badger rescue teams. Angus, schooled by his father in wilderness survival skills, and assisted by the intelligent Yellow Dog, tries to attract rescuers.
explore
Check out more list from our community