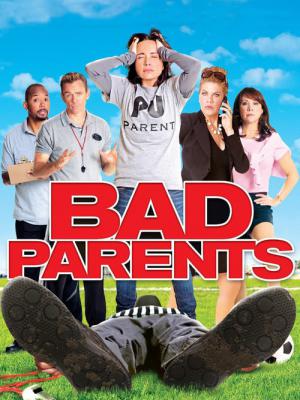 22 Best Movies About Bad Parents ...
If you liked this film , you will probably love these too! In this collection we highlight some of the best films that share a very similar mood to '', and are worth checking out.
1.
Shooting for Socrates (2014)
1h 32m Comedy Drama
Set in Belfast against the backdrop of the 1986 World Cup, Shooting for Socrates tells the story of a momentous time in Northern Ireland's football history through the eyes of players, fans and the media. The film also follows the lives of passionate football supporter Arthur and his son Tommy from East Belfast. The lead up to a momentous day in the life of a young boy (his 10th birthday) mirrors the build up to the big day for the Northern Ireland football team as they play the greatest match of their lives.
2.
Madea's Big Happy Family (2011)
2h 32m Comedy
When a family meets for Christmas at their posh Cape Cod estate, family arguments and secrets cause a stir. It takes a real down-to-earth family - like Aunt Bam and the almighty Madea - to save this holiday.
4.
Back in the Game (2013)
22m Comedy Family
Terry Gannon Jr. was an All Star softball player until life threw her a couple curve balls: a baby, a lost college scholarship and a loser for a husband. After striking out on her own, Terry and her son Danny move in with her estranged father, Terry Sr. aka "The Cannon," an opinionated, beer-guzzling, ex-athlete who never quite made the cut as a single father or professional baseball player. When Terry reluctantly offers to coach Danny and a group of other athletically-challenged hopefuls, her past comes rushing back.
1h 57m Comedy Music
G.G. Sparrow faces off with her choir's newly appointed director, Vi Rose Hill, over the group's direction as they head into a national competition.
8.
Kicking & Screaming (2005)
1h 35m Comedy Family
Phil Weston has been unathletic his entire life. In college he failed at every sport that he tried out for. It looks like his 10-year old son, Sam, is following in his footsteps. But when Phil's hyper-competitive dad benches Sam, Phil decides to transfer his son to a new team which needs a coach. Phil steps in to be the temporary coach and immediately begins to butt heads with this dad over this new competition in their lives.
9.
Calvin Marshall (2009)
10.
Father of Invention (2010)
12.
The Boy in the Dress (2014)
1h 2m Drama Family Comedy
Based on David Walliams' best-selling children's book, with an all-star cast including Jennifer Saunders, James Buckley, David Walliams and Kate Moss, The Boy in the Dress is a celebration of creativity, difference, football and fashion. Dennis feels different - an ordinary boy in an ordinary house in an ordinary street, playing football with his mates and living with his dad and brother, but frustrated by the boring grey world he inhabits. Life has never really been the same since his mum left. However, transformation can happen in the most unexpected places. Aided by Lisa, the coolest girl in the school, Dennis creates a whole new persona and puts it to the ultimate test - but can a boy wear a dress, and what will the headmaster, his dad and his friends on the football team think if they find out?
14.
Another Happy Day (2011)
1h 30m Comedy
Jimmy Price is a reckless man-child on the last leg of his career as a doubles tennis player. When his latest partner drops him, he realizes he's officially burned all of his bridges on the pro circuit. He decides to make one last ditch effort to revive his career, reaching outside of the tennis world and convincing his childhood partner -- his estranged brother Darren, now an apathetic substitute teacher - to team up with him. The mismatched pair, with the help of a unique 11-year-old named Barry, make an unlikely run at a grand slam tournament and are forced to re-discover their game, and their brotherhood.
1h 34m Drama Family Comedy
The true story of Jasmine Plummer who, at the age of eleven, became the first female to play in Pop Warner football tournament in its 56-year history.
18.
Keeping Up with the Steins (2006)
1h 28m Drama Action Family TV Movie
Al Shines, former king of the US race car track circuit, has a hard time starting his own team, once he's fired by his sponsor Robin Cates. Robin hired Al's immature daughter Kylie Shines instead. She resents Al's inevitable 'absence' as a widowed father, as well as the reigning champion, equally young but professionally vetted Kid Walker. Kylie tries to prove herself against Kid while having an on-off affair with him. Cates's marketing strategy dictates his intentions to manipulate Walker and both Shines racers.
1h 27m Drama Family Comedy TV Movie
Maggie Baker has a weight problem, and her high school classmates won't let her forget it. They shamelessly ridicule her, and even go so far as to nominate her for Homecoming Queen as a joke. Maggie, however, decides to take the nomination seriously, collects the required signatures and starts campaigning. A number of students get behind her, threatening the chances of the popular clique -- who resolve to sabotage Maggie's campaign by any means necessary.
2h 34m Romance
Five friends meet a mystic in a forest who grants their wish — a newspaper from the future. They decide to get rich by using their knowledge of the future. They focus their efforts on Peter, a carefree youth from Royapuram, who is predicted by the newspaper to win a boxing match and present the prize money of Rs. 2 crores to the five friends. However, they are perplexed when they discover that Peter has absolutely no knowledge of boxing.
explore
Check out more list from our community