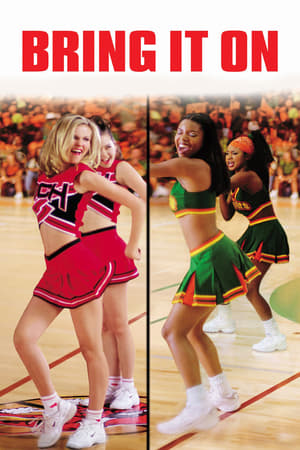 11 Best Movie Like Bring It On ...
If you liked this one , you will probably love these too! In this list we highlight some of the best films that share a very similar mood to 'Bring It On', and are worth checking out.
1h 40m Romance Comedy
Bianca's universe turns upside down when she learns that her high school refers to her as a 'DUFF' (Designated Ugly Fat Friend). Hoping to erase that label, she enlists the help of a charming jock and her favorite teacher. Together they'll face the school's mean girl and remind everyone that we are all someone's DUFF… and that's totally fine.
1h 21m Comedy Family
Orphan Mary Katherine Gallagher, an ugly duckling at St. Monica High School, has a dream: to be kissed soulfully. She decides she can realize this dream if she becomes a superstar, so her prayers, her fantasies, and her conversations with her only friend focus on achieving super-stardom.
1h 37m Comedy Romance
Shallow, rich and socially successful Cher is at the top of her Beverly Hills high school's pecking scale. Seeing herself as a matchmaker, Cher first coaxes two teachers into dating each other. Emboldened by her success, she decides to give hopelessly klutzy new student Tai a makeover. When Tai becomes more popular than she is, Cher realizes that her disapproving ex-stepbrother was right about how misguided she was -- and falls for him.
4.
Sixteen Candles (1984)
1h 33m Comedy Romance
A teenage girl deals with her parents forgetting her birthday and a crush on her high school's heartthrob.
1h 45m Comedy Drama Family Romance
Viola Hastings is in a real jam. Complications threaten her scheme to pose as her twin brother, Sebastian, and take his place at a new boarding school. She falls in love with her handsome roommate, Duke, who loves beautiful Olivia, who has fallen for Sebastian! As if that were not enough, Viola's twin returns from London ahead of schedule but has no idea that his sister has already replaced him on campus.
1h 36m Comedy
Elle Woods has it all. She's the president of her sorority, a Hawaiian Tropic girl, Miss June in her campus calendar, and, above all, a natural blonde. She dates the cutest fraternity boy on campus and wants nothing more than to be Mrs. Warner Huntington III. But, there's just one thing stopping Warner from popping the question: Elle is too blonde.
7.
Never Been Kissed (1999)
1h 47m Romance Comedy Drama
Josie Geller, a baby-faced junior copywriter at the Chicago Sun-Times, must pose as a student at her former high school to research contemporary teenage culture. With the help of her brother, Rob, Josie infiltrates the inner circle of the most popular clique on campus. But she hits a major snag in her investigation -- not to mention her own failed love life -- when she falls for her dreamy English teacher, Sam Coulson.
8.
10 Things I Hate About You (1999)
1h 37m Comedy Romance Drama
On the first day at his new school, Cameron instantly falls for Bianca, the gorgeous girl of his dreams. The only problem is that Bianca is forbidden to date until her ill-tempered, completely un-dateable older sister Kat goes out, too. In an attempt to solve his problem, Cameron singles out the only guy who could possibly be a match for Kat: a mysterious bad boy with a nasty reputation of his own.
1h 41m Comedy Drama Family
15 year-old soccer prodigy, Sara Davis, has a chance to join the U.S. National Team, but she must juggle high school, romance, sports, and parental pressure while deciding her own priorities.
10.
Bring It On: All or Nothing (2006)
1h 39m Comedy
A transfer student at a rough high school tries joining the cheer-leading squad and finds that she not only has to face off against the head cheerleader, but also against her former school in preparation for a cheer-off competition.
11.
Bring It On: In It to Win It (2007)
1h 30m Comedy
Fourth 'Bring It On' movie is set at a cheerleader camp in Florida with a 'West Side Story' musical feel has the female captain of the West Side Sharks meeting and romancing a male member of the East Coast Jets amid their different team rivalries.
explore
Check out more list from our community