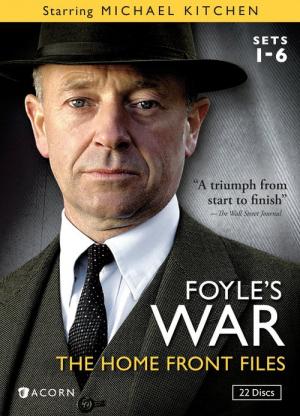 21 Best More Shows Like Foyle ...
If you liked this film , you will probably love these too! In this collection we highlight some of the best films that share a very similar premise to '', and are worth checking out.
2.
Midsomer Murders (1997)
1h 30m Crime Drama Mystery
The peacefulness of the Midsomer community is shattered by violent crimes, suspects are placed under suspicion, and it is up to a veteran DCI and his young sergeant to calmly and diligently eliminate the innocent and ruthlessly pursue the guilty.
3.
Inspector Lewis (2006)
4.
Inspector George Gently (2007)
1h 30m Mystery Crime
Crime drama set in the 1960s about an old-school detective trying to come to terms with a time when the lines between the police and criminals have become blurred.
46m Crime Drama Mystery
In 1953 at the hamlet of Grantchester, Sidney Chambers—a charismatic, charming clergyman—turns investigative vicar when one of his parishioners dies in suspicious circumstances.
6.
The Doctor Blake Mysteries (2013)
54m Drama Mystery
Dr Lucien Blake left Ballarat as a young man. But now he finds himself returning to take over not only his dead father's medical practice, but also his on-call role as the town's police surgeon, only to find change is afoot, nothing is sacred, and no one is safe.
1h 30m Crime Drama Mystery
A sharp detective with a messy life, DCI Vera Stanhope patrols her "patch" of northeast England, pursuing the truth in cases of murder, kidnapping, and blackmail. Vera is obsessive about her work and faces the world with caustic wit, guile and courage.
8.
The Bletchley Circle (2012)
45m Drama Mystery
The Bletchley Circle follows the journey of four ordinary women with extraordinary skills that helped to end World War II. Set in 1952, Susan, Millie, Lucy and Jean have returned to their normal lives, modestly setting aside the part they played in producing crucial intelligence, which helped the Allies to victory and shortened the war. When Susan discovers a hidden code behind an unsolved murder she is met by skepticism from the police. She quickly realises she can only begin to crack the murders and bring the culprit to justice with her former friends. The Bletchley Circle paints a vivid portrait of post-war Britain in this fictional tale of unsung heroes.
45m Drama Crime Mystery
Father Brown is based on G. K. Chesterton's detective stories about a Catholic priest who doubles as an amateur detective in order to try and solve mysteries.
10.
Inspector Morse (1987)
1h 15m Crime Drama
Columbo is a friendly, verbose, disheveled-looking police detective who is consistently underestimated by his suspects. Despite his unprepossessing appearance and apparent absentmindedness, he shrewdly solves all of his cases and secures all evidence needed for indictment. His formidable eye for detail and meticulously dedicated approach often become clear to the killer only late in the storyline.
1h Crime Drama Mystery
Created from the novels by award winning crime writer Ann Cleeves, Shetland follows DI Jimmy Perez and his team as they investigate crime within the close knit island community. In this isolated and sometimes inhospitable environment, the team have to rely on a uniquely resourceful style of policing.
13.
Agatha Christie's Poirot (1989)
50m Crime Drama Mystery
From England to Egypt, accompanied by his elegant and trustworthy sidekicks, the intelligent yet eccentrically-refined Belgian detective Hercule Poirot pits his wits against a collection of first class deceptions.
15.
Agatha Christie's Marple (2004)
1h 28m Drama Crime Mystery
The adventures of Miss Jane Marple, an elderly spinster living in the quiet little village of St Mary Mead. During her many visits to friends and relatives in other villages, Miss Marple often stumbles upon mysterious murders which she helps solve. Although the police are sometimes reluctant to accept Miss Marple's help, her reputation and unparalleled powers of observation eventually win them over.
16.
Scott & Bailey (2011)
45m Crime Drama
D.C. Rachel Bailey and D.C. Janet Scott have a robust and engaging friendship which enables them to draw upon each other's strengths and investigate murders for the Manchester Metropolitan Police.
46m Crime Drama Mystery
The murder of a young boy in a small coastal town brings a media frenzy, which threatens to tear the community apart.
1h 35m Fantasy Thriller Drama
A single mother is swept into a dark underworld, while her teenage son discovers a road that leads him to a secret underwater town.
46m Drama
The story of a bustling and glamorous five star hotel at the centre of London society and a world at war.
explore
Check out more list from our community