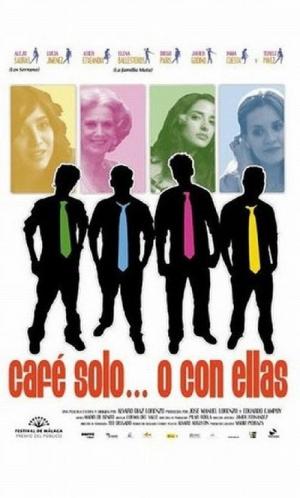 10 Best Love Espresso Movie ...
If you liked this one , you will probably love these too! In this list we highlight some of the best films that share a very similar premise to 'Love Espresso', and are worth checking out.
1.
Men in the City (2009)
1h 47m Comedy
The comedy about men and their struggles in life and love.
1h 29m Comedy
Those Lemon Popsicle boys are at it again!..Naughtier than ever in...
3.
Men in the City 2 (2011)
1h 52m Comedy
The sequel of the "Men in the city" movie which reunites all the characters.
1h 45m Comedy
Emilio, a shy, not too brilliant pupil at a humble local secondary school, has always harboured a secret love for Natalia, the cutest, brightest girl in the class. On the last day of the school year, when he finally decides to declare his love, Natalia is awarded a scholarship to study Medicine at Oxford. It would seem that all is lost for Emilio, but his drop-out school-pals are not ready to throw in the towel. After faking qualifications and scholarships, this band of brainless nuts land in Oxford, causing havoc in the normally peaceful campus existence. —The Film Catalogue
5.
A Woman as a Friend (2014)
1h 28m Romance Comedy
Francis and Claudia are good friends . He is a lawyer, she is veterinary doctor. Among them there are no secrets , until John arrives. Claudia decides to marry him. Francis realizes that friendship between man and women is more complicated.
1h 37m Comedy
When Kyle returns from his stag-do with a sexually transmitted disease, he's left unable to have sex with his fiancée Lydia in the run-up to their wedding.
7.
Hollywood Sex Wars (2011)
1h 38m Comedy
Max, Aaron and Glen have a track record littered with strike-outs and misfit hook-ups. The boys embark on a mission to up their hot babe batting average. They meet Hollywood Casanova Johnny Eyelash who teaches these boys the game of scoring A-list arm candy. But there is one problem, the girls are organized, cunning and have an agenda of their own. Its not long before the girls, led by Big Wendy and Little Wendy pick up on Johnny's tactics and Hollywood becomes one big booby trap.
8.
Muita Calma Nessa Hora (2010)
1h 32m Comedy
Three young friends, Tita, Mari and Aninha decide to change their situations and travel to a beach place for a weekend. On the road, they meet Estrella, a hippie that wants a hide to try to find her unknown father. Together, they will live hilarious, absurd and moving situations. More than a change the air, they change themselves.
1h 39m Comedy
In the spirit of "Superbad" and "Dazed and Confused," "The Weekend" relishes the moments that made being a teenager so excruciatingly painful and fantastic. Over the course of a single weekend, various teenagers discover that, perhaps, they don't yet have it all figured out: Rich kid Jacob throws an elaborate weekend party, Benjamin thinks he's going to marry his hesitant girlfriend...
explore
Check out more list from our community