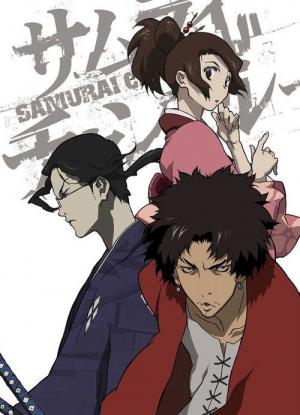 13 Best Like Samurai Champloo ...
If you liked this one , you will for sure love these too! In this collection we highlight some of the best films that share a very similar mood to 'Samurai Champloo', and are worth checking out.
1.
Demon Slayer: Kimetsu no Yaiba (2019)
Tanjiro finds his family slaughtered and the lone survivor, his sister Nezuko Kamado, turned into a Demon. To his surprise, however, Nezuko still shows signs of human emotion and thought. Thus begins Tanjiro's journey to seek out the Demon who killed their family and turn his sister human again. A recap film of Kimetsu no Yaiba, covering episodes 1-5 with extra footage.
1h 45m
Action Animation Fantasy
2.
Naruto Shippuden (2007)
Naruto Shippuuden is the continuation of the original animated TV series Naruto.The story revolves around an older and slightly more matured Uzumaki Naruto and his quest to save his friend Uchiha Sasuke from the grips of the snake-like Shinobi, Orochimaru. After 2 and a half years Naruto finally returns to his village of Konoha, and sets about putting his ambitions to work, though it will not be easy, as He has amassed a few (more dangerous) enemies, in the likes of the shinobi organization; Akatsuki.
25m
Animation Action & Adventure Sci-Fi & Fantasy
3.
The Legend of Korra (2012)
Avatar Korra, a headstrong, rebellious, feisty young woman who continually challenges and breaks with tradition, is on her quest to become a fully realized Avatar. In this story, the Avatar struggles to find balance within herself.
23m
Creator: Michael Dante DiMartino
Creator: Bryan Konietzko
Action & Adventure Animation Drama Family Sci-Fi & Fantasy
4.
Magical Shopping Arcade Abenobashi (2002)
A Japanese animated television series based on the manga by Satoru Akahori.
24m
Animation Action & Adventure Comedy
5.
Rurouni Kenshin: Wandering Samurai (1996)
The Meiji Era was one of great renewal for Japan, where swords and killing were outlawed. However, many survivors from the time of Revolution still live, lurking in the shadows and waiting for a chance to use their killing blades again. Only Kenshin Himura, formerly one of the most brutal of killers, hopes to keep his swordsman's honor and still live in the new era.
25m
Action & Adventure Animation Comedy
Outlaw Star follows the outlaw Gene Starwind and his eleven year-old business associate, Jim Hawking. Together they run a small jack-of-all-trades business on the backwater planet Sentinel III. After the two take a job as bodyguards for a mysterious outlaw, they find themselves the owners of the XGP15A-II, a highly advanced prototype spacecraft, and the caretakers of a bio-android named Melfina, The series follows the exploits of the slowly growing ragtag crew.
30m
Sci-Fi & Fantasy Animation Comedy Drama
Jubei is a masterless ninja who travels the land alone, lending his services to those with gold—or a worthy cause. His fearsome abilities have served him well, but a plot to overthrow the government threatens to end his wandering ways—and possibly his life.
1h 34m
Director, Screenplay: Yoshiaki Kawajiri
Fantasy Adventure Animation
When summer break begins, Haruka is only thinking of hanging out with her friends—until one fateful night she learns that she's the keystone in an interdimensional battle for not only the Earth's future, but the very survival of all existence across the multiverse.
25m
Animation Action & Adventure Sci-Fi & Fantasy
9.
Xiaolin Chronicles (2013)
The team of "Xiaolin Showdown" return in this seuqel series to hunt down Shen Gon Wu. By their side, a new ally joins them in the fight of good vs. evil.
25m
Comedy Drama Sci-Fi & Fantasy Animation
10.
Afro Samurai: Resurrection (2009)
Afro Samurai avenged his father and found a life of peace. But the legendary master is forced back into the game by a beautiful and deadly woman from his past. The sparks of violence dropped along Afro's bloody path now burn out of control – and nowhere are the flames of hatred more intense than in the eyes of Sio.
1h 41m
Director: Fuminori Kizaki
Novel: Takashi Okazaki
Animation Action
11.
Hunter x Hunter (2011)
Twelve-year-old Gon Freecss one day discovers that the father he had always been told was dead was alive. His Father, Ging, is a Hunter — a member of society's elite with a license to go anywhere or do almost anything. Gon, determined to follow in his father's footsteps, decides to take the Hunter Examination and eventually find his father to prove himself as a Hunter in his own right. But on the way, he learns that there is more to becoming a Hunter than previously thought, and the challenges that he must face are considered the toughest in the world.
24m
Creator: Yoshihiro Togashi
Action & Adventure Animation Drama
In 2071, roughly fifty years after an accident with a hyperspace gateway made the Earth almost uninhabitable, humanity has colonized most of the rocky planets and moons of the Solar System. Amid a rising crime rate, the Inter Solar System Police (ISSP) set up a legalized contract system, in which registered bounty hunters (also referred to as "Cowboys") chase criminals and bring them in alive in return for a reward.
25m
Creator: Shinichiro Watanabe
Action & Adventure Animation Crime Drama Sci-Fi & Fantasy
13.
Beyond the Boundary (2013)
The dark fantasy follows a high school sophomore named Akihito Kanbara. Although the boy appears human, he is half Youmu and invulnerable to wounds because he can heal quickly. One day, Akihito meets freshman Mirai Kuriyama when it seems she is about to jump from the school rooftop. Mirai is isolated because of her ability to manipulate blood, which is considered heresy among members of the spirit world. Disturbing events begin to unfold after Akihito saves Mirai.
24m
Creator: Taichi Ishidate
Creator: Nagomu Torii
Action & Adventure Animation Comedy Sci-Fi & Fantasy
explore
Check out more list from our community