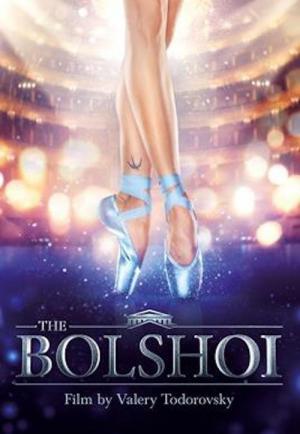 14 Best Dying To Dance Movie ...
If you liked this one , you will probably love these too! In this list we highlight some of the best films that share a very similar mood to 'Bolshoy', and are worth checking out.
1.
The Best Little Girl in the World (1981)
Casey Powell is a young teenage girl who is secretly suffering from anorexia nevosa, a mental and physical illness of deliberately starving herself or self-induced vomiting, because of her troubled home life and problems at school in which her bickering parents must put aside their differences to help her recover before her condition kills her.
1h 40m
Director: Sam O'Steen
Teleplay: David Moessinger
TV Movie Drama
When Miss Marple arrives at palatial Stonygates, one thing is certain. Before there's time to lather a warm scone with marmalade and place a tea cozy, murder most foul is bound to occur. Helen Hayes returns as spinster sleuth Jane Marple and Leo McKern plays the crafty inspector who teams with her in this engaging, twisty case of country-house intrigue. Someone may be slowly poisoning the aging lady of the manor (the great Bette Davis in one of her last roles). Everyone but her dutiful husband (John Mills) has a motive. The snappish housekeeper? The pompous school kid? The gun-collecting American? The uneasy psychiatrist? The embittered daughter? It could be one of them. Some of them. None of them. People are dying - but not the elderly grand dame of Stonygates!
1h 40m
Director: Dick Lowry
Novel: Agatha Christie
Screenplay: George Eckstein
Crime Thriller
A young woman dealing with anorexia meets an unconventional doctor who challenges her to face her condition and embrace life.
1h 47m
Director, Screenplay: Marti Noxon
Drama
4.
The Unspeakable Act (2012)
17-year-old Jackie is in distress as her older brother Matthew gets his first girlfriend and prepares for college. Though Matthew does not share her incestuous desire, Jackie fights the intrusion of reality on her idyllic childhood world.
1h 31m
Director, Screenplay: Dan Sallitt
Drama
5.
Life as a House (2001)
When a man is diagnosed with terminal cancer, he takes custody of his misanthropic teenage son, for whom quality time means getting high, engaging in small-time prostitution, and avoiding his father.
2h 5m
Director: Irwin Winkler
Screenplay: Mark Andrus
Drama
6.
3 Foot Ball and Souls (2017)
Polina is a young dancer from a modest family. After years of ballet academy, she is accepted by the Bolshoi; still, she decides to try and audition of a modern dance company in France. She makes it, but her journey will not end there...
1h 52m
Director, Writer: Valérie Müller
Director: Angelin Preljocaj
Novel: Bastien Vives
Drama
A group of gay teenagers are picked off by a mysterious killer during the first month of their senior year, while insecure boy Micah goes through a crisis of self-worth as he can't grasp why the killer has no interest in coming after him.
1h 27m
Director, Writer: Joshua Gratton
Horror
11.
Center Stage: On Pointe (2016)
Jonathan Reeves is tasked with infusing more contemporary styles and modernism into the American Ballet Academy, and enlists his top choreographers Charlie, Cooper and Tommy to recruit dancers to compete at a camp where the winners will be selected to join the Academy. Bella Parker, who has always lived in the shadow of her hugely successful sister Kate, finally gets her chance to step into the limelight as one of the dancers recruited for the camp.
1h 32m
Director: Director X.
Writer: Nisha Ganatra
Music TV Movie Drama
Olivia and Matthew Grey, 18-year-old twins born into a world of privilege and high expectations. There are almost no boundaries between them - even their dreams are connected.
1h 36m
Director: Tommy Bertelsen
Writer: Troian Bellisario
Drama
Discovered by an eccentric ballet master, two gifted but underprivileged Mumbai teens face bigotry and disapproval as they pursue their dancing dreams.
1h 57m
Director: Sooni Taraporevala
Drama
Guna is a village labourer in the hinterlands of Maharashtra. Holding a passion for the 'tamasha' theatre shows, he decides to start his own troupe. Instead of the prestigious role of the king he always dreamed of, he ends up having to play a 'nachya', an effeminate, homosexual man. He goes ahead with the decision, which forever changes him and his family, as he ends up torn between his artistic passion and his societal prestige.
2h 7m
Director, Writer: Ravi Jadhav
explore
Check out more list from our community