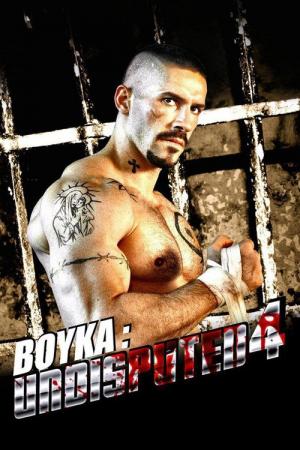 10 Best Boyka Filmleri ...
If you liked this film , you will definitely love these too! In this list we highlight some of the best films that share a very similar premise to 'Boyka: Undisputed', and are worth checking out.
1h 33m Drama Action Thriller
In Los Angeles, an ex-con takes the underground fighting world by storm in his quest to fulfill a promise to a dead friend.
2.
Undisputed 2: Last Man Standing (2006)
1h 33m Action Crime Thriller
Sequel to the 2002 film. This time, Heavyweight Champ George "Iceman" Chambers (White) is sent to a Russian jail on trumped-up drug charges. In order to win his freedom he must fight against the jailhouse fighting champ Uri Boyka (Adkins) in a battle to the death. This time he is not fighting for a title, he is fighting for his life!
3.
Best of the Best (1989)
1h 37m Action
A team from the United States is going to compete against Korea in a Tae Kwon Do tournament. The team consists of fighters from all over the country--can they overcome their rivalry and work together to win?
1h 34m Drama Action
A former NCAA champion wrestler is paroled after 10 years in prison. Now, to save a friend's life, in a series of cage fights he must agree to do the impossible - lose.
1h 32m Action
U.S. soldier Frank Dux has come to Hong Kong to be accepted into the Kumite, a highly secret and extremely violent martial arts competition. While trying to gain access into the underground world of clandestine fighters, he also has to avoid military officers who consider him to be AWOL. After enduring a difficult training and beginning a romance with journalist Janice Kent, Frank is given the opportunity to fight. But can he survive?
1h 45m Action Drama
A disgruntled teenager, sent to do community service at a rundown Karate school, enters an MMA tournament to face the man who killed his parents.
2h 2m Drama Action
Fai, once a world champion in boxing, escapes to Macau from the loan sharks and unexpectedly encounters Qi, a young chap who is determined to win a boxing match. Fai becomes Qi's mentor and rediscovers his passion to fight not only in the ring but for his life and the cares.
1h 36m Action Adventure Drama Thriller
Monroe Hutchens is the heavyweight champion of Sweetwater, a maximum security prison. He was convicted to a life sentence due to a passionate crime. Iceman Chambers is the heavyweight champion, who lost his title due to a rape conviction to ten years in Sweetwater. WHen these two giants collide in the same prison, they fight against each other disputing who is the real champion.
1h Reality
Follow competitors as they tackle a series of challenging obstacle courses in both city qualifying and city finals rounds across the country. Those that successfully complete the finals course in their designated region move on to the national finals round in Las Vegas, where they face a stunning four-stage course modeled after the famed Mt. Midoriyama course in Japan. The winner will take home a grand prize of $1 million.
1h 31m Drama Action
Years ago, Dirk Longstreet walked away from The Circuit, the merciless underground fight club with no rules, where money changes hands as men are killed. But now gangsters have got his brother, and only one more journey inside the ring will save his life.
explore
Check out more list from our community