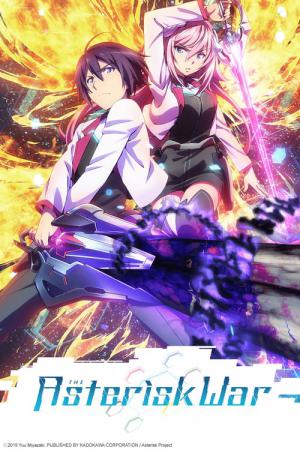 19 Best Anime Similar To Freezing ...
If you liked this one , you will probably love these too! In this selection we highlight some of the best films that share a very similar mood to '', and are worth checking out.
24m Action & Adventure Animation Comedy Sci-Fi & Fantasy
Tsuchimikado Harutora was born into a prestigious Onmyoji family, but he can't see "spirit energy". Therefore, he's been enjoying a peaceful daily life with his friends at an Onmyo branch school. One day, his childhood friend Tsuchimikado Natsume, heir to the head family, suddenly appears. Will this cause his destiny spring into motion!?
2.
The Testament of Sister New Devil (2015)
24m Animation Sci-Fi & Fantasy Action & Adventure Comedy
Toujou Basara is a high school student whose father has suddenly just remarried. His father then departs overseas leaving Basara with two new beautiful step-sisters. Little does he know, his new sisters, Mio and Maria are actually the new Demon Lord and a succubus!? Almost trapped into a life of servitude, Basara forms a reverse contract by accident and ends up becoming Mio's master! Hijinks ensue as Basara finds himself in one ecchi situation after another. However, Mio's life is in danger as she is pursued by demons and heroes!
3.
In Another World With My Smartphone (2017)
24m Action & Adventure Animation Comedy Sci-Fi & Fantasy
Touya Mochizuki was accidentally killed, and as an apology, God allows him to be reborn in a fantasy world and will grant him any one wish he desires. And so, Touya chooses to keep his smartphone in the next world. In his second chance at life, he befriends many important figures and comes across the world's secret. He inherits the legacy of an ancient civilization and travels around nonchalantly while possessing powers that rival this world's kings.
4.
The Future Diary (2011)
24m Action & Adventure Animation Drama Mystery
Reality quickly unravels when antisocial Yukiteru is called into a death match against 11 other mentally scarred individuals. Each player has a prophetic device tuned to their personality, giving them control over their future—and the fate of their foes.
24m Animation Sci-Fi & Fantasy Drama
In the early 2050s, unknown life forms called "Oracle cells" begin their uncontrolled consumption of all life on Earth. Their ravenous appetite and remarkable adaptability earn them first dread, then awe, and finally the name "aragami". In the face of an enemy completely immune to conventional weapons, urban civilization collapses, and each day humanity is driven further and further toward extinction. One single ray of hope remains for humanity. Following the development of "God Arcs"—living weapons which incorporate Oracle cells—their wielders are organized into an elite force.
24m Action & Adventure Animation Sci-Fi & Fantasy
We don't have an overview translated in English. Help us expand our database by adding one.
7.
High School DxD (2012)
24m Animation Action & Adventure Comedy Sci-Fi & Fantasy
The story follows Issei Hyōdō, a dim-witted, lecherous second-year high school student who is killed by a girl on his first date ever. Issei is reincarnated as a devil, and from that day forward, he serves as an underling of Riasu, a high-level devil who is also the prettiest girl on Issei's campus.
8.
Is It Wrong to Try to Pick Up Girls in a Dungeon? (2015)
24m Animation Comedy Sci-Fi & Fantasy Action & Adventure
In a world, where the deities have descended from the heavens lies the town of Orario that features the Dungeon, which contains an assortment of monsters from goblins to dragons. Adventurers slay those monsters and take their shards, which are then used to craft magic items. To become an adventurer, people join groups called Familia. Each of which is named after and serves a resident deity. The adventurers and their attributes and abilities are ranked by level, improved by experience and supervised by their Familia's deity.Bell Cranel, a novice adventurer, is the sole member of the Familia under the goddess Hestia. After being saved by top level adventurer Ais Wallenstein of the Loki Familia, he falls in love with her and decides to improve and become worthy of her attention. All the while mostly unaware that other girls, deities and mortals, also develop feelings for him. Especially Hestia herself.
9.
Arifureta: From Commonplace to World's Strongest (2019)
24m Animation Action & Adventure Sci-Fi & Fantasy
Seventeen-year-old Hajime Nagumo is your average, everyday otaku. However, his simple life of pulling all-nighters and sleeping in school is suddenly turned upside down when he, along with the rest of his class, is summoned to a fantasy world! They're treated like heroes and tasked with the duty of saving the human race from utter extinction. But what should have been any otaku's wet dream quickly turns into Hajime's nightmare. While the rest of his class are blessed with godlike powers, Hajime's job, Synergist, only has a single transmutation skill. Ridiculed and bullied by his classmates for being weak, he soon finds himself in despair. Will he be able to survive in this dangerous world of monsters and demons with only a glorified blacksmith's level of strength?
10.
Wolverine vs. Sabretooth (2014)
11.
The Law of Ueki (2005)
25m Animation Comedy
The story starts out with the Battle of the Supernatural Powers, a tournament to decide who will be the next god. Each candidate is required to choose a junior high school student to act as their fighter. The student is given a unique power and told to eliminate as many enemies as possible. The winning God Candidate will become the new god of heaven and the winning student will receive a talent that can be anything they choose. While this leads many students to thoughts of greed and selfishness, Kosuke Ueki decides to take it upon himself to win this tournament to keep that power away from those that would abuse such a gift.
12.
Dragon Ball Super (2015)
24m Animation Action & Adventure Sci-Fi & Fantasy
With Majin Boo defeated half-a-year prior, peace returns to Earth, where Son Goku (now a radish farmer) and his friends now live peaceful lives. However, a new threat appears in the form of Beerus, the God of Destruction. Considered the most terrifying being in the entire universe, Beerus is eager to fight the legendary warrior seen in a prophecy foretold decades ago known as the Super Saiyan God. The series retells the events from the two Dragon Ball Z films, Battle of Gods and Resurrection 'F' before proceeding to an original story about the exploration of alternate universes.
24m Animation Comedy Drama Mystery
During the construction of the Kurobe Dam, an ancient artifact was discovered, and so the United Nations Kurobe Research Institute was established. Intellectuals from all over the world gathered to study the object, and the children of those researchers attend Mt. Tate International Senior High School, including the institute head's daughter, Yukina Shirahane. In the summer of 2016, a lone samurai once again awakens.
24m Animation Sci-Fi & Fantasy Action & Adventure
The story revolves around Shu Ouma, a high school boy who inadvertently obtains an ability called "The Power of the Kings" that enables him to draw out items called "Voids" from other people. He is then thrown into the conflict between a resistance group called Funeral Parlor which aims to restore Japan's independence from a quasi-governmental organization known as the GHQ. In the process, Shu has to deal with the burden his ability puts on his shoulders and the horrific mystery of his past.
15.
Aesthetica of a Rogue Hero (2012)
24m Animation Action & Adventure Comedy Sci-Fi & Fantasy
Since the discovery of "Samon Syndrome," thousands of young people have traveled to fantasy worlds, the few returnees managing to keep the special abilities they acquired there.Akatsuki Ousawa, known as the "Rogue Hero," discards his peaceful life in the fantasy world Alayzard to face new challenges upon returning to Earth. He comes back with Miu, the daughter of the Demon King he defeated, and is now forced to hide her true identity by having her pose as his little sister. The two soon join Babel, a special school designed for those who have acquired special abilities and magical powers through their journey to a fantasy world.Babel was seemingly founded to train young interdimensional travelers and "guide them to the right path for the sake of humanity and themselves," but its true purpose remains unclear to the pseudo-siblings. Will Akatsuki and Miu be able to overcome the hostile, powerful student council and uncover the forces at play behind the scenes?
16.
Astra Lost in Space (2019)
24m Animation Action & Adventure Sci-Fi & Fantasy
In the year 2063, eight high school students and a kid are flown out to Planet Camp, tasked with surviving on their own for a few days. But shortly after arriving, an ominous glowing orb warps them to an unknown quadrant of space, nearly 5,012 light years away. Now, the only way back home is a slow, dangerous trek across the universe—a journey that'll test them in ways Planet Camp never could.
17.
So, I Can't Play H! (2012)
24m Action & Adventure Animation Comedy
Kaga Ryousuke, a helplessly romantic teenager, was walking in the rain when he sees a beautiful girl with red eyes drenched in the rain. Everyone was avoiding her, but Ryousuke was taught to treasure women so he offered his help by letting her dry off at his home. Ryousuke can't imagine that this mysterious girl would stab him in the chest and leave him to die… Or did she? Who is this pretty girl and what does she want with him?
18.
Stigma of the Wind (2007)
25m Action & Adventure Animation Sci-Fi & Fantasy
Four years ago, Kazuma Kannagi was defeated by his cousin Ayano Kannagi for the right to be the successor of Enraiha, a sword passed down in the Kannagi family. His defeat, along with his lack of talent for En-Jutsu, the fire arts, the Kannagis' specialty, resulted in his banishment from the family. Now, Kazuma returns as Kazuma Yagami, a skilled master of Fū-Jutsu, the wind arts.
explore
Check out more list from our community