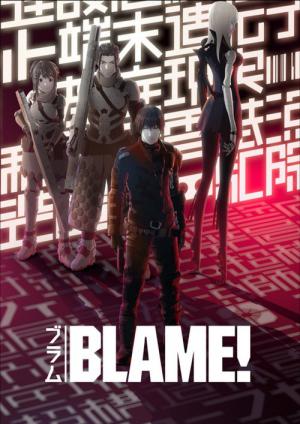 25 Best Anime Like Blame ...
If you liked this film , you will probably love these too! In this selection we highlight some of the best films that share a very similar premise to '', and are worth checking out.
1h 35m Science Fiction Action Animation
Somewhere in Tokyo, there is a room. In that room is a black sphere. Periodically, people who should otherwise have died are transferred to the room. There, the sphere gives them special suits and weapons, and sends them out on a mission to kill aliens here on Earth. While these missions take place, the rest of the world is largely oblivious to them. These missions are lethal - few participants survive them. The sphere calls the shots, and it's not the slightest bit nice. Its name... Gantz.
2.
Godzilla: Planet of the Monsters (2017)
1h 29m Action Adventure Science Fiction Animation
In the year 2048, the human race is forced to leave Earth after decades of losing against Godzilla and other giant monsters. They take a twenty-year journey to another planet called Tau Ceti-e, but upon arrival, they discover that the planet has become uninhabitable. As living conditions on their ship deteriorate, a young man named Haruo spearheads a movement to return to Earth and take it back from the monsters. The ship successfully makes the return voyage, but the crew realizes that twenty thousand years have passed, with Earth's ecosystem having evolved to become centered around Godzilla.
3.
Final Fantasy VII: Advent Children (2005)
1h 41m Animation Action Adventure Fantasy Science Fiction
Two years have passed since the final battle with Sephiroth. Though Midgar, city of mako, city of prosperity, has been reduced to ruins, its people slowly but steadily walk the road to reconstruction. However, a mysterious illness called Geostigma torments them. With no cure in sight, it brings death to the afflicted, one after another, robbing the people of their fledgling hope.
4.
Grey: Digital Target (1986)
5.
Godzilla: The Planet Eater (2018)
6.
Godzilla: City on the Edge of Battle (2018)
1h 45m Animation Science Fiction
Humanity's desperate battle to reclaim the Earth from Godzilla continues. The key to defeating the King of the Monsters may be Mechagodzilla, a robotic weapon thought to have been lost nearly 20,000 years ago.
7.
Code Geass: Lelouch of the Re;Surrection (2019)
8.
Code Geass: Lelouch of the Rebellion - Awakening (2017)
1h 42m Action Animation Science Fiction
The new frontier of Venus has degenerated into a dystopia ravaged by the civil war between Ishtar and Aphrodia. Bubbly reporter Susan Sommers arrives in the capitol of Aphrodia just before it's captured by Ishtar. She falls in with a bunch of teen-agers who live for a sort of motorcycle version of Roller Derby. Daredevil rider Hiro and his friends reluctantly join the struggle to free Aphrodia from the invaders. Not surprisingly, Hiro proves an ace at piloting the mono-cycles that are the Aphrodians' secret weapon in the key battle.
10.
The Empire of Corpses (2015)
11.
Psycho Pass 3: First Inspector (2020)
12.
Toward the Terra (1980)
13.
Ghost in the Shell (1995)
1h 23m Action Animation Science Fiction
In the year 2029, the barriers of our world have been broken down by the net and by cybernetics, but this brings new vulnerability to humans in the form of brain-hacking. When a highly-wanted hacker known as 'The Puppetmaster' begins involving them in politics, Section 9, a group of cybernetically enhanced cops, are called in to investigate and stop the Puppetmaster.
14.
Dragon Ball Z: Cooler's Revenge (1991)
48m Action Animation Science Fiction
After defeating Frieza, Goku returns to Earth and goes on a camping trip with Gohan and Krillin. Everything is normal until Cooler - Frieza's brother - sends three henchmen after Goku. A long fight ensues between our heroes and Cooler, in which he transforms into the fourth stage of his evolution and has the edge in the fight... until Goku transforms into a Super Saiyan.
15.
Dragon Ball Z: The World's Strongest (1990)
16.
Evangelion: 1.0 You Are (2007)
1h 41m Animation Science Fiction Action Drama
After the Second Impact, Tokyo-3 is being attacked by giant monsters called Angels that seek to eradicate humankind. The child Shinji's objective is to fight the Angels by piloting one of the mysterious Evangelion mecha units. A remake of the first six episodes of GAINAX's famous 1996 anime series. The film was retitled "Evangelion: 1.01" for its DVD release and "Evangelion: 1.11" for a release with additional scenes.
17.
Cowboy Bebop: The Movie (2001)
1h 55m Action Animation Science Fiction
The year is 2071. Following a terrorist bombing, a deadly virus is released on the populace of Mars and the government has issued the largest bounty in history, for the capture of whoever is behind it. The bounty hunter crew of the spaceship Bebop; Spike, Faye, Jet and Ed, take the case with hopes of cashing in the bounty. However, the mystery surrounding the man responsible, Vincent, goes deeper than they ever imagined, and they aren't the only ones hunting him.
18.
Arcadia of My Youth (1982)
30m Sci-Fi & Fantasy Animation
Arcadia of My Youth: Endless Orbit SSX is an animated television series created by Leiji Matsumoto. It's the sequel to the 1982 animated film Arcadia of My Youth. However, like many of the stories set in the Leijiverse, the continuity of the series does not necessarily agree with other Harlock series or films.
19.
Kizumonogatari Part 3: Reiketsu (2017)
1h 30m Action Animation Science Fiction
An elite superhuman agent must stop a foreign military unit from seizing control of an ancient artifact that holds the key to ultimate power.
50m Animation Action Science Fiction
In a futuristic Tokyo, several policewomen fight a monster. One of them, Katsumi Liqueur, remembers where she saw it before... Katsumi Liqueur, an American-born woman of Japanese descent, travels to Tokyo to visit her mother, Fuyuka, who is sick in the hospital. She takes a shortcut through an alley after her taxi gets stuck in traffic, only to encounter a monster and two policewomen fighting it. Later, she meets their chief, Rally Cheyenne, who, it seems, has been expecting her, though Katsumi has never met her before. The policewomen want Katsumi to help them fight the monster, but Katsumi, who does not want to believe in magic, resists.
22.
Adieu Galaxy Express 999 (1981)
23.
Resident Evil: Damnation (2012)
30m Documentary
The DNA of Damnation is a documentary short on the making of the 2012 film, Resident Evil: Damnation.
24.
Appleseed Ex Machina (2007)
1h 45m Animation Action Thriller Science Fiction
As members of ESWAT, the elite forces serving Olympus, Deunan and Briaereos are deployed anywhere trouble strikes. Olympus finds itself under a stealth attack - cyborg terrorism, deadly nanotech zealots, and rioting citizens are just some of the threats that Deunan must contend with as she fights to save Olympus!
explore
Check out more list from our community