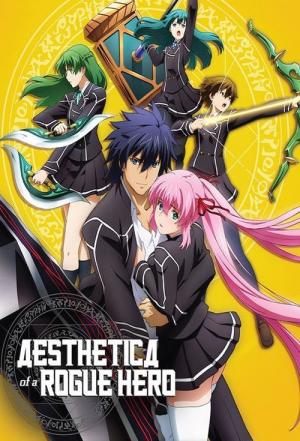 11 Best Anime Like Aesthetica Of A Rogue Hero ...
If you liked this film , you will definitely love these too! In this collection we highlight some of the best films that share a very similar mood to 'Aesthetica of a Rogue Hero', and are worth checking out.
1.
The Asterisk War (2015)
24m Animation Action & Adventure Sci-Fi & Fantasy
Invertia was a meteor storm that caused an unprecedented disaster during the 20th century. Because of this disaster, numerous cities around the world were destroyed. However, within the meteor, an unknown element called mana was discovered. It allowed human technology to make rapid strides giving rise to a new species of super-powered humans, the Star Pulse Generation (Genestella). The Festas (Star Warrior Festivals) host battles between Genestella at a city of six academies called "Rikka," also commonly known as "Asterisk."Scholarship student Ayato Amagiri transferred into Seidoukan Academy in order to fulfill his own wish, swearing he too will fight in this city.
2.
The Testament of Sister New Devil (2015)
24m Animation Sci-Fi & Fantasy Action & Adventure Comedy
Toujou Basara is a high school student whose father has suddenly just remarried. His father then departs overseas leaving Basara with two new beautiful step-sisters. Little does he know, his new sisters, Mio and Maria are actually the new Demon Lord and a succubus!? Almost trapped into a life of servitude, Basara forms a reverse contract by accident and ends up becoming Mio's master! Hijinks ensue as Basara finds himself in one ecchi situation after another. However, Mio's life is in danger as she is pursued by demons and heroes!
3.
The Devil Is a Part-Timer! (2013)
25m Action & Adventure Animation Comedy Sci-Fi & Fantasy
Foiled by a hero when he's inches away from conquering the world, the devil finds himself in modern-day Tokyo. With no real-world skills to speak of, the devil is forced to make ends meet flipping burgers at a fast food joint! To stall any further plans of world domination, the hero tracks the devil's trail and takes on the lowly tasks of a telemarketer.
24m Animation Comedy Sci-Fi & Fantasy
The story is about Yuuki Rito, a high-school boy who cannot confess to the girl of his dreams, Sairenji Haruna. One day when coming home and sulking in the bath-tub a mysterious, nude girl, appears out of nowhere. Her name is Lala and she comes from the planet Deviluke, where she is the heir to the throne. Her father wants her to return to her home planet so she can marry one of the husband candidates, but she decides that she wants to marry Rito in order to stay on Earth.
5.
Stigma of the Wind (2007)
25m Action & Adventure Animation Sci-Fi & Fantasy
Four years ago, Kazuma Kannagi was defeated by his cousin Ayano Kannagi for the right to be the successor of Enraiha, a sword passed down in the Kannagi family. His defeat, along with his lack of talent for En-Jutsu, the fire arts, the Kannagis' specialty, resulted in his banishment from the family. Now, Kazuma returns as Kazuma Yagami, a skilled master of Fū-Jutsu, the wind arts.
6.
Akashic Records of Bastard Magic Instructor (2017)
24m Animation Sci-Fi & Fantasy Action & Adventure
The Alzano Imperial Magic Academy is located in the southern part of the Alzano Empire and is among most prominent magic schools in the world, where students can learn the highest forms of magic. All those who strive to learn magic dream of studying at this academy, and its students as well as its teachers are proud to be a part of its 400-year history. Glenn Radars is a new instructor who has suddenly been appointed to teach part-time at this highly respected academy. The previously unheard-of lessons of this man known as a good-for-nothing bastard are about to begin.
7.
How Not to Summon a Demon Lord (2018)
24m Action & Adventure Comedy Sci-Fi & Fantasy Animation
When it comes to the fantasy MMORPG Cross Reverie, none can match the power of the Demon King Diablo. Possessing the game's rarest artifacts and an unrivaled player level, he overpowers all foolish enough to confront him. But despite his fearsome reputation, Diablo's true identity is Takuma Sakamoto, a shut-in gamer devoid of any social skills. Defeating hopeless challengers day by day, Takuma cares about nothing else but his virtual life—that is, until a summoning spell suddenly transports him to another world where he has Diablo's appearance!In this new world resembling his favorite game, Takuma is greeted by the two girls who summoned him. They perform an Enslavement Ritual in an attempt to subjugate him, but the spell backfires and causes them to become his slaves instead. With the situation now becoming more awkward than ever, Takuma decides to accompany the girls in finding a way to unbind their contract while learning to adapt to his new existence as the menacing Demon King.
8.
Dance in the Vampire Bund (2010)
24m Action & Adventure Animation Drama Sci-Fi & Fantasy
Mina Tepeş, the Princess of the ancient covenant and ruler of all vampires, wants her race to stop hiding from the humans. Using her vast wealth, she has paid off Japan's entire national debt and by doing so, gained the right to create a district off Japan's coast that is to become the future haven to vampires worldwide. But when she finally attempts to make public the existence of vampires to the world some politicians, terrorists and rival factions are plotting to assassinate Mina before she has a chance to get Japan's and international recognition for the Vampire Bund. Now she must rely on her strength, cruelty and those closest to her, while trying to make a normal life.
9.
The Legend of the Legendary Heroes (2010)
24m Animation Sci-Fi & Fantasy Action & Adventure
"Alpha Stigma" are known to be eyes that can analyze all types of magic. However, they are more infamously known as cursed eyes that can only bring destruction and death to others.Ryner Lute, a talented mage and also an Alpha Stigma bearer, was once a student of the Roland Empire's Magician Academy, an elite school dedicated to training magicians for military purposes. However, after many of his classmates died in a war, he makes an oath to make the nation a more orderly and peaceful place, with fellow survivor and best friend, Sion Astal.Now that Sion is the the king of Roland, he orders Ryner to search for useful relics that will aid the nation. Together with Ferris Eris, a beautiful and highly skilled swordswoman, Ryner goes on a journey to search for relics of legendary heroes from the past, and also uncover the secrets behind his cursed eyes.
10.
High School DxD (2012)
24m Animation Action & Adventure Comedy Sci-Fi & Fantasy
The story follows Issei Hyōdō, a dim-witted, lecherous second-year high school student who is killed by a girl on his first date ever. Issei is reincarnated as a devil, and from that day forward, he serves as an underling of Riasu, a high-level devil who is also the prettiest girl on Issei's campus.
23m Action & Adventure Sci-Fi & Fantasy Animation
In a post-apocalyptic world dominated by the so-called "Numbers," each human will have their identity branded with their own "Count," which could define any number related to their life. May it be one's walked distance or amount of compliments given to them by others, this Count could lead them to the abyss when it has dropped to zero.In the year 305 of the Alcian calendar, Hina has inherited a mission from her Mother, whose Count has depreciated to zero, to search for the Legendary Red Baron. In her adventure, she meets a half-masked swordsman named Licht who tries to hide his identity, as he is known as a degenerate for having an incredibly low Count.
explore
Check out more list from our community