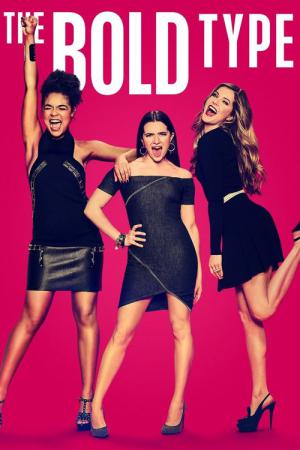 15 Best Shows Like The Bold Type ...
If you liked this film , you will probably love these too! In this selection we highlight some of the best films that share a very similar premise to '', and are worth checking out.
Liza Miller, a suddenly single stay-at-home mother, tries to get back into the working world, only to find it's nearly impossible to start at the bottom at 40-year old. When a chance encounter convinces her she looks younger than she is, Liza tries to pass herself off as 26 and lands a job as an assistant at Empirical Press. Now she just has to make sure no one finds out the secret only she and her best friend Maggie share.
2.
The Devil Wears Prada (2006)
Andy moves to New York to work in the fashion industry. Her boss is extremely demanding, cruel and won't let her succeed if she doesn't fit into the high class elegant look of their magazine.
50m Drama
In 1920s Madrid, four women at the National Telephone Company ring in revolution as they deal with romance, envy and the modern workplace.
22m Comedy
A romantic comedy about two best friends who love each other -- in slightly different ways. After numerous failed attempts to become popular, the girls are mistakenly outed as lesbians, which launches them to instant celebrity status. Seduced by their newfound fame, Karma and Amy decide to keep up their romantic ruse.
5.
Zoey's Extraordinary Playlist (2020)
After an unusual event, Zoey Clarke, a whip-smart computer coder forging her way in San Francisco, suddenly starts to hear the innermost wants, thoughts and desires of the people around her through popular songs.
2h 1m Comedy
70-year-old widower Ben Whittaker has discovered that retirement isn't all it's cracked up to be. Seizing an opportunity to get back in the game, he becomes a senior intern at an online fashion site, founded and run by Jules Ostin.
7.
The L Word: Generation Q (2019)
1h 46m Drama
Camille's life as a lonely suburban teenager changes dramatically when she befriends a group of girl skateboarders. As she journeys deeper into this raw New York City subculture, she begins to understand the true meaning of friendship as well as her inner self.
9.
The Great Passage (2013)
2h 13m Drama
Majime, an eccentric man in publishing company, who has unique ability of words, joins the team that will compile a new dictionary, 'The Great Passage.' In the eclectic team, he becomes immersed in the world of dictionaries. But the team is overwhelmed with problems. Will 'The Great Passage' ever be completed?
1h Drama
An intoxicating love story set in England's first department store in the 1870s. The Paradise revolves around the lives of the people who live and work in the store, each bound in their own way by the power of the world they live in, and the pasts that follow them there. A love story, mystery, and social comedy all in one.
50m Drama
A group of lesbian friends struggle with romance and careers in Los Angeles.
12.
Young & Hungry (2014)
Two worlds collide when Josh, a wealthy young tech entrepreneur, meets Gabi, a feisty young food blogger, looking to be his personal chef. Gabi is desperate for the job and must prove herself, mostly to Josh's aide, who prefers a famous chef for the job. When Josh enlists Gabi to prepare a romantic meal for him and his girlfriend, the dinner goes awry and Gabi finds herself in a very awkward position. With the help of her best friend Sofia and Josh's housekeeper, Gabi turns a difficult situation into an opportunity for employment and maybe even love. Gabi gets some much needed help and advice from Josh's assistant and his housekeeper.
42m Drama
A dance musical that explores the juxtaposition of several segments of 1980s life and society in New York: the ball culture world, the rise of the luxury Trump-era universe and the downtown social and literary scene.
14.
Emily Owens M.D. (2012)
43m Drama
At long last, Emily Owens feels like she is an actual grown-up. She's graduated from medical school and is now a first-year intern at Denver Memorial Hospital. So why does everyone keep warning her that the hospital is just like high school?
explore
Check out more list from our community