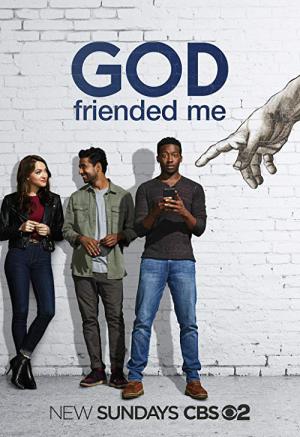 10 Best Shows Like God Friended Me ...
If you liked this film , you will definitely love these too! In this selection we highlight some of the best films that share a very similar premise to 'God Friended Me', and are worth checking out.
27m Family Kids Sci-Fi & Fantasy
Kelly Quinn and her two BFF's, Darbie and Hannah, stumble upon her grandmother's mysterious cookbook in the attic and discover some far from ordinary recipes. When the Shut'em Up Shortcake silences Kelly's pesky little brother and the Healing Hazelnut Tart heals Darbie's ankle, the girls discover they have the power of magic. A single-camera live-action pilot based on the popular book.
2.
The Righteous Gemstones (2019)
1h Comedy
The story of a world-famous televangelist family with a history of deviance, greed and, yes, charitable work, all in the name of Jesus.
43m Comedy Drama Sci-Fi & Fantasy
Cassie Nightingale, Middleton's favorite enchantress, and her young-teenage daughter Grace, who shares that same special intuition as her mom, welcome Dr. Sam Radford and his son to town. When the New York transplants move in next to the Grey House, they are immediately spellbound by the mother-daughter duo next door, but Sam and Cassie quickly find they may not see eye to eye. With her signature charm, Cassie attempts to bring everyone together, ensuring all of Middleton is in for new changes, big surprises and, of course, a little bit of magic!"Good Witch" is based on Bell's beloved character Cassie, the raven-haired enchantress who kept audiences spellbound for seven installments of Hallmark Channel's longest-running and highest-rated original movie franchise of all time.
5.
Kevin (Probably) Saves the World (2017)
43m Sci-Fi & Fantasy Comedy Drama
One day while returning home to stay with his widowed twin sister and her daughter, Kevin Finn, a self-centered man whose life brings him more trouble than he bargained for, is recruited by a celestial being named Yvette, who enlists Kevin with a new purpose in his life, which is to save the world.
6.
Miracle Workers (2019)
23m Comedy
The first season of this comedy anthology is set in the offices of Heaven Inc. When God plans to destroy the Earth, two low-level angels must convince their boss to save humanity. They bet him they can pull off their most impossible miracle yet: help two humans fall in love.
22m Comedy
A struggling hip-hop artist runs for mayor to promote his mix-tape and wins.
44m Comedy Drama
Set in the charming town of Stars Hollow, Connecticut, the series follows the captivating lives of Lorelai and Rory Gilmore, a mother/daughter pair who have a relationship most people only dream of.
10.
Loitering with Intent (2014)
explore
Check out more list from our community