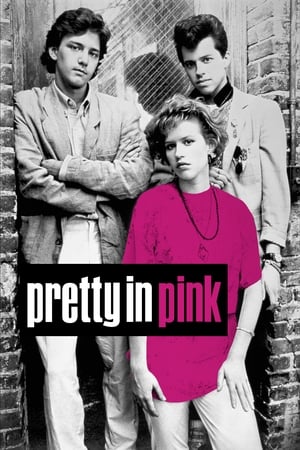 27 Best Movies Similar To Pretty In Pink ...
If you liked this one , you will definitely love these too! In this collection we highlight some of the best films that share a very similar premise to '', and are worth checking out.
1.
The Breakfast Club (1985)
1h 38m Comedy Drama
Five high school students from different walks of life endure a Saturday detention under a power-hungry principal. The disparate group includes rebel John, princess Claire, outcast Allison, brainy Brian and Andrew, the jock. Each has a chance to tell his or her story, making the others see them a little differently -- and when the day ends, they question whether school will ever be the same.
2.
Sixteen Candles (1984)
1h 33m Comedy Romance
A teenage girl deals with her parents forgetting her birthday and a crush on her high school's heartthrob.
3.
Can't Buy Me Love (1987)
4.
Some Kind of Wonderful (1987)
1h 35m Drama Romance
A young tomboy, Watts, finds her feelings for her best friend, Keith, run deeper than just friendship when he gets a date with the most popular girl in school.
5.
10 Things I Hate About You (1999)
1h 37m Comedy Romance Drama
On the first day at his new school, Cameron instantly falls for Bianca, the gorgeous girl of his dreams. The only problem is that Bianca is forbidden to date until her ill-tempered, completely un-dateable older sister Kat goes out, too. In an attempt to solve his problem, Cameron singles out the only guy who could possibly be a match for Kat: a mysterious bad boy with a nasty reputation of his own.
6.
Ferris Bueller's Day Off (1986)
1h 43m Comedy
After high school slacker Ferris Bueller successfully fakes an illness in order to skip school for the day, he goes on a series of adventures throughout Chicago with his girlfriend Sloane and best friend Cameron, all the while trying to outwit his wily school principal and fed-up sister.
1h 44m Comedy Romance
At "Prom," every couple has a story and no two are exactly alike. As the big dance approaches for Nova Prescott, it's a battle of wills as she finds herself drawn to the guy who gets in the way of her perfect prom. Fellow seniors Mei and Tyler harbor secrets, while others face all the insecurity and anticipation that surrounds one of high school's most seminal events.
1h 31m Drama Comedy Romance Family
Nicole and Chase live next door to each other but are worlds apart. However, they plot a scheme to date each other in order to attract the interest and jealousy of their respective romantic prey. But in the mist of planning a gala centennial celebration, Nicole and Chase find that the one they always wanted was closer than they ever thought.
9.
Say Anything... (1989)
1h 40m Comedy Drama Romance
A noble underachiever and a beautiful valedictorian fall in love the summer before she goes off to college.
1h 37m Comedy Romance
Shallow, rich and socially successful Cher is at the top of her Beverly Hills high school's pecking scale. Seeing herself as a matchmaker, Cher first coaxes two teachers into dating each other. Emboldened by her success, she decides to give hopelessly klutzy new student Tai a makeover. When Tai becomes more popular than she is, Cher realizes that her disapproving ex-stepbrother was right about how misguided she was -- and falls for him.
11.
Never Been Kissed (1999)
1h 47m Romance Comedy Drama
Josie Geller, a baby-faced junior copywriter at the Chicago Sun-Times, must pose as a student at her former high school to research contemporary teenage culture. With the help of her brother, Rob, Josie infiltrates the inner circle of the most popular clique on campus. But she hits a major snag in her investigation -- not to mention her own failed love life -- when she falls for her dreamy English teacher, Sam Coulson.
12.
She's All That (1999)
1h 35m Comedy Romance
High school hotshot Zach Siler is the envy of his peers. But his popularity declines sharply when his cheerleader girlfriend, Taylor, leaves him for sleazy reality-television star Brock Hudson. Desperate to revive his fading reputation, Siler agrees to a seemingly impossible challenge. He has six weeks to gain the trust of nerdy outcast Laney Boggs -- and help her to become the school's next prom queen.
1h 38m Drama Family Romance
Darcy, editor at her highschool paper, and her long-term boyfriend Stan are in their last months of school and already have found places in good colleges. Recently they started to sleep with each other and, surprise, surprise, Darcy gets pregnant. Neither Darcy's mother, who was left by her husband and had to bring up Darcy alone, nor Stan's catholic parents are very supportive and urge them to h
1h 29m Romance Drama
When Juli meets Bryce in the second grade, she knows it's true love. After spending six years trying to convince Bryce the same, she's ready to give up - until he starts to reconsider.
1h 39m Comedy Romance
Julie, a girl from the valley, meets Randy, a punk from the city. They are from different worlds and find love. Somehow they need to stay together in spite of her trendy, shallow friends.
16.
The Perks of Being a Wallflower (2012)
1h 43m Drama
Pittsburgh, Pennsylvania, 1991. High school freshman Charlie is a wallflower, always watching life from the sidelines, until two senior students, Sam and her stepbrother Patrick, become his mentors, helping him discover the joys of friendship, music and love.
17.
She's Having a Baby (1988)
18.
Fast Times at Ridgemont High (1982)
1h 30m Comedy Drama
Based on the real-life adventures chronicled by Cameron Crowe, Fast Times follows a group of high school students growing up in Southern California. Stacy Hamilton and Mark Ratner are looking for a love interest, and are helped along by their older classmates, Linda Barrett and Mike Damone, respectively. At the center of the film is Jeff Spicoli, a perpetually stoned surfer who faces-off with the resolute Mr. Hand—a man convinced that everyone is on dope.
19.
American Graffiti (1973)
1h 50m Comedy Drama
A couple of high school graduates spend one final night cruising the strip with their buddies before they go off to college.
1h 39m Drama Comedy Romance
Halley is convinced true love doesn't exist based on the crazy relationships around her. Her mother is divorcing her father who is dating a younger woman Halley can't stand. Her crazed sister is planning a wedding but has second thoughts and her best friend has fallen madly in love for the first time leaving Halley to feel even more alone.
21.
A Night in the Life of Jimmy Reardon (1988)
1h 30m Drama Romance
A recent high school graduate is faced with two options, either go to a business school where his father wants him to go to, or get a full time job. However he decides to defy his father and go to Hawaii. Trouble is he has no money. Along the way he comes to understand his parents and eventually bonds with his father.
1h 44m Comedy Drama Romance
Three teenage girls come of age while working at a pizza parlor in Mystic, Connecticut.
23.
The Spectacular Now (2013)
1h 35m Comedy Drama Romance
Sutter, a popular party animal, unexpectedly meets the introverted Aimee after waking up on a stranger's lawn. As Sutter deals with the problems in his life and Aimee plans for her future beyond school, an unexpected romance blossoms between them.
1h 46m Comedy Drama Romance
In the panicky, uncertain hours before his wedding, a groom with prenuptial jitters and his two best friends reminisce about growing up together in the middle-class African-American neighborhood of Inglewood, California. Flashing back to the twenty-something trio's childhood exploits, the memories capture the mood and nostalgia of the '80s era.
1h 30m Comedy Drama Family Romance
Angus is a large, pathetic 14 year old whose thoughts are most often filled with the image of one Melissa Lefevre. Angus is shy and thinks that he has no chance of ever 'getting' her. Being especially uncool, he is incredibly surprised (along with the rest of the school) that he is chosen to dance with her at the Winter Ball. The only one not surprised is the cool-kid who set him up to fail, but Angus' best friend is going to help him win the heart of Melissa by developing a new look for him
1h 32m Comedy
Bookish and unpopular Mandy finds her luck finally changing when Drew, the school hottie, invites her to the year's biggest party. But with being grounded and Drew's ex-girlfriend bent on thwarting her, Mandy may be destined to remain a geek. Can a little ingenuity and some help from her friends save the day?
explore
Check out more list from our community