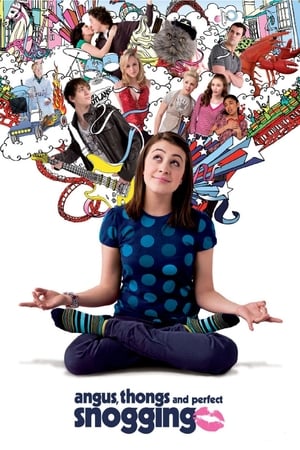 14 Best Movies Similar To Angus Thongs And Perfect Snogging ...
If you liked this film , you will probably love these too! In this list we highlight some of the best films that share a very similar premise to 'Angus, Thongs and Perfect Snogging', and are worth checking out.
1h 32m Comedy Drama Family
Molly Gunn, the freewheeling daughter of a deceased rock legend, is forced to get a job when her manager steals her money. As nanny for precocious Ray, the oft ignored daughter of a music executive she learns what it means to be an adult while teaching Ray how to be a child.
1h 38m Comedy Drama Romance
Sixteen-year-old Poppy has everything her unlimited credit cards can buy, and a spoiled attitude to match. After a final thoughtless prank, her exasperated father ships her off to boarding school in England. There, Poppy meets her match in a stern headmistress and a class full of girls who will not tolerate her selfishness.
1h 44m Comedy Romance
At "Prom," every couple has a story and no two are exactly alike. As the big dance approaches for Nova Prescott, it's a battle of wills as she finds herself drawn to the guy who gets in the way of her perfect prom. Fellow seniors Mei and Tyler harbor secrets, while others face all the insecurity and anticipation that surrounds one of high school's most seminal events.
4.
10 Things I Hate About You (1999)
1h 37m Comedy Romance Drama
On the first day at his new school, Cameron instantly falls for Bianca, the gorgeous girl of his dreams. The only problem is that Bianca is forbidden to date until her ill-tempered, completely un-dateable older sister Kat goes out, too. In an attempt to solve his problem, Cameron singles out the only guy who could possibly be a match for Kat: a mysterious bad boy with a nasty reputation of his own.
5.
It's a Boy Girl Thing (2006)
1h 45m Comedy Drama
Haley is a naturally gifted athlete but, with her social behavior, the teen seems intent on squandering her abilities. After a final brush with the law, a judge sentences her to an elite gymnastics academy run by a legendary, hard-nosed coach. Once there, Haley's rebellious attitude wins her both friends and enemies.
1h 29m Romance Drama
When Juli meets Bryce in the second grade, she knows it's true love. After spending six years trying to convince Bryce the same, she's ready to give up - until he starts to reconsider.
7.
What a Girl Wants (2003)
1h 45m Comedy Romance Drama Family
An American girl, Daphne, heads to Europe in search of the father she's never met. But instead of finding a British version of her bohemian mother, she learns the love of her mom's life is an uptight politician. The only problem now is that her long-lost dad is engaged to a fiercely territorial social climber with a daughter who makes Daphne's life miserable.
1h Documentary
Country music stars collaborate with performers from other musical genres and exchange stories about their mutual love for music.
1h 37m Comedy Drama Family TV Movie
Dylan Schoenfield is the pink princess of the upscale Los Angeles Woodlands Academy. She has the coolest boyfriend, the most popular friends, and a brand-new it bag that everyone covets. But when she accidentally tosses her Serge Sanchez bag into a fountain, this princess comes face-to-face with her own personal frog, self-professed film geek Josh Rosen. In return for rescuing Dylan's bag, Josh convinces Dylan to let him film her for his documentary on high school popularity. Reluctantly, Dylan lets F-list Josh into her A-list world, and is shocked to realize that sometimes nerds can be pretty cool. But when Dylan's so-called prince charming of a boyfriend dumps her flat, her life and her social status comes to a crashing halt. Can Dylan win the Woodlands Academy Fall Formal Blossom Queen crown? Can Josh win the Woodlands Academy 10th Annual Film Festival? Can Dylan, with Josh's help, pull the pieces together to create her own happily-ever-after?
42m Drama Mystery Comedy
An exclusive group of privileged teens from a posh prep school on Manhattan's Upper East Side whose lives revolve around the blog of the all-knowing albeit ultra-secretive Gossip Girl.
1h 29m Comedy Family
As their first year of high school looms ahead, best friends Julie, Hannah, Yancy and Farrah have one last summer sleepover. Little do they know they're about to embark on the adventure of a lifetime. Desperate to shed their nerdy status, they take part in a night-long scavenger hunt that pits them against their popular archrivals. Everything under the sun goes on -- from taking Yancy's father's car to sneaking into nightclubs!
1h 40m Romance Comedy
Bianca's universe turns upside down when she learns that her high school refers to her as a 'DUFF' (Designated Ugly Fat Friend). Hoping to erase that label, she enlists the help of a charming jock and her favorite teacher. Together they'll face the school's mean girl and remind everyone that we are all someone's DUFF… and that's totally fine.
13.
Bend It Like Beckham (2002)
1h 52m Comedy Drama Romance
Jess Bhamra, the daughter of a strict Indian couple in London, is not permitted to play organized soccer, even though she is 18. When Jess is playing for fun one day, her impressive skills are seen by Jules Paxton, who then convinces Jess to play for her semi-pro team. Jess uses elaborate excuses to hide her matches from her family while also dealing with her romantic feelings for her coach, Joe.
1h 41m Comedy Drama Family
15 year-old soccer prodigy, Sara Davis, has a chance to join the U.S. National Team, but she must juggle high school, romance, sports, and parental pressure while deciding her own priorities.
explore
Check out more list from our community