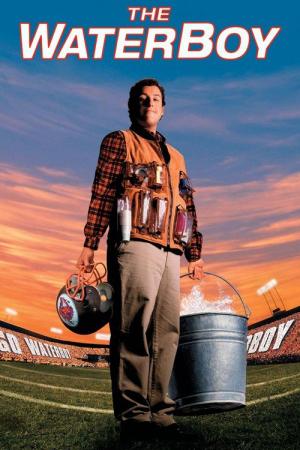 11 Best Movies Like Waterboy ...
If you liked this movie , you will probably love these too! In this selection we highlight some of the best films that share a very similar premise to 'The Waterboy', and are worth checking out.
1h 46m Comedy
Molly is a high school track coach who knows just as much about football as anyone else on the planet. When a football coach's position becomes vacant, she applies for the job, despite snickers from fellow staff members and her former husband.
1h 43m Comedy
Two losers from Milwaukee, Coop & Remer, invent a new game playing basketball, using baseball rules. When the game becomes a huge success, they, along with a billionaire's help, form the Professional Baseketball League where everyone gets the same pay and no team can change cities. Theirs is the only team standing in the way of major rule changes that the owner of a rival team wants to institute.
1h 29m Comedy
Billy Madison is the 27 year-old son of Bryan Madison, a very rich man who has made his living in the hotel industry. Billy stands to inherit his father's empire but only if he can make it through all 12 grades, 2 weeks per grade, to prove that he has what it takes to run the family business.
1h 38m Comedy
When a crass new-money tycoon's membership application is turned down at a snooty country club, he retaliates by buying the club and turning it into a tacky amusement park.
5.
Kicking & Screaming (2005)
1h 35m Comedy Family
Phil Weston has been unathletic his entire life. In college he failed at every sport that he tried out for. It looks like his 10-year old son, Sam, is following in his footsteps. But when Phil's hyper-competitive dad benches Sam, Phil decides to transfer his son to a new team which needs a coach. Phil steps in to be the temporary coach and immediately begins to butt heads with this dad over this new competition in their lives.
6.
The Benchwarmers (2006)
1h 20m Comedy
A trio of guys try and make up for missed opportunities in childhood by forming a three-player baseball team to compete against standard little league squads.
1h 41m Comedy
Lenny has relocated his family back to the small town where he and his friends grew up. This time around, the grown ups are the ones learning lessons from their kids on a day notoriously full of surprises—the last day of school.
1h 30m Comedy
2 Guys. 300 Girls. You Do the Math. The two most popular guys in high school decide to ditch football camp for cheerleader camp. For the girls and for the glory.
1h 34m Comedy
Pressured by a greedy uncle and a pile of debt, lovable loser Steve Barker resorts to an unthinkable, contemptible, just-crazy-enough-to-work scheme. He pretends to be mentally challenged to rig the upcoming Special Olympics and bring home the gold. But when Steve's fellow competitors get wise to the con, they inspire him to rise to the greatest challenge of all: becoming a better person.
1h 32m Comedy
Failed hockey player-turned-golf whiz Happy Gilmore -- whose unconventional approach and antics on the grass courts the ire of rival Shooter McGavin -- is determined to win a PGA tournament so he can save his granny's house with the prize money. Meanwhile, an attractive tour publicist tries to soften Happy's image.
11.
7 Days in Hell (2015)
43m TV Movie Comedy
A fictional documentary-style expose on the rivalry between two tennis stars who battled it out in a 1999 match that lasted seven days.
explore
Check out more list from our community