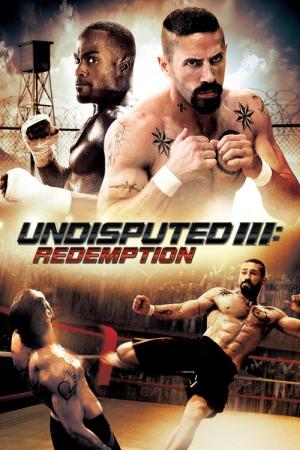 26 Best Movies Like Undisputed ...
If you liked this film , you will definitely love these too! In this collection we highlight some of the best films that share a very similar premise to '', and are worth checking out.
1.
Boyka: Undisputed (2016)
1h 27m Action Drama
In the fourth installment of the fighting franchise, Boyka is shooting for the big leagues when an accidental death in the ring makes him question everything he stands for. When he finds out the wife of the man he accidentally killed is in trouble, Boyka offers to fight in a series of impossible battles to free her from a life of servitude
2.
Undisputed 2: Last Man Standing (2006)
1h 33m Action Crime Thriller
Sequel to the 2002 film. This time, Heavyweight Champ George "Iceman" Chambers (White) is sent to a Russian jail on trumped-up drug charges. In order to win his freedom he must fight against the jailhouse fighting champ Uri Boyka (Adkins) in a battle to the death. This time he is not fighting for a title, he is fighting for his life!
1h 33m Drama Action Thriller
In Los Angeles, an ex-con takes the underground fighting world by storm in his quest to fulfill a promise to a dead friend.
1h 36m Action Adventure Drama Thriller
Monroe Hutchens is the heavyweight champion of Sweetwater, a maximum security prison. He was convicted to a life sentence due to a passionate crime. Iceman Chambers is the heavyweight champion, who lost his title due to a rape conviction to ten years in Sweetwater. WHen these two giants collide in the same prison, they fight against each other disputing who is the real champion.
5.
Never Back Down (2008)
1h 55m Drama Action
Jake, full of anger after his father's death, is just starting to find a place for himself at his new Orlando high school - until Ryan, head of an underground MMA fight club, picks Jake out as a prime opponent. After being trounced by Ryan in front of the entire school, Jake begins training under the firm, moral guidance of a MMA master, where he learns how to fight... and how to avoid a fight. But it becomes obvious that a rematch will be inevitable if Jake wants to stop Ryan and his bullying, once and for all.
2h 2m Drama Action
Fai, once a world champion in boxing, escapes to Macau from the loan sharks and unexpectedly encounters Qi, a young chap who is determined to win a boxing match. Fai becomes Qi's mentor and rediscovers his passion to fight not only in the ring but for his life and the cares.
1h 48m Action Adventure Drama
On these streets everyone is fighting for a way out, but after a lifetime of hard knocks, a down-on-his-luck cage fighter gets the opportunity of a lifetime when he is chosen to compete against the MMA world champion during a massive competition. The stakes are high and the reward great...but should he lose, it will cost him his life.
1h 30m Action Thriller
After thief Alex Cardo gets caught while stealing an ancient katana in East Asia, he soon finds himself imprisoned and beaten up by the crowd there. One of the guards, Demon, feels upset by Alex appearance and tortures him as often as he gets the opportunity. Alex finds a friend and mentor in the jailhouse, Master Sun, who teaches him a superior fighting style called Iron Hand. When a 'best of the best kumite' is to take place, Demon gets an invitation. Now Master Sun and Alex need to find a way to let Alex take part in the kumite too.
9.
The Wrath of Cain (2010)
1h 45m Action
Small-town boy Shawn MacArthur has come to New York City with nothing. Barely earning a living selling counterfeit goods on the streets, his luck changes when scam artist Harvey Boarden sees that he has a natural talent for streetfighting. When Harvey offers Shawn help at making the real cash, the two form an uneasy partnership.
12.
Never Back Down: No Surrender (2016)
1h 41m Drama Action
Picking up after the events of Never Back Down 2, former MMA champion Case Walker is on the comeback trail to become champion once again.
1h 45m Action
Lyon Gaultier is a deserter in the Foreign Legion arriving in the USA entirely hard up. He finds his brother between life and death and his sister-in-law without the money needed to heal her husband and to maintain her child. To earn the money needed, Gaultier decides to take part in some very dangerous clandestine fights.
14.
The Circuit 2: The Final Punch (2002)
1h 31m Drama Action
Years ago, Dirk Longstreet walked away from The Circuit, the merciless underground fight club with no rules, where money changes hands as men are killed. But now gangsters have got his brother, and only one more journey inside the ring will save his life.
1h 33m Drama
In the depression, Chaney, a strong silent streetfighter, joins with Speed, a promoter of no-holds-barred street boxing bouts. They go to New Orleans where Speed borrows money to set up fights for Chaney, but Speed gambles away any winnings.
1h 43m Action Crime Drama Mystery
A family man convicted of killing an intruder must cope with life afterward in the violent penal system.
1h 24m Drama
Sidelined by an injury incurred while protecting his young brother, underground fighter Charlie Fontaine feels blindsided when he discovers his brother having sex on his couch with his new wife, Kat. Fueled by rage, a determined Charlie makes plans to get back in the ring and take on his brother in a fight to the death.
1h 36m Action Drama Thriller
A man must survive a prison where hardened criminals battle to the death for the warden's entertainment.
1h 32m Adventure Action Thriller
Still haunted by his failure to prevent the murder of a young couple years earlier, a mixed martial arts teacher must confront the skeleton in his closet when the boy who was orphaned by the killing shows up at his door.
21.
Brawl in Cell Block 99 (2017)
2h 12m Action Crime Thriller
After working as a drug courier and getting into a brutal shootout with police, a former boxer finds himself at the mercy of his enemies as they force him to instigate violent acts that turn the prison he resides in into a battleground.
22.
Assassination Games (2011)
1h 41m Action
Brazil is a contract killer, willing to take any job if the price is right. Flint left the assassin game when a ruthless drug dealer's brutal attack left his wife in a coma. When a contract is put out on the same coldblooded drug dealer, both Brazil and Flint want him dead – one for the money, the other for revenge. With crooked Interpol agents and vicious members of the criminal underworld hot on their trail, these two assassins reluctantly join forces to quickly take out their target before they themselves are terminated.
23.
Kickboxer Retaliation (2018)
1h 50m Action Drama
One year after the events of "Kickboxer: Vengeance", Kurt Sloan has vowed never to return to Thailand. However, while gearing up for a MMA title shot, he finds himself sedated and forced back into Thailand, this time in prison. He is there because the ones responsible want him to face a 6'8" 400 lbs. beast named Mongkut and in return for the fight, Kurt will get two million dollars and his freedom back. Kurt at first refuses, in which a bounty is placed on his head as a way to force him to face Mongkut. Kurt soon learns he will have no other choice and will undergo his most rigorous training yet under some unexpected mentors in order to face Mongkut in hopes to regain his freedom.
24.
Bloodsport III (1996)
1h 31m Action Thriller
Bloodsport III brings us back to the world of Alex Cardo. This time he must battle in a fight to end all fights - The Kumite, the most vicious warrior alive - Beast. He must not only battle for his own honor, but also avenge the death of Sun, his mentor, teacher, and spiritual "father", when Sun is spitefully killed by crime boss Duvalier. In order to defeat Beast, destroy Duvalier, and avenge Sun's death, Alex turns to Leung to whom he was indebted in Bloodsport II. Leung directs him to the great shaman, Makato "the Judge", to whom Alex must turn for guidance. The judge teaches him to fully channel the energy in his mind and body in order to rout the Beast in the Kumite...
2h 20m Drama Action
The youngest son of an alcoholic former boxer returns home, where he's trained by his father for competition in a mixed martial arts tournament – a path that puts the fighter on a collision course with his estranged, older brother.
explore
Check out more list from our community