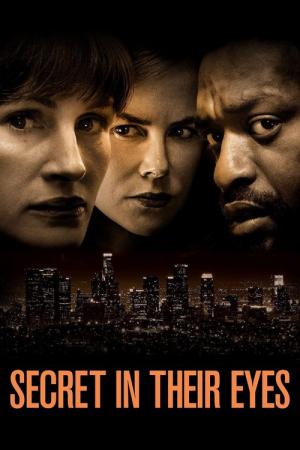 11 Best Movies Like Secret In Their Eyes ...
If you liked this one , you will for sure love these too! In this selection we highlight some of the best films that share a very similar mood to 'Secret in Their Eyes', and are worth checking out.
2h 4m Crime Drama Mystery Thriller
A big city cop from LA moves to a small town police force and immediately finds himself investigating a murder. Using theories rejected by his colleagues, the cop, John Berlin, meets a young blind woman named Helena, who he is attracted to. Meanwhile, a serial killer is on the loose and only John knows it.
2.
Red Riding: In the Year of Our Lord 1983 (2009)
1h 40m Thriller Crime Drama Mystery
Nine years on, another Morley child has gone missing on her way home from school. Detective Chief Superintendent Maurice Jobson is forced to remember the very similar disappearance of Clare Kemplay, who was found dead in 1974, and the subsequent imprisonment of local boy Michael Myshkin. Washed-up local solicitor John Piggott becomes convinced of Myshkin's innocence and begins to fight on his behalf, unwittingly providing a catalyst for Jobson to start to right some wrongs.
3.
Before I Go to Sleep (2014)
1h 32m Mystery Thriller
A woman wakes up every day, remembering nothing as a result of a traumatic accident in her past. One day, new terrifying truths emerge that force her to question everyone around her.
2h 3m Crime Drama Mystery Thriller
A police chief about to retire pledges to help a woman find her daughter's killer.
2h 37m Crime Drama Mystery Thriller
The true story of the investigation of the "Zodiac Killer", a serial killer who terrified the San Francisco Bay Area, taunting police with his ciphers and letters. The case becomes an obsession for three men as their lives and careers are built and destroyed by the endless trail of clues.
6.
The Interpreter (2005)
2h 8m Crime Thriller
After Silvia Broome, an interpreter at United Nations headquarters, overhears plans of an assassination, an American Secret Service agent is sent to investigate.
7.
The Invisible Guest (2016)
1h 46m Mystery Crime Thriller
A young businessman wakes up in a hotel room, locked from the inside, along with his lover, who was murdered while he was unconscious. He hires a prestigious lawyer, and over the course of one evening, they must work together to build a defense case for him before he is taken to jail.
1h 38m Thriller
Five men wake up in a locked-down warehouse with no memory of who they are. They are forced to figure out who is good and who is bad to stay alive.
9.
The Girl Who Played with Fire (2009)
2h 10m Drama Action Thriller Crime Mystery
Mikael Blomkvist, publisher of Millennium magazine, has made his living exposing the crooked and corrupt practices of establishment Swedish figures. So when a young journalist approaches him with a meticulously researched thesis about sex trafficking in Sweden and those in high office who abuse underage girls, Blomkvist immediately throws himself into the investigation.
1h 38m Mystery Thriller
Dan Merrick comes out from a shattering car accident with amnesia. He finds that he is married to Judith who is trying to help him start his life again. He keeps getting flashbacks about events and places that he can't remember. He meets pet shop owner and part time private detective Gus Klein who is supposedly done some work for him prior to the accident. Klein helps Merrick to find out more...
11.
Red Riding: In the Year of Our Lord 1974 (2009)
1h 42m Thriller Mystery Crime Drama
It's Yorkshire in 1974, and fear, mistrust and institutionalised police corruption are running riot. Rookie journalist Eddie Dunford is determined to search for the truth in an increasingly complex maze of lies and deceit surrounding the police investigation into a series of child abductions. When young Clare Kemplay goes missing, Eddie and his colleague, Barry, persuade their editor to let them investigate links with two similar abductions in the last decade. But after a mutilated body is found on a construction site owned by a local property magnate, Eddie and Barry are drawn into a deadly world of secrecy, intimidation, shocking revelations and police brutality.
explore
Check out more list from our community