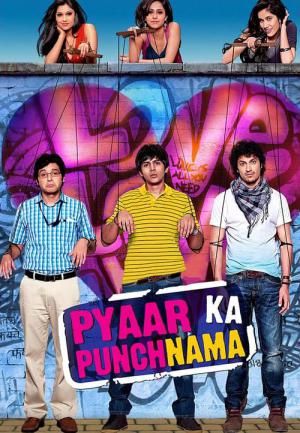 11 Best Movies Like Pyaar Ka Punchnama ...
If you liked this film , you will probably love these too! In this collection we highlight some of the best films that share a very similar premise to 'Pyaar Ka Punchnama', and are worth checking out.
2h 18m Drama Comedy Romance
A depressed wealthy businessman and a spunky and care-free young woman embark on an unexpected journey that changes their lives.
2.
Young, Single & Angry (2006)
1h 31m Comedy Romance
Since girlhood, TAYLOR has believed that love and marriage are the most important events in every woman's life. Now she's 35 and single with no prospects in sight. As Taylor and her friends wade through the mire of the L.A. dating pool, they realize a lot more is involved in finding the right mate as they meet co-dependents, addicts and sexual deviants. As they hit bottom, thinking there maybe no happiness in their future, a trap door opens leading them to the discovery that they can find happiness within themselves.
3.
Pyaar Impossible (2010)
2h 20m Comedy Romance
Be-spectacled geek, Abhay falls in love with college hottie, Alisha and silently slinks away into the shadows when he realises she's unattainable. Seven years later, he re-enters her life as the nanny and hopes to woo the single mom, this time at least. Does he succeed?
4.
Milenge Milenge (2010)
2h 24m Drama Romance
Hoping that destiny will re-unite them, a couple, on the verge of getting married, attempt to locate each other.
5.
The Longest Week (2014)
1h 26m Comedy Drama
Left broke and homeless by his wealthy parents' divorce, a young man moves in with an old friend and finally meets the woman of his dreams -- only to discover she's already dating his friend.
6.
My Faraway Bride (2006)
1h 35m Comedy Romance
The story of Alex, a copy-writer dreaming of being an adventure novelist someday, who meets and romances Indian beauty Reena, while she is vacationing in California. Torn by her blossoming feelings for Alex and her Indian family values and obligations, Reena returns home without saying goodbye. Alex, distraught by the turn of events, decides to follow her to Mumbai and win her back.
7.
The Perfect Date (2010)
1h 40m Comedy Romance
Michel dreams of a perfect meeting with the woman of his dreams, entirely due to chance, as his parents and grandparents experienced. Vincent, Michel's contrast, is completely different. He is more the man of the direct approach and he follows his...! The two childhood friends Michel and Vincent, with completely opposite views when it comes to women, soon discover the limits of their respective techniques when they meet Angèle and Nathalie.
9.
Celeste & Jesse Forever (2012)
1h 31m Comedy Drama Romance
Celeste and Jesse met in high school and got married young. They laugh at the same jokes and finish each other's sentences. They are forever linked in their friends' minds as the perfect couple – she, a high-powered businesswoman and budding novelist; he, a free spirit who keeps things from getting boring. Their only problem is that they have decided to get divorced. Can their perfect relationship withstand this minor setback?
10.
Men Are From Mars... And That's Where I'm Going! (2014)
1h 48m Comedy
Successful at work, Fernanda is an example of women of the third millennium, free to make their choices and independent. Yet in her personal life she finds herself struggling to find a husband. Like other women of her generation, Fernanda put her personal life on hold to devote herself to her career and now suddenly feels her love life situation has become an emergency. Being single at 39 is quite different from being single at 29, after all "the fertile egg has an expiration date"!
11.
Honeymoon Travels Pvt. Ltd. (2007)
1h 58m Comedy Drama Romance
Six newly-married, diverse, honeymooning couples face marital bliss and discord, finding out more about themselves, their significant others and life in this happy-go-lucky, quirky drama.
explore
Check out more list from our community