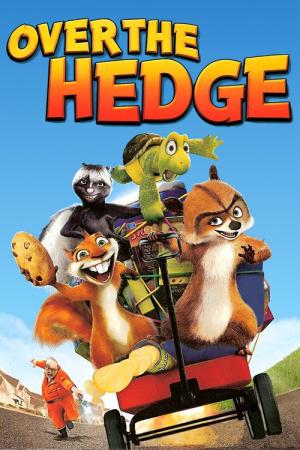 12 Best Movies Like Over The Hedge ...
If you liked 'Over the Hedge', you will love these movies! In this collection we highlight some of the best films that share a very similar mood to 'Over the Hedge', and are worth checking out.
1.
Madagascar 3: Europe's Most Wanted (2012)
Animal pals Alex, Marty, Melman, and Gloria are still trying to make it back to New York's Central Park Zoo. They are forced to take a detour to Europe to find the penguins and chimps who broke the bank at a Monte Carlo casino. When French animal-control officer Capitaine Chantel DuBois picks up their scent, Alex and company are forced to hide out in a traveling circus.
1h 33m
Characters, Director: Tom McGrath
Director, Screenplay: Eric Darnell
Characters: Mark Burton
Director: Conrad Vernon
Screenplay: Noah Baumbach
Animation Family Comedy Adventure
Oscar is a small fish whose big aspirations often get him into trouble. Meanwhile, Lenny is a great white shark with a surprising secret that no sea creature would guess: He's a vegetarian. When a lie turns Oscar into an improbable hero and Lenny becomes an outcast, the two form an unlikely friendship.
1h 30m
Director, Screenplay: Rob Letterman
Director: Bibo Bergeron
Director: Vicky Jenson
Screenplay: Michael J. Wilson
Writer: Lona Williams
Animation Action Comedy Family
Boog, a domesticated 900lb. Grizzly bear finds himself stranded in the woods 3 days before Open Season. Forced to rely on Elliot, a fast-talking mule deer, the two form an unlikely friendship and must quickly rally other forest animals if they are to form a rag-tag army against the hunters.
1h 26m
Author: Steve Bencich
Author: Ron J. Friedman
Author: Nat Mauldin
Director: Jill Culton
Director: Roger Allers
Story: Steve Moore
Story: John B. Carls
Animation Family Adventure Comedy
A group of animals waiting for the annual flood they rely on for food and water discover that the humans, who have been destroying their habitats have built a dam for a leisure resort. The animals endeavour to save the delta and send a message to the humans not to interfere with nature.
1h 33m
Director, Screenplay: Reinhard Klooss
Director: Holger Tappe
Novel: Erich Kästner
Screenplay: Sven Severin
Screenplay: Oliver Huzly
Animation Family Comedy
Jon and Garfield visit the United Kingdom, where a case of mistaken cat identity finds Garfield ruling over a castle. His reign is soon jeopardized by the nefarious Lord Dargis, who has designs on the estate.
1h 22m
Director: Tim Hill
Novel: Jim Davis
Screenplay: Alec Sokolow
Screenplay: Joel Cohen
Animation Comedy Family Adventure
Barry B. Benson, a bee who has just graduated from college, is disillusioned at his lone career choice: making honey. On a special trip outside the hive, Barry's life is saved by Vanessa, a florist in New York City. As their relationship blossoms, he discovers humans actually eat honey, and subsequently decides to sue us.
1h 31m
Director: Steve Hickner
Director: Simon J. Smith
Screenplay: Andy Robin
Screenplay: Barry Marder
Screenplay: Spike Feresten
Screenplay: Jerry Seinfeld
Family Animation Adventure Comedy
Carl Fredricksen spent his entire life dreaming of exploring the globe and experiencing life to its fullest. But at age 78, life seems to have passed him by, until a twist of fate (and a persistent 8-year old Wilderness Explorer named Russell) gives him a new lease on life.
1h 36m
Director, Screenplay, Story: Pete Docter
Screenplay, Story: Bob Peterson
Story: Tom McCarthy
Animation Comedy Family Adventure
Remy, a resident of Paris, appreciates good food and has quite a sophisticated palate. He would love to become a chef so he can create and enjoy culinary masterpieces to his heart's delight. The only problem is, Remy is a rat. When he winds up in the sewer beneath one of Paris' finest restaurants, the rodent gourmet finds himself ideally placed to realize his dream.
1h 51m
Director, Screenplay: Brad Bird
Story: Kathy Greenberg
Story: Bob Peterson
Story: Emily Cook
Animation Comedy Family Fantasy
Dory is reunited with her friends Nemo and Marlin in the search for answers about her past. What can she remember? Who are her parents? And where did she learn to speak Whale?
1h 37m
Director, Screenplay, Story: Andrew Stanton
Screenplay, Story: Victoria Strouse
Story: Bob Peterson
Adventure Animation Comedy Family
10.
Norm of the North (2015)
A young Peruvian bear travels to London in search of a new home. Finding himself lost and alone at Paddington Station, he meets the kindly Brown family.
1h 36m
Characters, Story: Michael Bond
Director, Screenplay: Paul King
Comedy Adventure Family
Surly, a curmudgeon, independent squirrel is banished from his park and forced to survive in the city. Lucky for him, he stumbles on the one thing that may be able to save his life, and the rest of park community, as they gear up for winter - Maury's Nut Store.
1h 25m
Director, Writer: Peter Lepeniotis
Writer: Daniel Woo
Writer: Lorne Cameron
Animation Comedy Family Adventure
explore
Check out more list from our community