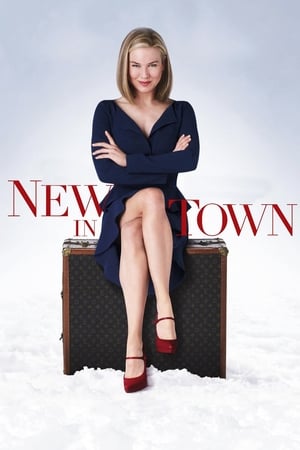 27 Best Movies Like New In Town ...
If you liked this one , you will definitely love these too! In this selection we highlight some of the best films that share a very similar premise to '', and are worth checking out.
1h 48m Comedy Romance Drama
When she learns she's in danger of losing her visa status and being deported, overbearing book editor Margaret Tate forces her put-upon assistant, Andrew Paxton, to marry her.
1h 48m Comedy Romance
Melanie Parker, an architect and mother of Sammy, and Jack Taylor, a newspaper columnist and father of Maggie, are both divorced. They meet one morning when overwhelmed Jack is left unexpectedly with Maggie and forgets that Melanie was to take her to school. As a result, both children miss their school field trip and are stuck with the parents. The two adults project their negative stereotypes of ex-spouses on each other, but end up needing to rely on each other to watch the children as each must save his job. Humor is added by Sammy's propensity for lodging objects in his nose and Maggie's tendency to wander.
2h 16m Comedy Romance
Two women, one from the United States and one from the United Kingdom, swap homes at Christmastime after bad breakups with their boyfriends. Each woman finds romance with a local man but realizes that the imminent return home may end the relationship.
4.
Sweet Home Alabama (2002)
1h 48m Comedy Romance
New York fashion designer, Melanie Carmichael suddenly finds herself engaged to the city's most eligible bachelor. But her past holds many secrets—including Jake, the redneck husband she married in high school, who refuses to divorce her. Bound and determined to end their contentious relationship once and for all, Melanie sneaks back home to Alabama to confront her past.
5.
Bridget Jones: The Edge of Reason (2004)
1h 48m Comedy Romance
Bridget Jones is becoming uncomfortable in her relationship with Mark Darcy. Apart from discovering that he's a conservative voter, she has to deal with a new boss, a strange contractor and the worst vacation of her life.
1h 36m Comedy Romance
A romantically challenged morning show producer is reluctantly embroiled in a series of outrageous tests by her chauvinistic correspondent to prove his theories on relationships and help her find love. His clever ploys, however, lead to an unexpected result.
1h 42m Comedy Romance
After building his dream house, architect Newton Davis proposes marriage to his girlfriend, only to be summarily rejected. He seeks solace in a one-night stand with a waitress, never imagining that a woman he slept with once would end up posing as his wife. Gwen's ruse is so effective that by the time Newton learns of his "marriage," the entire town feels like they know him.
1h 40m Romance Comedy
When yet another anniversary passes without a marriage proposal from her boyfriend, Anna decides to take action. Aware of a Celtic tradition that allows women to pop the question on Feb. 29, she plans to follow her lover to Dublin and ask him to marry her. Fate has other plans, however, and Anna winds up on the other side of the Emerald Isle with handsome, but surly, Declan -- an Irishman who may just lead Anna down the road to true love.
9.
Just Go with It (2011)
1h 57m Comedy Romance
A plastic surgeon, romancing a much younger schoolteacher, enlists his loyal assistant to pretend to be his soon to be ex-wife, in order to cover up a careless lie. When more lies backfire, the assistant's kids become involved, and everyone heads off for a weekend in Hawaii that will change all their lives.
1h 57m Comedy Drama Romance
Failed London banker Max Skinner inherits his uncle's vineyard in Provence, where he spent many childhood holidays. Upon his arrival, he meets a woman from California who tells Max she is his long-lost cousin and that the property is hers.
1h 44m Comedy Romance
After leaving Washington D.C. hospital, plastic surgeon Ben Stone heads for California, where a lucrative practice in Beverly Hills awaits. After a car accident, he's sentenced to perform as the community's general practitioner.
12.
Bridget Jones's Diary (2001)
1h 37m Comedy Romance Drama
A chaotic Bridget Jones meets a snobbish lawyer, and he soon enters her world of imperfections.
13.
Welcome to Mooseport (2004)
1h 50m Comedy
A US president (Gene Hackman) who has retired after two terms in office returns to his hometown of Mooseport, Maine and decides to run for Mayor against another local candidate (Ray Romano).
1h 30m Comedy Romance
British artist Colin Ware discovers that his fiancée, Vera, is going to marry another man. Distraught and despondent, he gets on a plane for America and ends up in the tiny town of Hope in New England. At first, Colin is depressed, but he soon finds more than a shoulder to cry on when his innkeepers introduce him to Mandy, a beautiful nurse. All's going well and Colin has almost forgotten his old flame until Vera shows up with a surprise of her own.
15.
The Back-up Plan (2010)
1h 46m Comedy Romance
When Zoe tires of looking for Mr. Right, she decides to have a baby on her own. But on the day she's artificially inseminated, she meets Stan, who seems to be just who she's been searching for all her life. Now, Zoe has to figure out how to make her two life's dreams fit with each other.
1h 30m Comedy Romance Drama
Although strangers Sara and Jonathan are both already in relationships, they realize they have genuine chemistry after a chance encounter – but part company soon after. Years later, they each yearn to reunite, despite being destined for the altar. But to give true love a chance, they have to find one another again.
1h 36m Comedy Romance
When Longfellow Deeds, a small-town pizzeria owner and poet, inherits $40 billion from his deceased uncle, he quickly begins rolling in a different kind of dough. Moving to the big city, Deeds finds himself besieged by opportunists all gunning for their piece of the pie. Babe, a television tabloid reporter, poses as an innocent small-town girl to do an exposé on Deeds.
18.
The Prince and Me (2004)
1h 51m Comedy Romance
A fairy tale love-story about pre-med student Paige who falls in love with a Danish Prince "Eddie" who refused to follow the traditions of his parents and has come to the US to quench his thirst for rebellion. Paige and Edward come from two different worlds, but there is an undeniable attraction between them.
19.
How to Lose a Guy in 10 Days (2003)
1h 56m Comedy Romance
It's the battle of wills, as Andie (Kate Hudson) needs to prove she can dump a guy in 10 days, whereas Ben (Matthew McConaughey) needs to prove he can win a girl in 10 days. Now, the clock is ticking - and the wildly entertaining comedy smash is off and running in this irresistible tale of sex, lies and outrageous romantic fireworks!
20.
Confessions of a Shopaholic (2009)
1h 44m Comedy Romance
In the glamorous world of New York City, Rebecca Bloomwood is a fun-loving girl who is really good at shopping-a little too good, perhaps. She dreams of working for her favorite fashion magazine, but can't quite get her foot in the door-until ironically, she snags a job as an advice columnist for a financial magazine published by the same company.
21.
Two Weeks Notice (2002)
1h 41m Comedy Romance
Dedicated environmental lawyer Lucy Kelson goes to work for billionaire George Wade as part of a deal to preserve a community center. Indecisive and weak-willed George grows dependent on Lucy's guidance on everything from legal matters to clothing. Exasperated, Lucy gives notice and picks Harvard graduate June Carter as her replacement. As Lucy's time at the firm nears an end, she grows jealous of June and has second thoughts about leaving George.
1h 56m Comedy Romance
Ike Graham, New York columnist, writes his text always at the last minute. This time, a drunken man in his favourite bar tells Ike about Maggie Carpenter, a woman who always flees from her grooms in the last possible moment. Ike, who does not have the best opinion about females anyway, writes an offensive column without researching the subject thoroughly.
23.
Bed & Breakfast: Love is a Happy Accident (2010)
1h 29m Comedy Romance
Bed and Breakfast is a romantic comedy about a saleswoman from a large department store in Rio who discovers she has inherited property in the wine country of California. She could never expect what she would find in "Webster", a small country town
24.
The Beautician and the Beast (1997)
1h 45m Comedy Romance
The story follows the misadventures of a New York City beautician who is mistakenly hired as the school teacher for the children of the president of a small Eastern European country.
1h 31m Comedy Drama Romance
At Charles de Gaulle Airport in Paris, a beautician on her way to a new job in Mexico accidentally meets a cook who is on his way back from America. Labor strikes, bad weather, and pure luck cause the two of them to share a room overnight at the airport Hilton hotel. Will their initial mutual indifference and downright hostility turn into a one night stand or perhaps something more?
1h 31m Comedy Fantasy Romance
After fishing out coins from a water fountain in Italy, cynical New Yorker Beth Harper finds herself being wooed by several ardent suitors. As she deals with the attention, Beth tries to figure out whether a charming reporter really loves her.
explore
Check out more list from our community