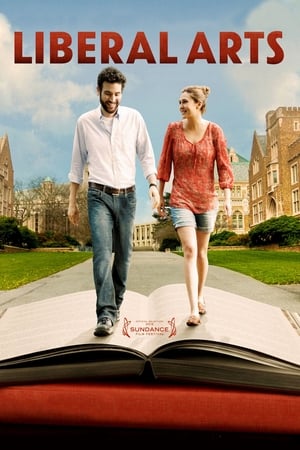 13 Best Movies Like Liberal Arts ...
If you liked this one , you will probably love these too! In this selection we highlight some of the best films that share a very similar premise to 'Liberal Arts', and are worth checking out.
1h 36m Comedy Drama Romance
Manhattan explores how the life of a middle-aged television writer dating a teenage girl is further complicated when he falls in love with his best friend's mistress.
1h 30m Comedy Drama Romance
The "black sheep" son of a wealthy family meets a young psychiatric patient who's been raised in isolation her entire life. He takes the naive young woman home for his brother's wedding an improbable romance blooms, as she impresses everyone with her genuine, simple charms.
3.
Hannah Takes the Stairs (2007)
1h 23m Drama Romance
Hannah is a recent college graduate interning at a Chicago production company. She is crushing on two writers at work, Matt and Paul, who share an office and keep her entertained. Will a relationship with one of them disrupt the delicate balance of their friendship?
4.
Something's Gotta Give (2003)
2h 8m Drama Comedy Romance
Harry Sanborn is an aged music industry exec with a fondness for younger women like Marin, his latest trophy girlfriend. Things get a little awkward when Harry suffers a heart attack at the home of Marin's mother, Erica. Left in the care of Erica and his doctor, a love triangle starts to take shape.
1h 31m Comedy Drama Romance
College coeds in New York City, Al, the son of a celebrity chef, and Imogen, a talented artist, become smitten the second they lay eyes on one another at a bar. However, the road to happiness is not a smooth one. Outside forces, including a predatory porn star who wants to lure Al into her bed, threaten to pull apart the young lovers before their romance has a chance to really flourish.
1h 32m Comedy Romance
Joe and Lucy are roommates and best friends. Lucy, whose love life is embarrassingly dull, convinces Joe, who is infatuated with a neighbor he's never met, that if they don't have stable romances within a month, they must jump off the Brooklyn Bridge.
7.
Friends with Kids (2011)
8.
The Jane Austen Book Club (2007)
1h 46m Comedy Romance
Six Californians start a club to discuss the works of Jane Austen. As they delve into Austen's literature, the club members find themselves dealing with life experiences that parallel the themes of the books they are reading.
9.
Autumn in New York (2000)
1h 43m Drama Romance
Autumn in New York follows the sexual exploits of Will Keane - New York restaurateur, infamous verging-on-50 playboy, master of the no-commitment seduction - until he runs into an unexpected dead end when he meets Charlotte Fielding. Charlotte is half Will's age and twice his match, a 21 year-old free spirit yearning to get out and taste the excitement of adult life.
10.
A Lot Like Love (2005)
1h 47m Comedy Drama Romance
On a flight from Los Angeles to New York, Oliver and Emily make a connection, only to decide that they are poorly suited to be together. Over the next seven years, however, they are reunited time and time again, they go from being acquaintances to close friends to ... lovers?
11.
The Giant Mechanical Man (2012)
1h 34m Comedy Drama Romance
An offbeat romantic comedy about a silver-painted street performer and the soft spoken zoo worker who falls for him.
12.
It's Kind of a Funny Story (2010)
23m Family Kids Comedy
Shake It Up is an American sitcom airing on Disney Channel in the United States. The series premiered on November 7, 2010. Created by Chris Thompson and starring Bella Thorne and Zendaya, the show follows the adventures of CeCe Jones and Rocky Blue as they star as background dancers on a local show, Shake It Up Chicago. It also chronicles their misadventures on- and off-set, and their troubles and rising social status at school. Davis Cleveland, Roshon Fegan, Adam Irigoyen, Kenton Duty and Caroline Sunshine also are other main cast members in the series.The show's original concept was for Disney to create a female buddy comedy, only with a dance aspect. Shake It Up is Disney's third original series, after The Famous Jett Jackson and Sonny with a Chance, to use a show-within-a-show format. The series is also the first Disney Channel Original Series since So Random! to have more than six primary contracted cast members at one time.On September 29, 2011, Disney Channel announced it had increased Shake It Up's second season order to 26 episodes. A second soundtrack with songs from the series, Shake It Up: Live 2 Dance, was released on March 20, 2012. A 90-minute special episode Made In Japan aired August 17, 2012 as the season two finale. On June 4, 2012, Disney Channel announced that Shake It Up was renewed for a third season and announced that Kenton Duty will not be a regular cast member for season 3, but will make special guest appearances. The third soundtrack Shake It Up: I
13.
How Do You Know (2010)
2h 1m Comedy Drama Romance
After being cut from the USA softball team and feeling a bit past her prime, Lisa finds herself evaluating her life and in the middle of a love triangle, as a corporate guy in crisis competes with her current, baseball-playing beau.
explore
Check out more list from our community