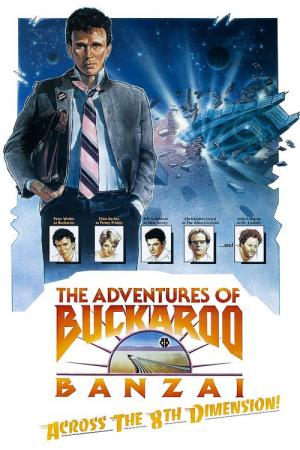 13 Best Movies Like Buckaroo Banzai ...
If you liked this one , you will for sure love these too! In this collection we highlight some of the best films that share a very similar premise to 'The Adventures of Buckaroo Banzai Across the 8th Dimension', and are worth checking out.
Three aliens morph into super-hot babes and arrive to protect the earth from the intergalactic forces of evil. Guided by Syntax, their holographic mentor, these Illegal Aliens are willing to use every trick in the book and every sexy outfit in their wardrobe to accomplish their mission! "Illegal Aliens" pokes fun at today's Hollywood and pays tribute to the so-called "Bad Movies" we all love to hate.
1h 36m
Director: David Giancola
Screenplay: Ben Coello
Comedy Science Fiction
2.
The Last Starfighter (1984)
A video game expert Alex Rogan finds himself transported to another planet after conquering The Last Starfighter video game only to find out it was just a test. He was recruited to join the team of best Starfighters to defend their world from the attack.
1h 41m
Director: Nick Castle
Screenplay: Jonathan R. Betuel
Adventure Science Fiction Action
3.
The Creature Wasn't Nice (1981)
4.
Battle Beyond the Stars (1980)
A young farmer assembles a band of diverse mercenaries to defend his peaceful planet from an evil tyrant.
1h 44m
Screenplay, Story: John Sayles
Director: Jimmy T. Murakami
Story: Anne Dyer
Science Fiction
5.
Howard the Duck (1986)
Galaxina is a lifelike, voluptuous android who is assigned to oversee the operations of an intergalactic Space Police cruiser captained by incompetent Cornelius Butt. When a mission requires the ship's crew to be placed in suspended animation for decades, Galaxina finds herself alone for many years, developing emotions and falling in love with the ship's pilot, Thor.
1h 35m
Director, Screenplay: William Sachs
Comedy Science Fiction
'We come in peace' is not what those green men from Mars mean when they invade our planet, armed with irresistible weapons and a cruel sense of humor. This star studded cast must play victim to the alien's fun and games in this comedy homage to science fiction films of the '50s and '60s.
1h 46m
Director: Tim Burton
Screenplay: Jonathan Gems
Comedy Fantasy Science Fiction
The visionary dreams of three curious and adventuresome young boys become an exciting reality in Explorers, the action-fantasy from director Joe Dante, who combines keen humor, warmth and fantasy with unexpected twists. In their makeshift laboratory, the boys use an amazing discovery and their ingenuity to build their own spaceship and launch themselves on a fantastic interplanetary journey.
1h 49m
Director: Joe Dante
Screenplay: Eric Luke
Family Science Fiction
9.
Back to the Future Part II (1989)
Marty and Doc are at it again in this wacky sequel to the 1985 blockbuster as the time-traveling duo head to 2015 to nip some McFly family woes in the bud. But things go awry thanks to bully Biff Tannen and a pesky sports almanac. In a last-ditch attempt to set things straight, Marty finds himself bound for 1955 and face to face with his teenage parents -- again.
1h 48m
Characters, Director, Story: Robert Zemeckis
Characters, Screenplay, Story: Bob Gale
Adventure Comedy Family Science Fiction
For four years, the courageous crew of the NSEA protector - "Commander Peter Quincy Taggart" (Tim Allen), "Lt. Tawny Madison (Sigourney Weaver) and "Dr.Lazarus" (Alan Rickman) - set off on a thrilling and often dangerous mission in space...and then their series was cancelled! Now, twenty years later, aliens under attack have mistaken the Galaxy Quest television transmissions for "historical documents" and beam up the crew of has-been actors to save the universe. With no script, no director and no clue, the actors must turn in the performances of their lives.
1h 41m
Director: Dean Parisot
Screenplay: Robert Gordon
Screenplay: David Howard
Comedy Family Science Fiction Adventure
Alienators: Evolution Continues is a traditionally animated series based on the moderately successful live-action feature film, Evolution.
30m
Animation Action & Adventure
12.
Guardians of the Galaxy (2014)
Light years from Earth, 26 years after being abducted, Peter Quill finds himself the prime target of a manhunt after discovering an orb wanted by Ronan the Accuser.
2h 1m
Director, Writer: James Gunn
Writer: Nicole Perlman
Action Science Fiction Adventure
13.
The Philadelphia Experiment (1984)
Based on an "actual event" that took place in 1943. About a US Navy Destroyer Escort that disappeared from the Philadelphia Naval Shipyard, and sent two men 40 years into the future to 1984.
1h 42m
Director: Stewart Raffill
Novel: William L. Moore
Novel: Charles Berlitz
Screenplay: William Gray
Screenplay: Michael Janover
Story: Wallace C. Bennett
Story: Don Jakoby
Science Fiction Adventure Thriller
explore
Check out more list from our community