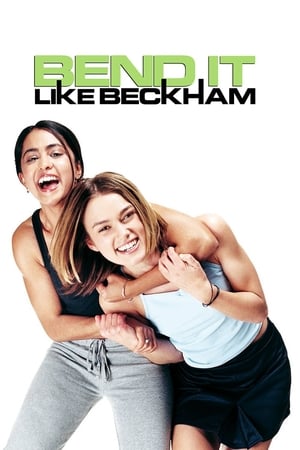 28 Best Movies Like Bend It Like Beckham ...
If you liked this film , you will probably love these too! In this selection we highlight some of the best films that share a very similar premise to '', and are worth checking out.
1.
She's the Man (2006)
1h 45m Comedy Drama Family Romance
Viola Hastings is in a real jam. Complications threaten her scheme to pose as her twin brother, Sebastian, and take his place at a new boarding school. She falls in love with her handsome roommate, Duke, who loves beautiful Olivia, who has fallen for Sebastian! As if that were not enough, Viola's twin returns from London ahead of schedule but has no idea that his sister has already replaced him on campus.
1h 51m Drama
In Bodeen, Texas, Land Of The Dragon, an indie-rock loving misfit finds a way of dealing with her small-town misery after she discovers a roller derby league in nearby Austin.
3.
Angus, Thongs and Perfect Snogging (2008)
1h 40m Comedy Drama Family Romance
Georgia Nicolson is fourteen, lives with nosey parents who don't understand her, an annoying three year old sister and has to wear a beret to school. She would, however, rather be blonde, have a smaller nose and a boyfriend. Revolving around her hilarious journal entries, prepare to be engulfed in the world of the soaring joys and bottomless angst of being a teenager.
1h 45m Comedy Drama
Haley is a naturally gifted athlete but, with her social behavior, the teen seems intent on squandering her abilities. After a final brush with the law, a judge sentences her to an elite gymnastics academy run by a legendary, hard-nosed coach. Once there, Haley's rebellious attitude wins her both friends and enemies.
1h 37m Drama Comedy Romance
In a world connected by YouTube, iTunes, and Facebook, Lola and her friends navigate the peer pressures of high school romance and friendship while dodging their sometimes overbearing and confused parents. When Lola's mom, Anne, "accidentally" reads her teenage daughter's racy journal, she realizes just how wide their communication gap has grown.
1h 41m Comedy Drama Family
15 year-old soccer prodigy, Sara Davis, has a chance to join the U.S. National Team, but she must juggle high school, romance, sports, and parental pressure while deciding her own priorities.
1h 37m Comedy Romance
A Chinese-American lesbian and her traditionalist mother are reluctant to go public with secret loves that clash against cultural expectations.
8.
The Sisterhood of the Traveling Pants (2005)
1h 59m Drama Comedy
Four best friends (Tibby, Lena, Carmen & Bridget) who buy a mysterious pair of pants that fits each of them, despite their differing sizes, and makes whoever wears them feel fabulous. When faced with the prospect of spending their first summer apart, the pals decide they'll swap the pants so that each girl in turn can enjoy the magic.
1h 43m Comedy Drama Romance
Lindsay is stuck in the middle of her relationship with Ben and his passion for the Boston Red Sox.
1h 39m Drama Comedy Romance
Halley is convinced true love doesn't exist based on the crazy relationships around her. Her mother is divorcing her father who is dating a younger woman Halley can't stand. Her crazed sister is planning a wedding but has second thoughts and her best friend has fallen madly in love for the first time leaving Halley to feel even more alone.
1h 42m Comedy
On the brink of a midlife crisis, 30-something Mike O'Donnell wishes he could have a "do-over." And that's exactly what he gets when he wakes up one morning to find he's 17 years old again. With his adult mind stuck inside the body of a teenager, Mike actually has the chance to reverse some decisions he wishes he'd never made. But maybe they weren't so bad after all.
12.
Playing for Keeps (2012)
1h 46m Comedy Romance
A former sports star who's fallen on hard times starts coaching his son's soccer team in an attempt to get his life together.
1h 40m Comedy Romance Drama
Overeducated and underemployed, 28 year old Megan is in the throes of a quarterlife crisis. Squarely into adulthood with no career prospects, no particular motivation to think about her future and no one to relate to, Megan is comfortable lagging a few steps behind - while her friends check off milestones and celebrate their new grown-up status. When her high-school sweetheart proposes, Megan panics and- given an unexpected opportunity to escape for a week - hides out in the home of her new friend, 16-year old Annika and Annika's world-weary single dad Craig.
1h 42m Comedy Romance
A romantic comedy about a man, a woman and a football team. Based on Nick Hornby's best selling autobiographical novel, Fever Pitch. English teacher Paul Ashworth believes his long standing obsession with Arsenal serves him well. But then he meets Sarah. Their relationship develops in tandem with Arsenal's roller coaster fortunes in the football league, both leading to a nail biting climax.
1h 31m Comedy Romance
Alim is a gay man living in London to escape the domineering eye of his conservative Muslim mother, Nuru, back in Canada. Alim keeps his homosexuality secret from his mother, so when she comes for a surprise visit, he and his boyfriend, Giles, must put on a straight facade to hide the truth.
16.
On a Clear Day (2005)
17.
A League of Their Own (1992)
2h 8m Comedy Drama Family
As America's stock of athletic young men is depleted during World War II, a professional all-female baseball league springs up in the Midwest, funded by publicity-hungry candy maker Walter Harvey (Garry Marshall). Competitive sisters Dottie Hinson (Geena Davis) and Kit Keller (Lori Petty) spar with each other, scout Ernie Capadino (Jon Lovitz) and grumpy has-been coach Jimmy Dugan (Tom Hanks) on their way to fame. Madonna and Rosie O'Donnell co-star as two of the sisters' teammates.
18.
There's Only One Jimmy Grimble (2000)
19.
Bride & Prejudice (2004)
1h 51m Drama Comedy Romance
A Bollywood update of Jane Austen's classic tale, in which Mrs. Bakshi is eager to find suitable husbands for her four unmarried daughters. When the rich single gentlemen Balraj and Darcy come to visit, the Bakshis have high hopes, though circumstance and boorish opinions threaten to get in the way of romance.
20.
My Big Fat Greek Wedding (2002)
1h 35m Comedy Drama Romance
A young Greek woman falls in love with a non-Greek and struggles to get her family to accept him while she comes to terms with her heritage and cultural identity.
21.
Starter for 10 (2006)
1h 32m Drama Comedy Romance
In 1985, against the backdrop of Thatcherism, Brian Jackson enrolls in the University of Bristol, a scholarship boy from seaside Essex with a love of knowledge for its own sake and a childhood spent watching University Challenge, a college quiz show. At Bristol he tries out for the Challenge team and falls under the spell of Alice, a lovely blond with an extensive sexual past.
1h 41m Drama Comedy Romance
Will Freeman is a good-looking, smooth-talking bachelor whose primary goal in life is avoiding any kind of responsibility. But when he invents an imaginary son in order to meet attractive single moms, Will gets a hilarious lesson about life from a bright, but hopelessly geeky 12-year-old named Marcus. Now, as Will struggles to teach Marcus the art of being cool, Marcus teaches Will that you're never too old to grow up.
23.
Kicking & Screaming (2005)
1h 35m Comedy Family
Phil Weston has been unathletic his entire life. In college he failed at every sport that he tried out for. It looks like his 10-year old son, Sam, is following in his footsteps. But when Phil's hyper-competitive dad benches Sam, Phil decides to transfer his son to a new team which needs a coach. Phil steps in to be the temporary coach and immediately begins to butt heads with this dad over this new competition in their lives.
1h 48m Drama Romance
Steven spends his school days longing for all-star athlete John. But John has a gorgeous girlfriend, and Steven is still in the closet about being gay. The only one who knows the teenager's secret is his friend Linda. After a curious run-in with John in a public restroom, Steven starts to wonder if the jock is straight after all. When they start a romance, it threatens to expose the truth about both of them.
1h 38m Comedy Romance
A pro tennis player has lost his ambition and has fallen in rank to 119. Fortunately for him, he meets a young player on the women's circuit who helps him recapture his focus for Wimbledon.
1h 30m Comedy Romance
JC is the hero of the Cornish surfing community. Staring thirty hard in the face, he fears that the wave that has carried him through a prolonged adolescence is heading for the rocks as his girlfriend pressures him for commitment and his friends contemplate growing up.
27.
Bollywood/Hollywood (2002)
explore
Check out more list from our community